I'm sharing with you how to make Perfect Macarons. These have a reputation for being almost impossible to make yourself but I promise with this recipe you'll nail it.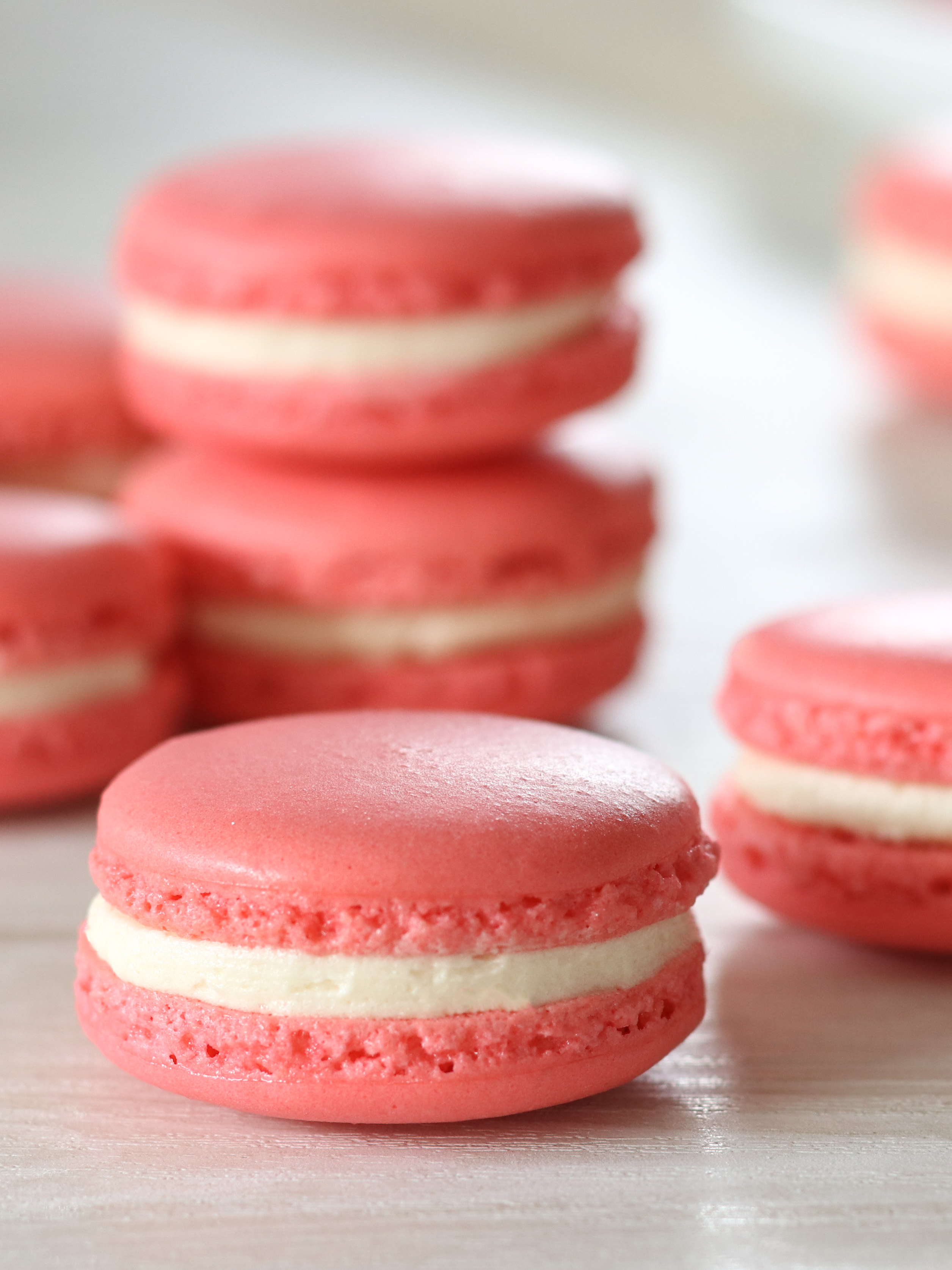 Perfect Macarons
French Macarons take patience and precision but they are so worth mastering. Weightless crunchy and chewy delicate cookies filled with something sweet like buttercream, salted caramel, lemon curd or chocolate ganache.
Video Tutorial
Follow the video tutorial to make the most Perfect Macarons
Step by step guide for Macarons
The easiest way to master macarons is by following a step by step guide. The photos and videos here will show you exactly what your mixture should look like and also a few troubleshooting points if you run into issues.
Macarons can definitely be finicky to get right but whats more important is understanding why that is so you can master them.
We want to start with accurate ingredient amounts, make sure to measure your ingredients precisely or if you can use grams which are in the recipe below.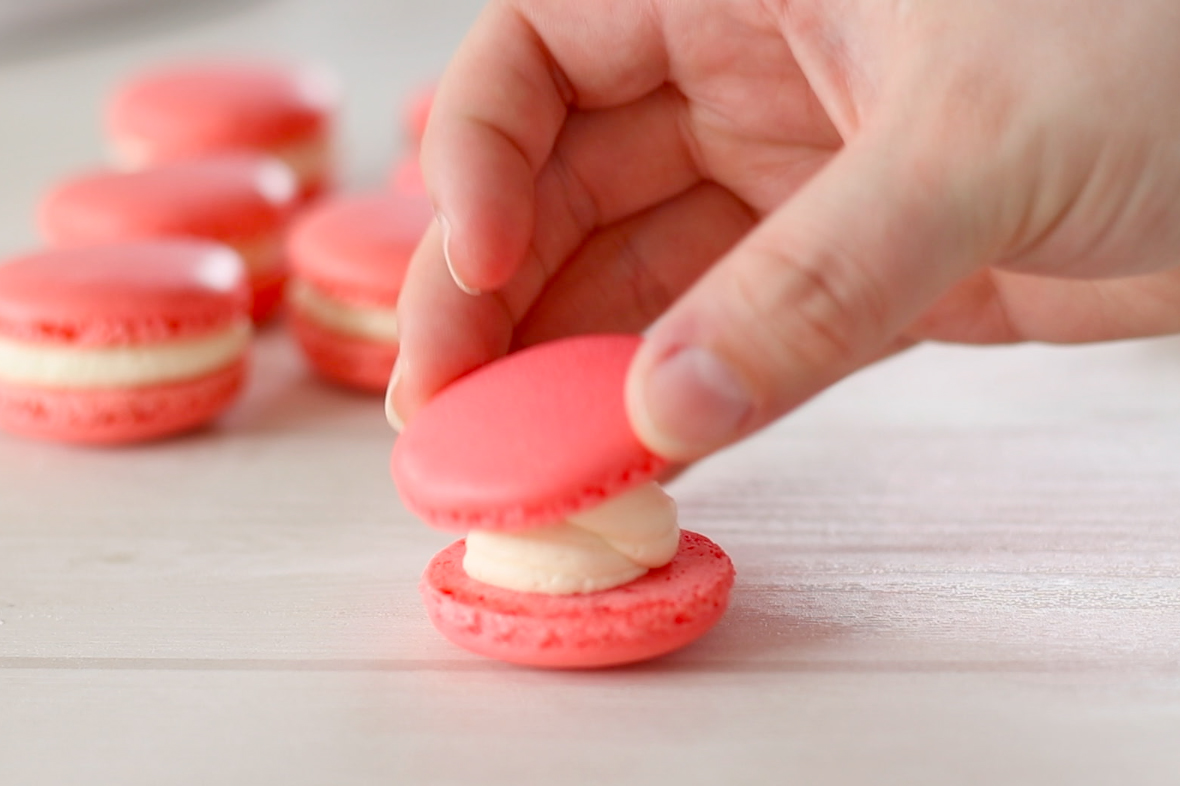 French Macaron Recipe Ingredients
¾ Cup / 90g Ground Almonds – Ground almonds might also be called almond meal or almond flour depending on where you live. It should be sandy in color and texture. Alternatively you can use ground walnuts or pistachios as a substitute for almonds.
1 Cup / 125g Powdered Sugar – Powdered sugar, icing sugar and confectioners sugar are all the same ingredient just different names in different parts of the world.
2 Egg Whites – Use medium room temperature eggs, the whites should weigh between 35-40g each.
½ tsp Salt
¼ Cup / 50g White Sugar – This recipe needs powdered sugar as well as granulated sugar. This sugar is used to stabilise the egg whites.
1 tsp Strawberry Essence – Any type of essence or extract can be used here depending on what flavor you would like your macarons to be.
1-2 Drops Gel Colouring (optional) – Gel food coloring needs to be used to color macarons. Liquid food coloring will alter the consistency of the batter.
Vanilla Buttercream – Buttercream or Chocolate Ganache is my favorite filling for macarons.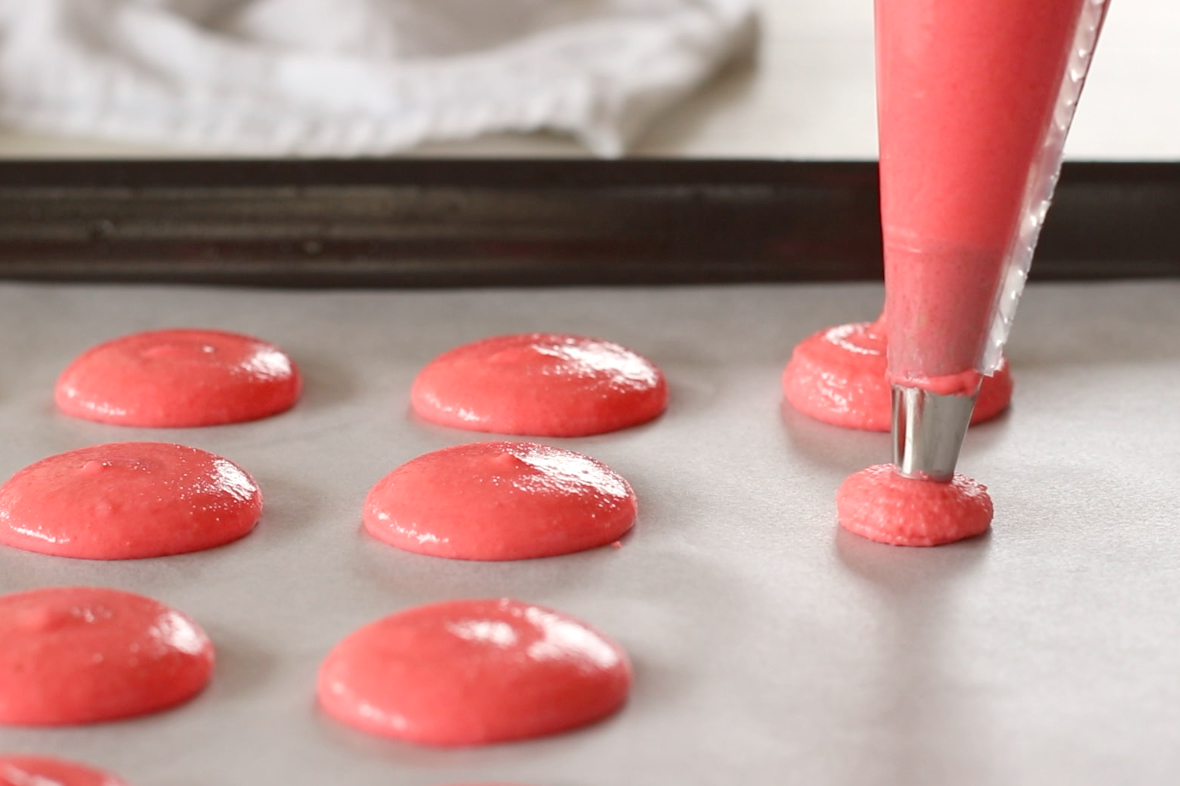 How to Make Perfect Macarons
Measure out the ground almonds and powdered sugar into a food processor.
Run the machine for about 20 seconds until the ingredients are combined. This makes sure there are no lumps in the macarons.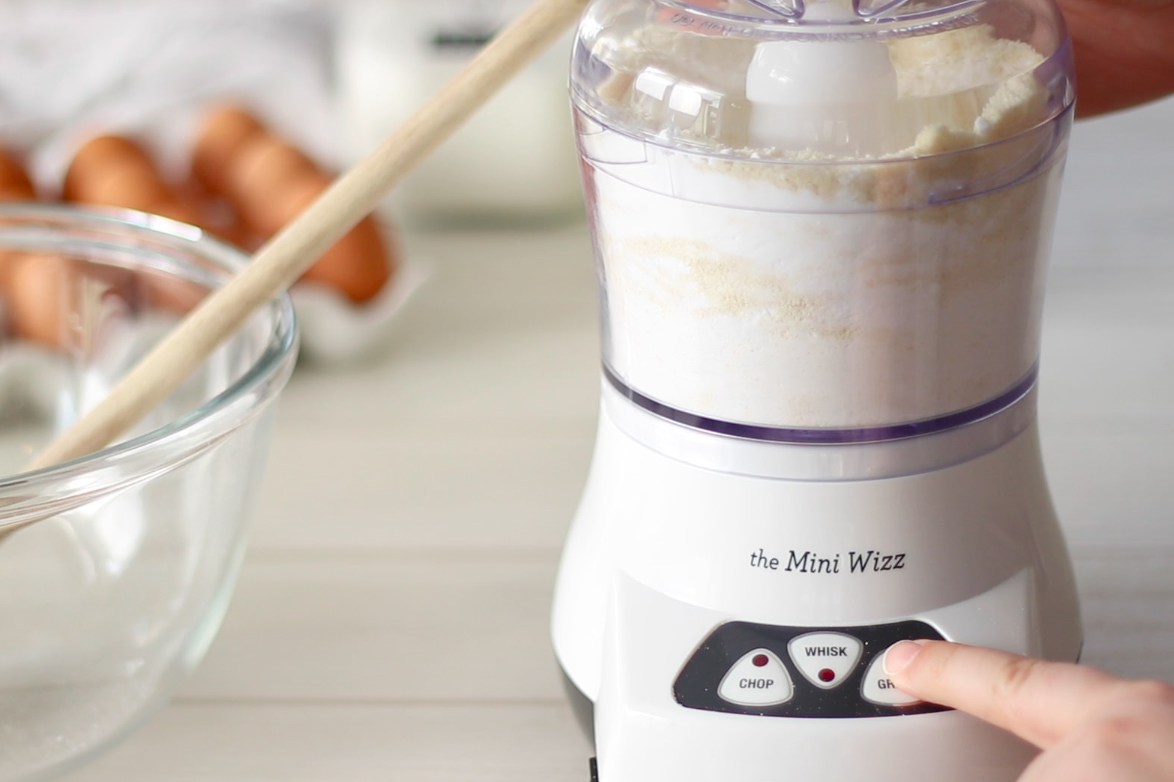 Seperate the eggs.
We only need the whites for this recipe but the yolks can be used to make Custard or Pastry Cream, Lemon Curd, Hollandaise Sauce or added to Scrambled Eggs.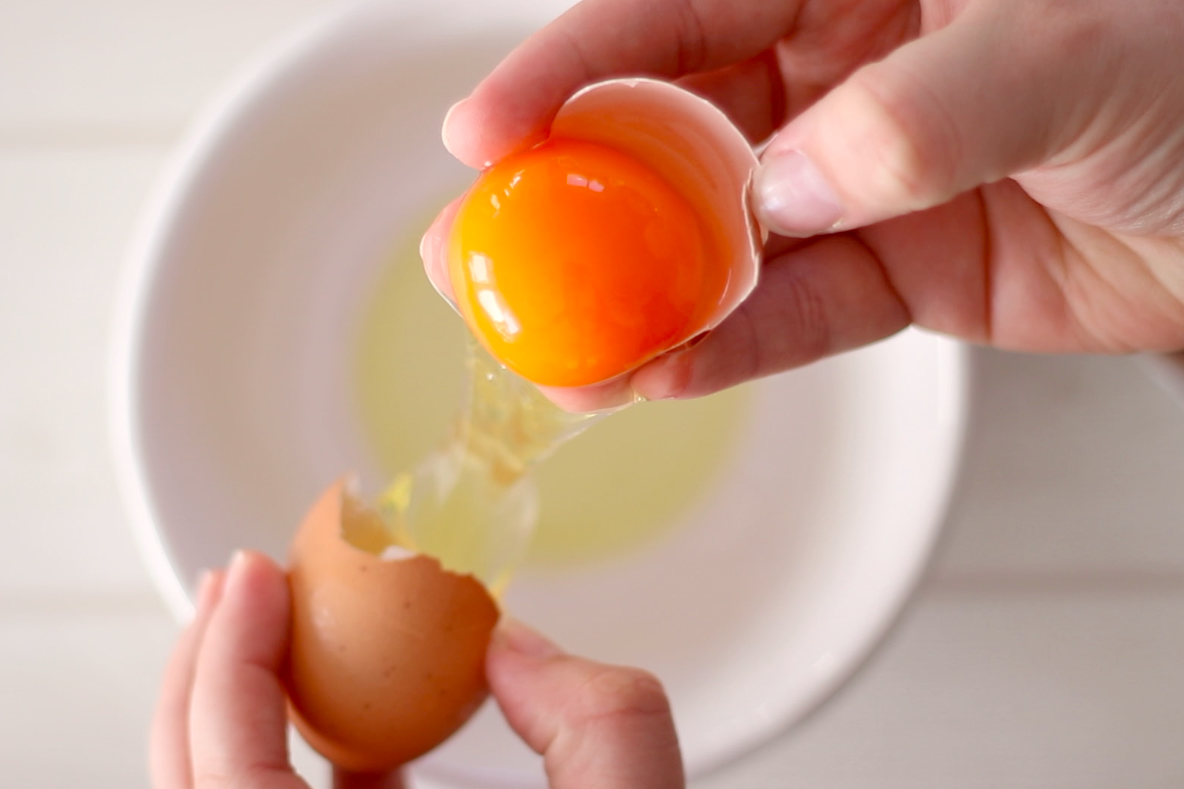 Add the egg whites to a stand mixer or hand mixer and beat on medium speed until frothy.
With the machine running on medium speed sprinkle in the sugar slowly.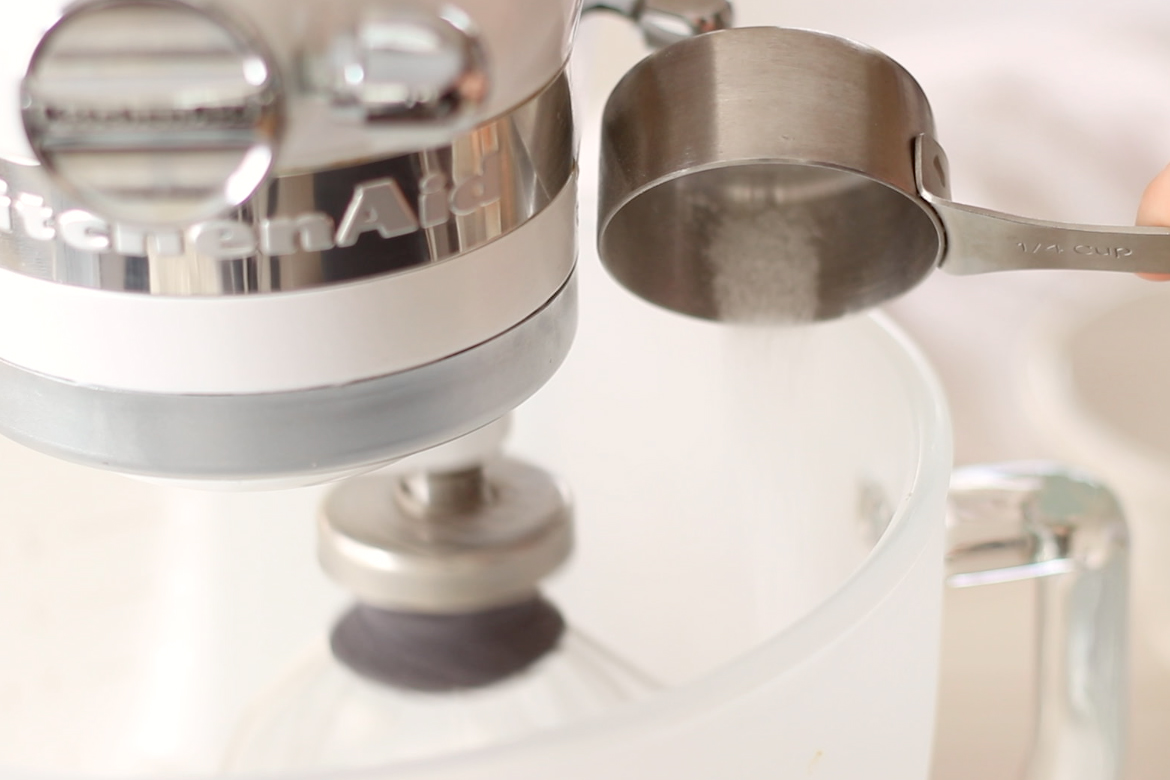 When the egg whites have reached the stiff peak stage ( when you lift the beater out of the bowl the egg whites will form peaks that don't fall over ) add the essence and coloring.
Mix for a few more seconds until combined.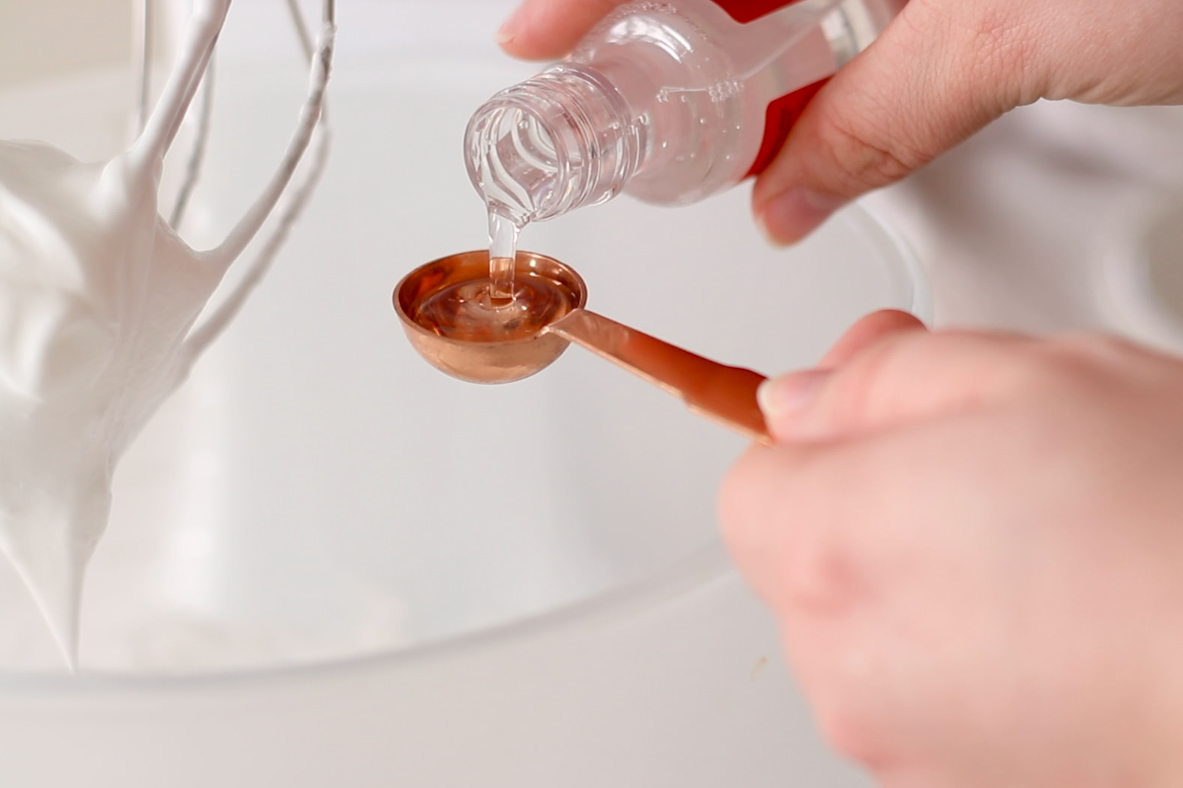 Add the first half of the egg white mixture to the almonds and sugar.
Using a wooden spoon or spatula mix these together until combined before adding the second half.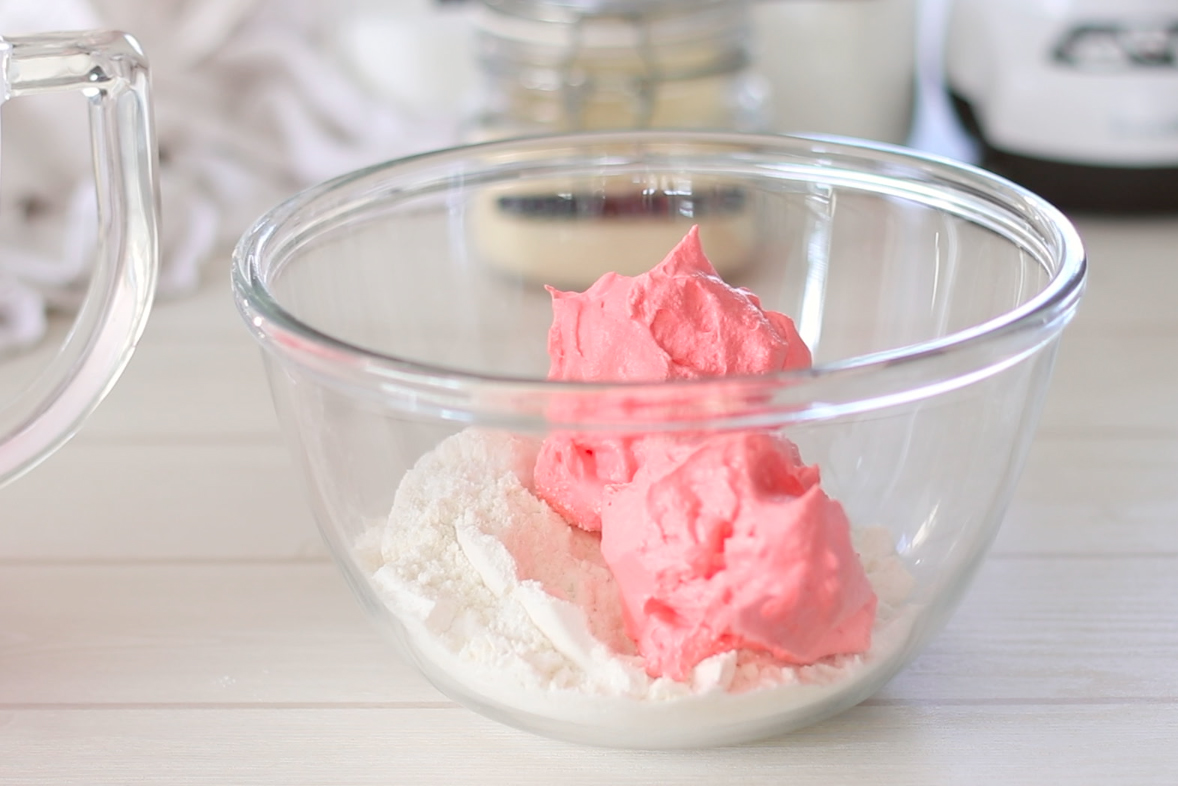 We need to get the macaron batter to the lava stage.
The best way I can show you what this looks like is through video. The batter should be able to make a figure 8 in the bowl without breaking or disappearing quickly.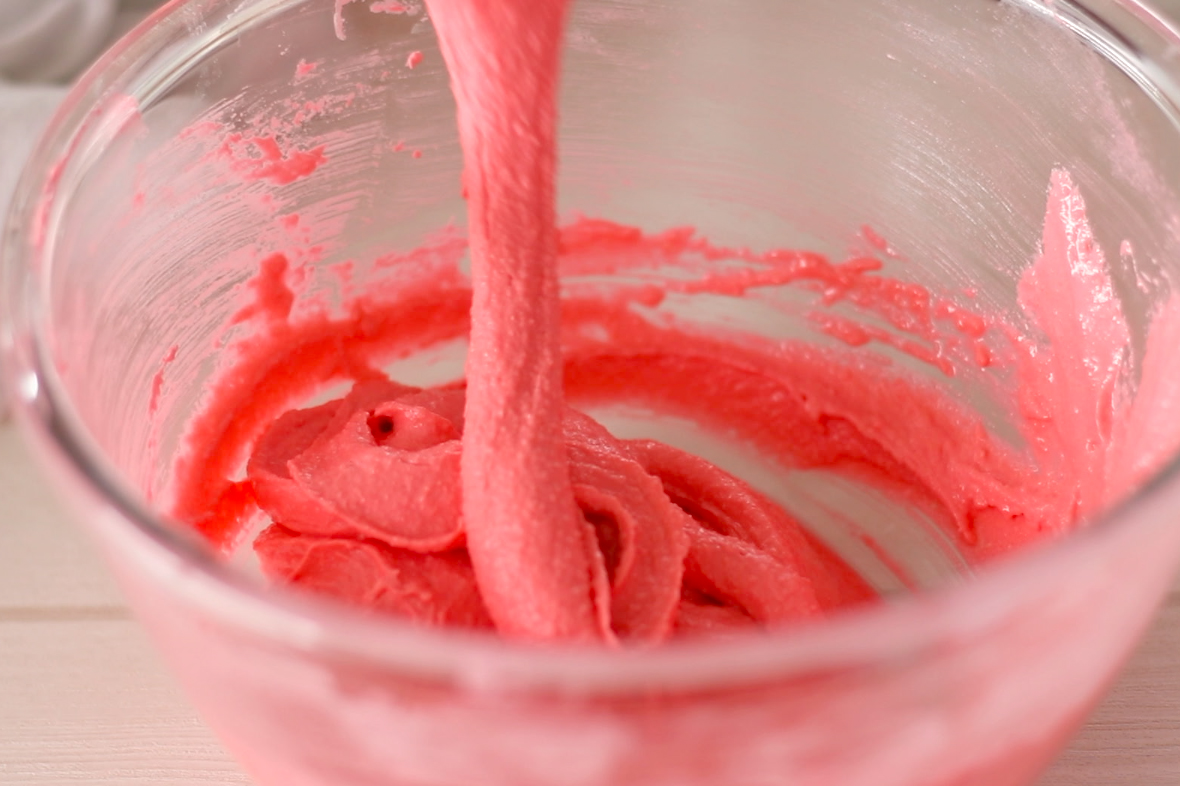 Pipe the macaron batter onto a lined baking sheet using a piping bag with a round tip.
You can draw a template or use a macaron baking sheet to get them perfect.
Rap the baking sheet on the work top a few times to remove any bubbles and leave to set for 30 minutes.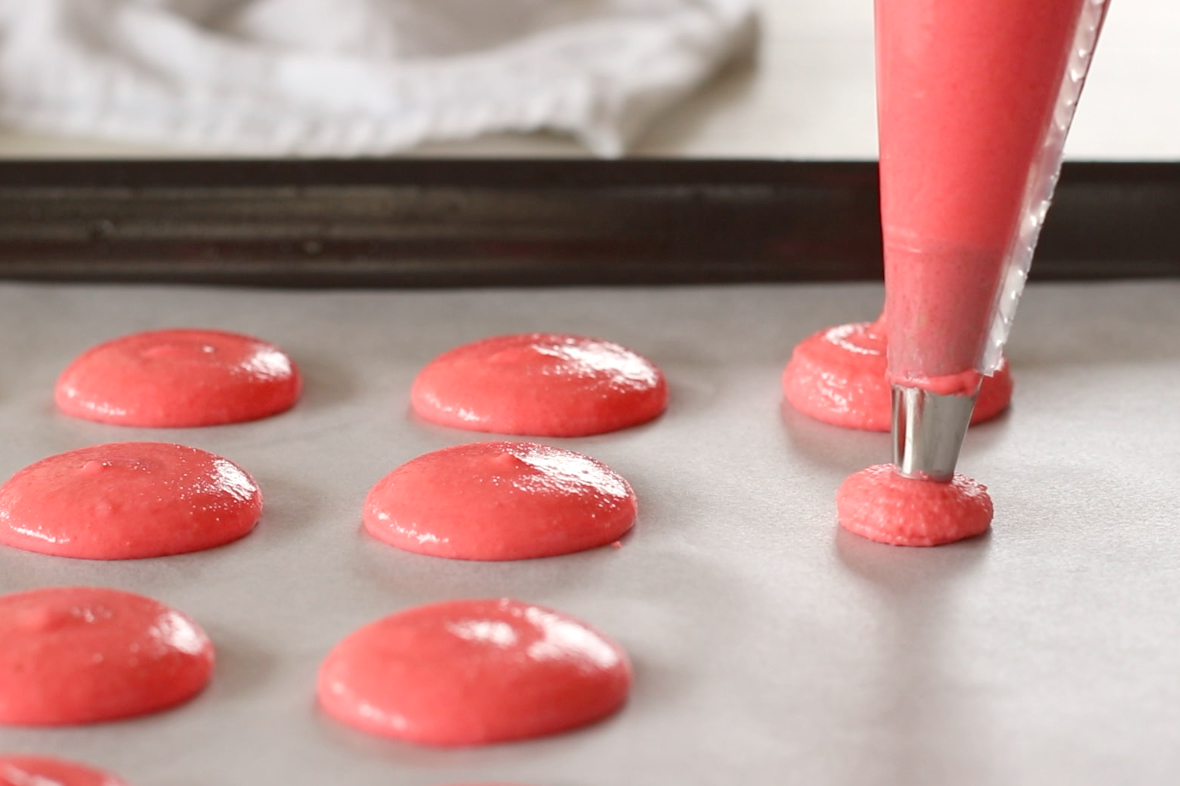 Fill your macarons with buttercream, ganache, lemon curd, jam or any other filling you would like.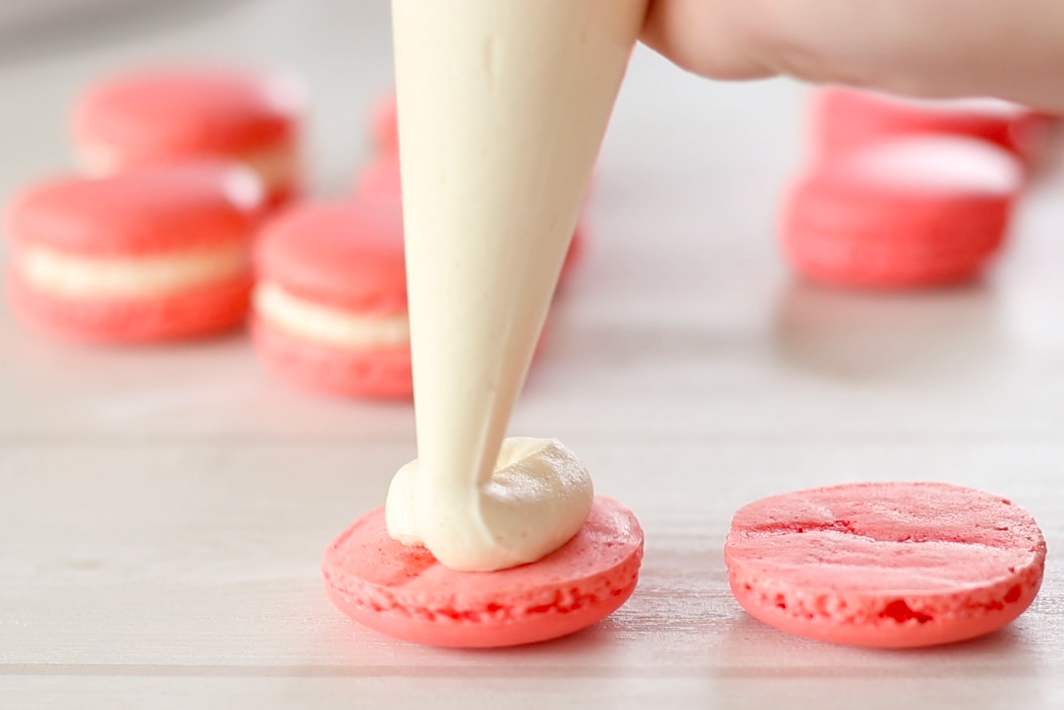 Why Macrons Fail
The two major reasons why Macarons tend to fail are broken meringues and over or under mixed batters.
Make sure to not over whip your egg whites, they should be glossy and thick without being dry. You'll be able to turn the bowl upside down and the meringue wont fall out.
The batter consistency is probably the most important. If you don't mix it enough and it's too thick the macrons with puff up and be more like baked meringue rather than macarons. If you mix to much and batter is too thin it'll spread in the oven and not develop feet.
The good news with both of these is they will still taste amazing so if you have a fail you can still enjoy them!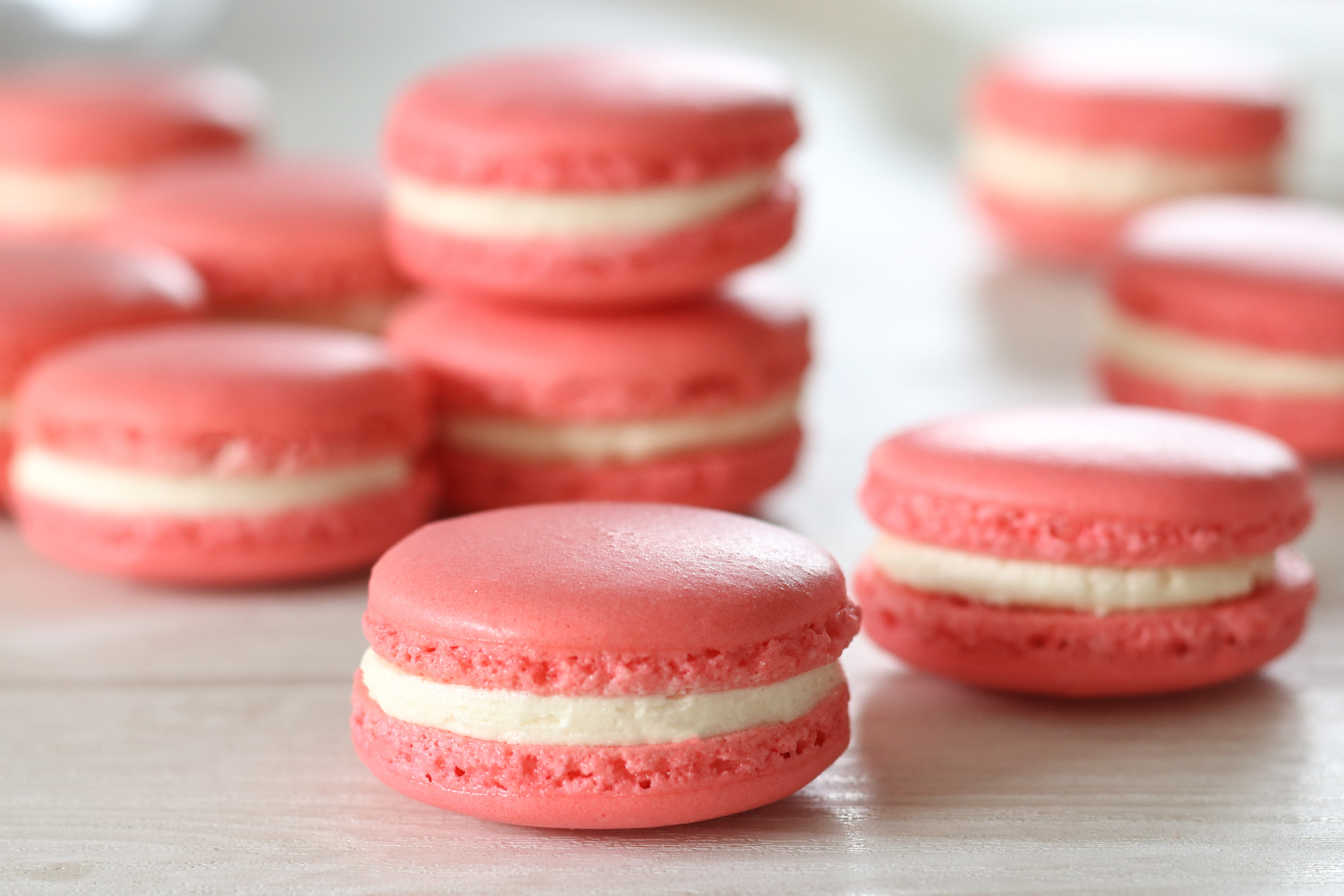 Macaron Trouble Shooting
Macarons did not develop feet
The most common Macaron issue. This is usually caused by an over mixed macaron batter or a broken meringue, it can also be caused by the macaron shells not developing a skin before baking. Make sure the batter is at the lava stage before you pipe the macarons and that they have developed a skin before baking.
Macarons are hollow
An under whipped meringue is the main cause here. Make sure the meringue is at the stiff peak stage before folding the batter together.
Macarons have cracked
Bubbles will expand in the oven causing cracks in the macaron shell. Rap the trays on the work surface to bring any bubbles to the surface. A tooth pick can be used to pop any bubbles.
Macarons have a wrinkly or glossy top
An over mixed or wet batter is the cause here. Make sure you are not over mixing the macaron batter and making sure they develop a skin before baking in the oven.

Equipment needed for this Macaron Recipe
The egg whites need to be whipped to a meringue. This takes about 5 minutes and can't really be done by hand. A hand mixer or stand mixer works best here.
Macarons a finicky and the recipe needs to be followed very carefully. The recipe has instructions for grams as well as cups.
A macaron baking sheet has the circles pre drawn so every macaron is the perfect size!
There are so many different flavours of Macarons you can make but here are a few delicious filling ideas!
Chocolate Ganache
Lemon Curd
How to Make Perfect Macarons
Additional Time:
30 minutes
Total Time:
1 hour
5 minutes
Macarons have a reputation for being almost impossible to make yourself but I promise with this recipe you'll nail it.
Ingredients
3/4 Cup / 90g Almond Flour
1 Cup / 125g Powdered Sugar
2 Egg Whites
1/2 tsp Salt
1/4 Cup / 50g White Sugar
1 tsp Strawberry Essence
1-2 Drops Gel Food Coloring
Vanilla Buttercream
1 Stick / 113g Butter
1 1/2 Cups / 190g Powdered Sugar
1 tsp Vanilla Essence
1 Tbsp Milk
Instructions
Add the ground almonds and powdered sugar to a food processor and pulse 5-6 times until the almonds and sugar are well combined. Pour into a medium sized bowl.
Seperate the 2 eggs, saving the yolks for another recipe and adding the whites to another bowl with the salt. Whip your egg whites until they become foamy in a stand mixer or with a hand mixer.
With the mixer on high slowly sprinkle in the ¼ cup of sugar. When the egg whites are at the soft peak stage add the strawberry essence and colouring. Whip again until they reach stiff peaks.
Add half of the egg whites to the dry ingredients and fold together until combined. Add the remaining egg whites and fold together until you can make a figure 8 in the bowl without the mixture breaking.
Spoon the macaron batter into a piping bag with a small round tip and pipe 1 inch rounds about an inch apart on a lined baking sheet. Rap the sheet on the work surface 5 times to remove any air bubbles and leave to set for 30 minutes.
When you can touch the macarons without smudging them place into a 150C | 300F oven for 15 minutes. Cool completely before filling.

Vanilla Buttercream

Add the butter to the bowl of your stand mixer or a large bowl if you are using a hand mixer. Mix on medium speed for about 5 minutes or until light and fluffy and doubled in volume.
Add the sugar a cup at a time, mixing well in between each addition until well combined.
Add the vanilla essence and milk and give the buttercream a final mix.
Pipe 1 Tablespoon worth of buttercream on one of the macarons and top with another, pressing until the buttercream reaches the edges. Continue with the remaining macarons.
Notes
Macarons are best the next day so make them a day ahead of when you want to serve them.
Change the flavouring by using a different type of essence or extract - 1 teaspoons worth.
Only use Gel Coloring for these Macarons as too much liquid can make them spread too much in the oven.
Use anything you would like to fill the macarons, buttercream, ganache, lemon curd or fruit preserve.
Recommended Products
As an Amazon Associate and member of other affiliate programs, I earn from qualifying purchases.
Nutrition Information:
Yield:

15
Serving Size:

1 Macaron
Amount Per Serving:
Calories:

187
Total Fat:

9g
Saturated Fat:

4g
Trans Fat:

0g
Unsaturated Fat:

4g
Cholesterol:

16mg
Sodium:

134mg
Carbohydrates:

26g
Fiber:

1g
Sugar:

24g
Protein:

2g