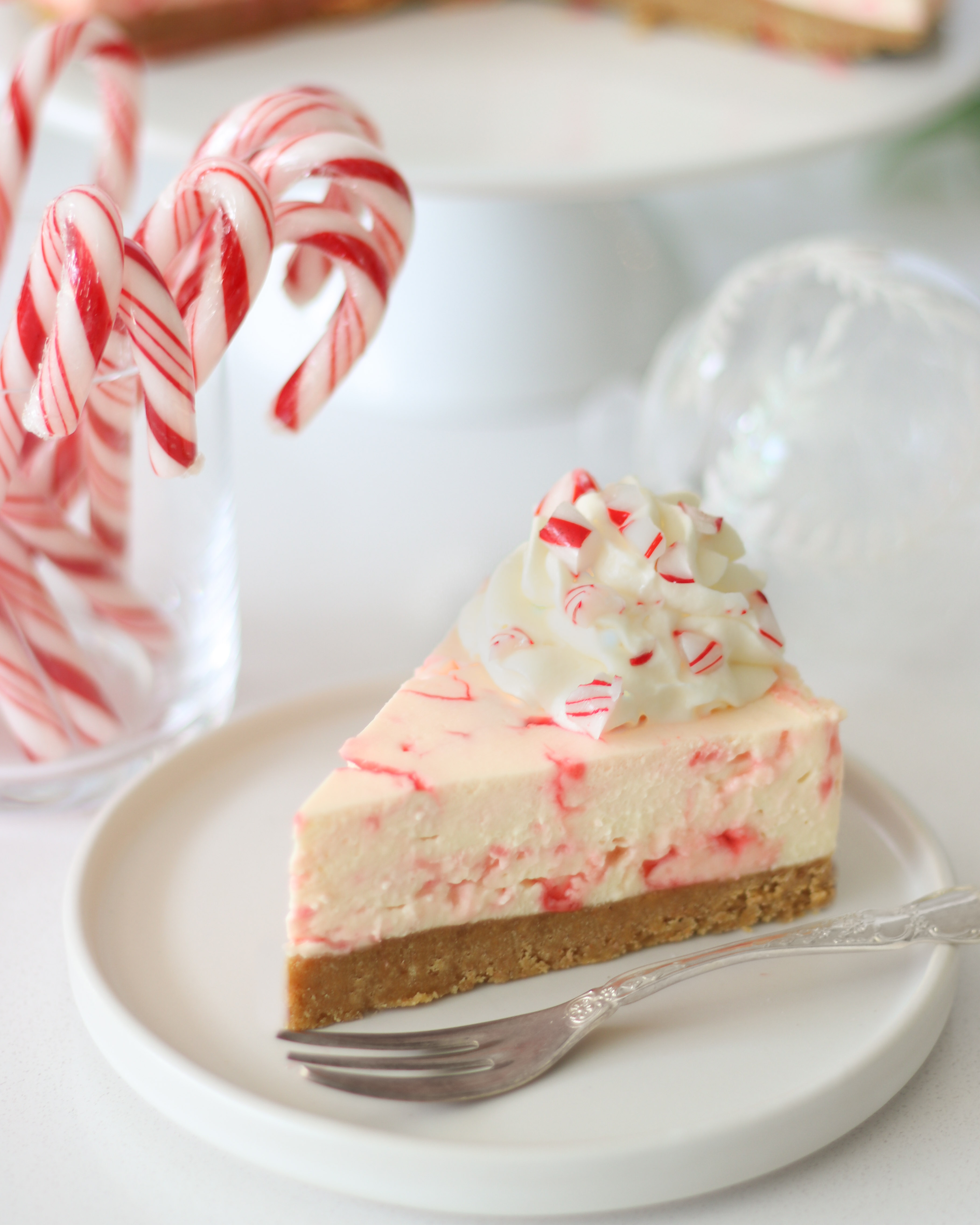 I'm sharing with you how to make this delicious No Bake Candy Cane Cheesecake. It's so easy and simple to make, doesn't require an oven plus it's perfect for Christmas Day.
Equipment for this Recipe
Candy Cane No Bake Cheesecake Recipe
Ingredients
250g / 9oz Digestive Biscuits or Graham Crackers, crushed
½ Cup / 113g / 1 Stick Butter, melted
2 Cups / 500ml Cream
250g / 9oz Cream Cheese
½ Cup / 60g Icing Sugar or Powdered Sugar
1-2tsp Peppermint Essence
5 Candy Canes
Whipping Cream to serve
Instructions
In a mixing bowl combined the crushed biscuits and melted butter. Pour the mixture into a lined 8inch or 20cm cake tin and use the back of a spoon to compact evenly to form the cheesecake base. Place in the fridge to set.
Whip the cream until soft peak form using a hand mixer or a whisk. Set to the side.
Combine the cream cheese, sugar, and peppermint essence in a mixing bowl and whisk to combine until smooth. Pour in the whipped cream and fold together.
Place the candy canes in a plastic bag and use a heavy object to roughly crush them. Pour most of the candy canes into the cheesecake mixture, reserving a small amount for decorating before serving. Gently for the cheesecake filling until the candy canes are mixed through.
Pour the cheesecake filling into the cake tin and use an offset spatula to smooth out the top. Place into the fridge for at least 4-6 hours to set.
Serve the cheesecake topped with whipped cream and crushed candy canes.