These Vanilla Cupcakes are super easy and simple to make, they're light, soft and fluffy and bursting with vanilla flavor, you wont be able to stop at just one. Decorate them with vanilla buttercream because a cupcake without buttercream isn't really a cupcake, they'll be the best you'll ever taste.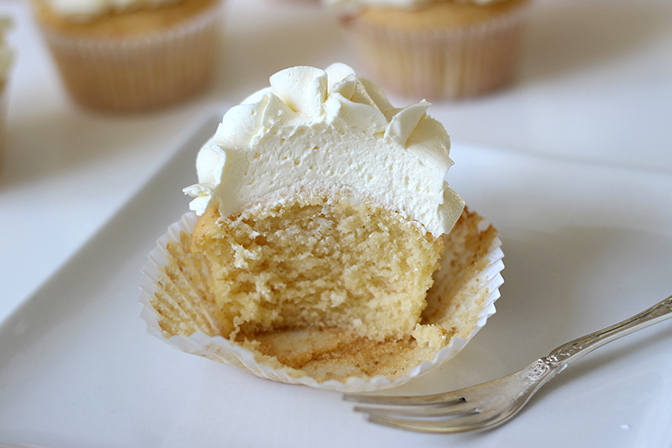 I've made more batches of vanilla cupcakes than I could count and I say with confidence this is a perfect recipe. They're melt in your mouth delicious, super moist and never dry. Vanilla Cupcakes go perfectly with vanilla buttercream but they're also perfect for so many other flavors and coloring. Think birthday parties and celebrations, cupcakes are always a hit and so fun and easy to decorate for a theme.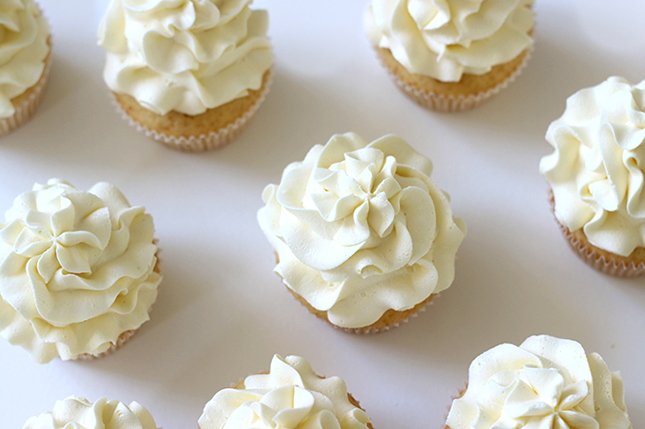 Vanilla Cupcake Recipe Ingredients
1 Stick / 113g Butter
Room temperature unsalted butter is best. Margarine can be substituted as an alternative to make these cupcakes vegan with using a milk alternative.
¾ Cup / 150g Sugar
1 tsp Vanilla Essence
Vanilla essence, extract and paste can all be used here.
2 Eggs
Make sure to remove your eggs from the fridge so they are at room temperature before starting the recipe.
1½ Cups / 190g Flour
Standard all purpose white flour is the best type to be using, don't use self raising flour as we are adding baking powder seperate for rising the cupcakes.
1 tsp Baking Powder
½ tsp Salt
The salt rounds out the flavors in the cupcake, leave it out if you are using salted butter.
1 Tbsp Sour Cream
You can substitute sour cream for yoghurt or just use an extra tablespoon of milk if you don't have either.
½ Cup / 125ml Milk
I use whole milk in this recipe but milk alternatives can be used.
Video Tutorial
Watch the video below for step by step instructions for how to make the most delicious Vanilla Cupcakes!
How to Make Vanilla Cupcakes
In a medium bowl if you're using a hand mixer or the bowl of a stand mixer add the room temperature butter.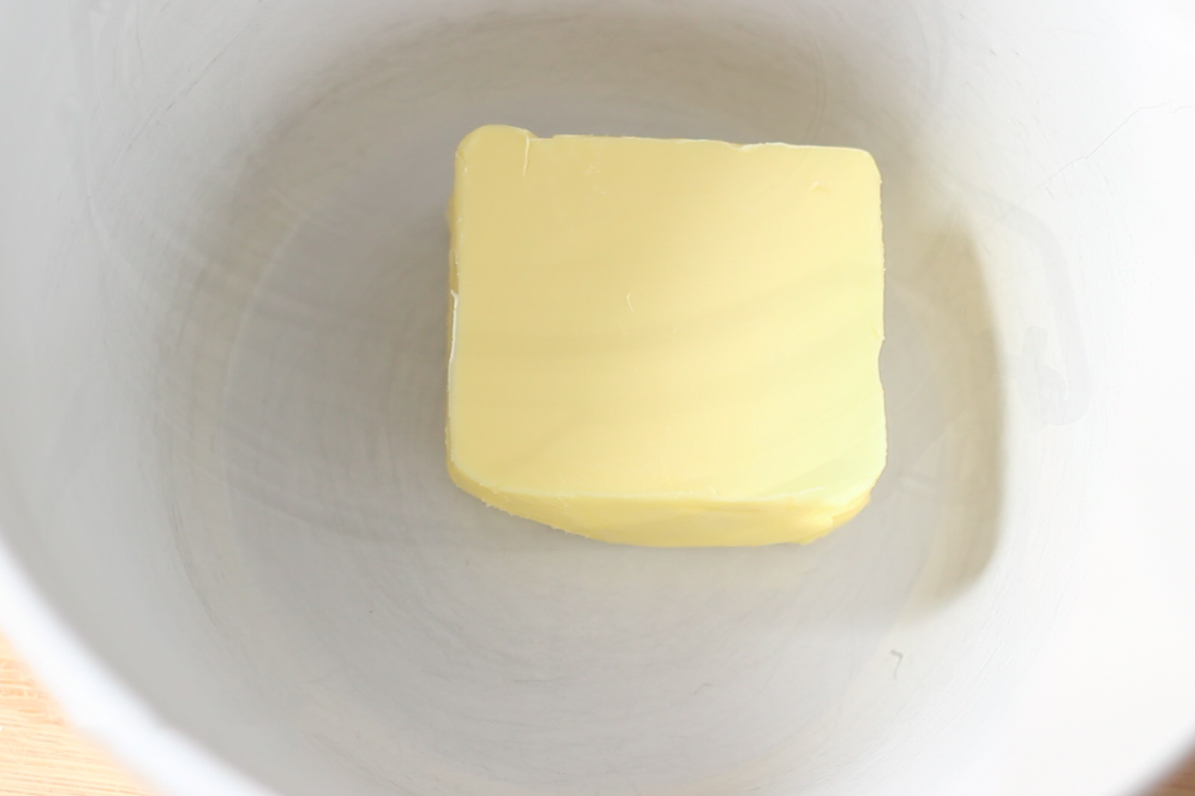 Measure out the sugar and add it to the bowl with the butter.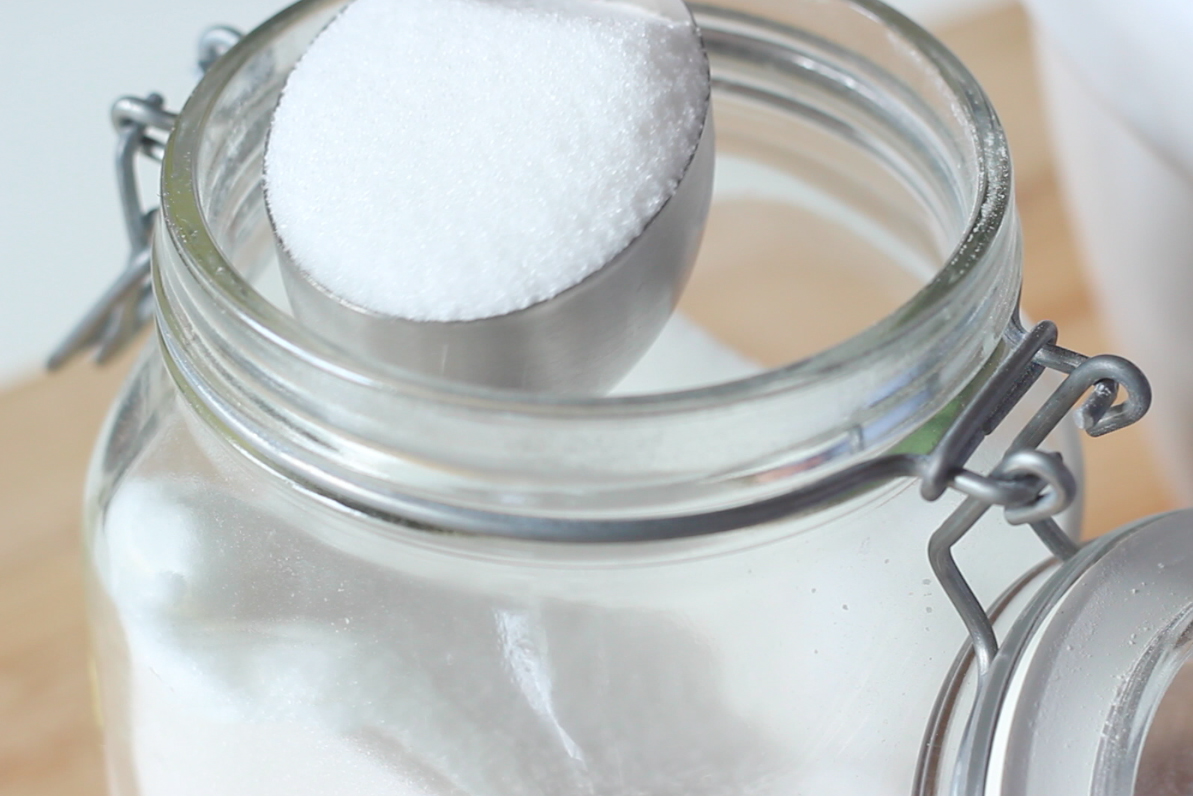 Cream the butter and sugar together on medium speed until light and fluffy.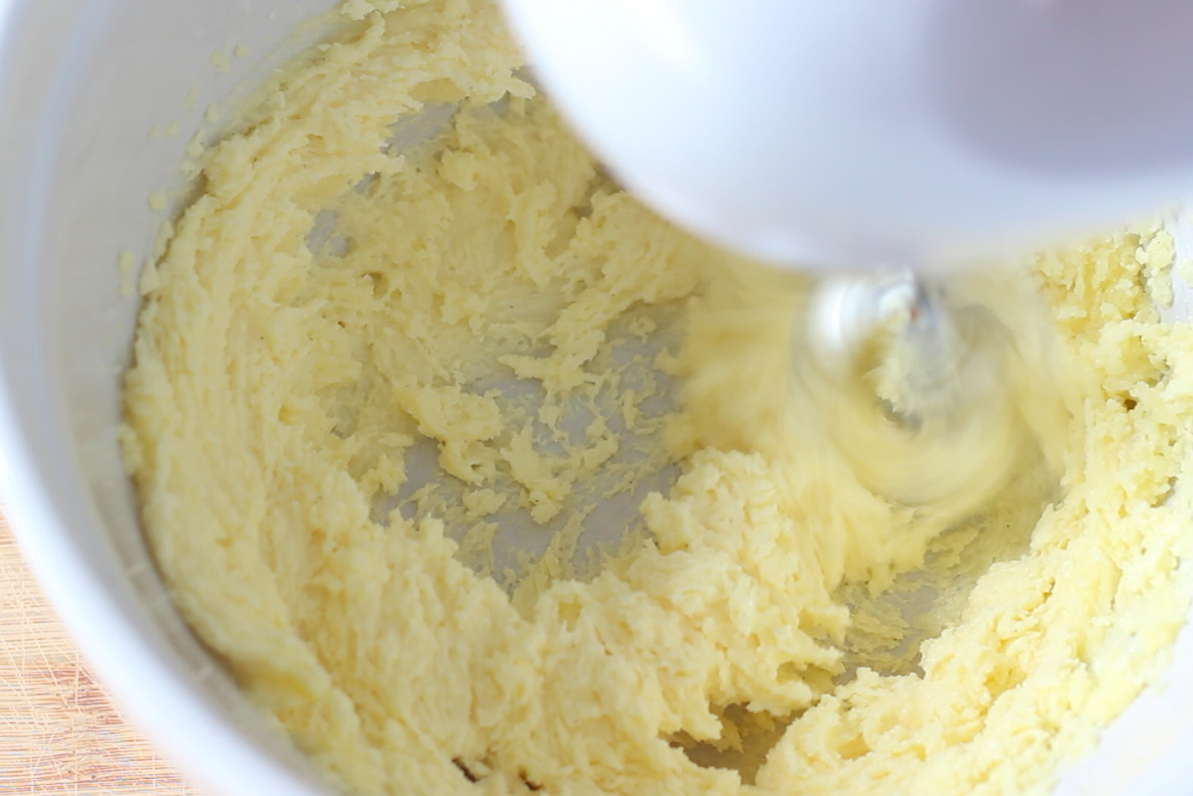 Add the two eggs to the bowl, one at a time mixing the batter together until the egg is combined before adding the next. Pour in the vanilla essence.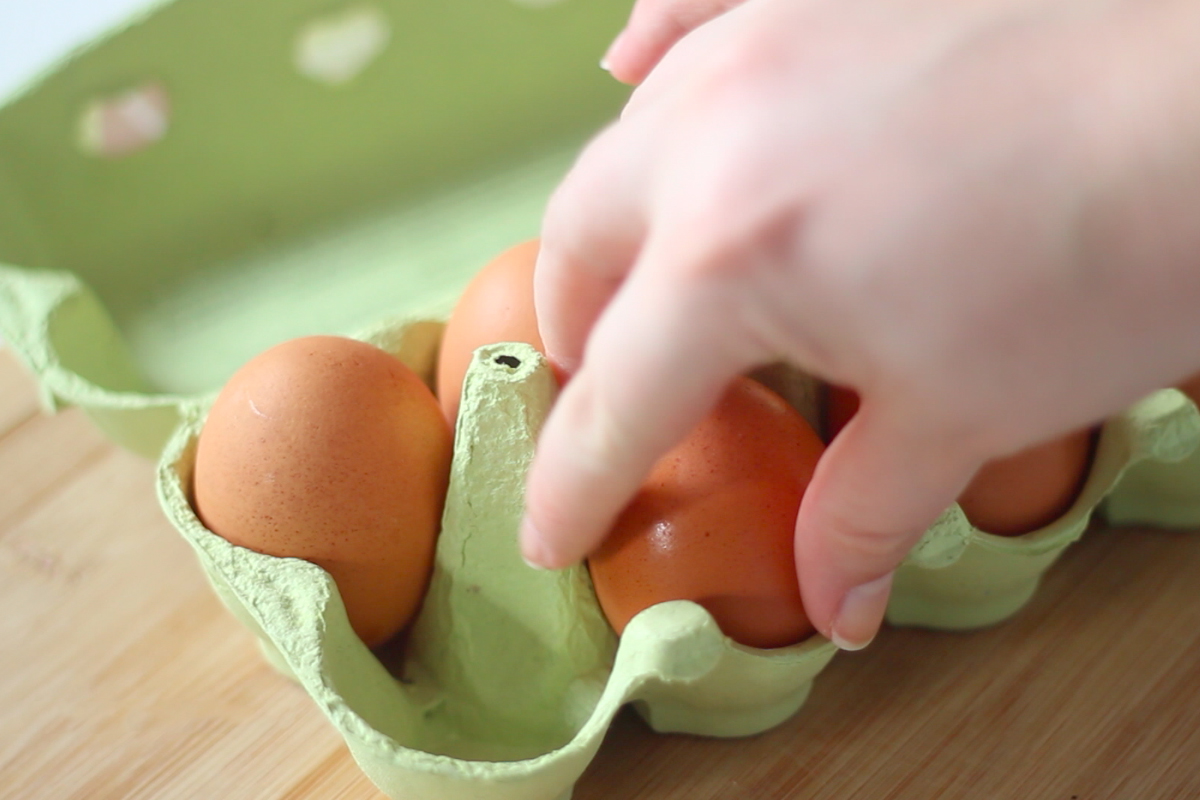 Sieve the dry ingredients, the flour, baking powder and salt, into the mixing bowl.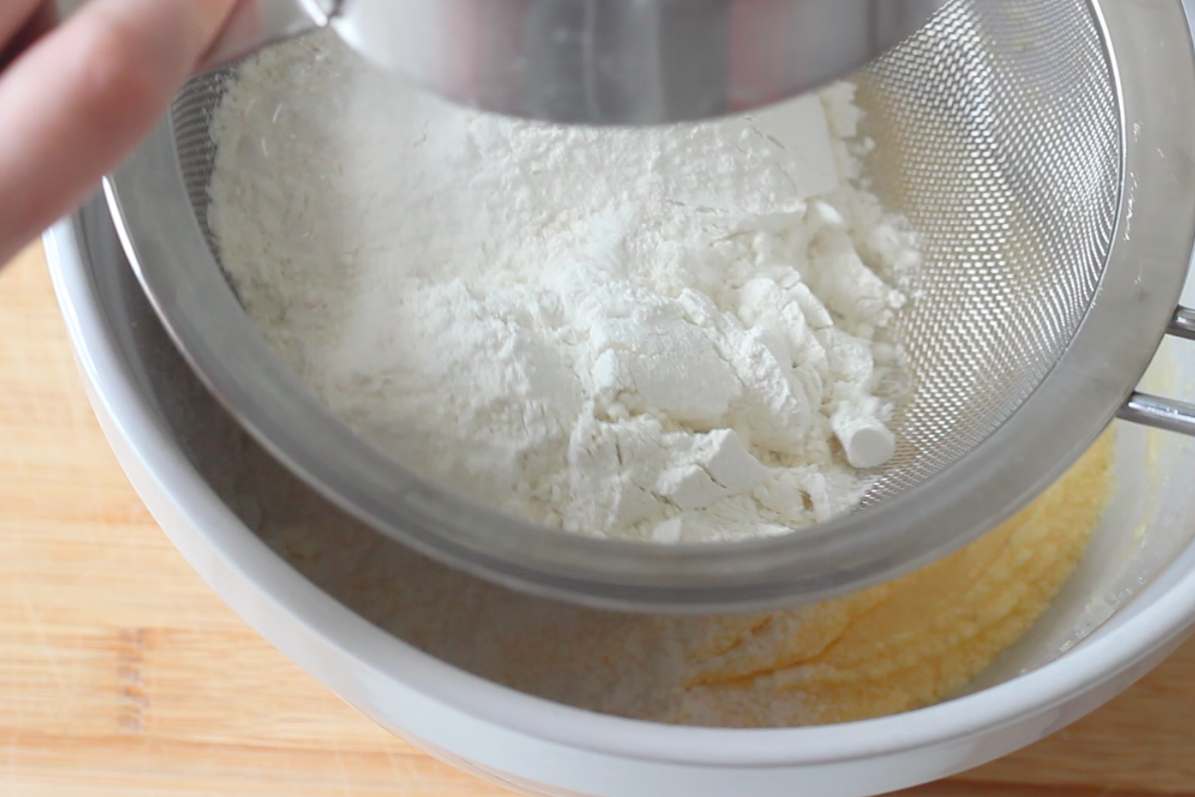 Pour the milk into the mixing bowl and add in the sour cream.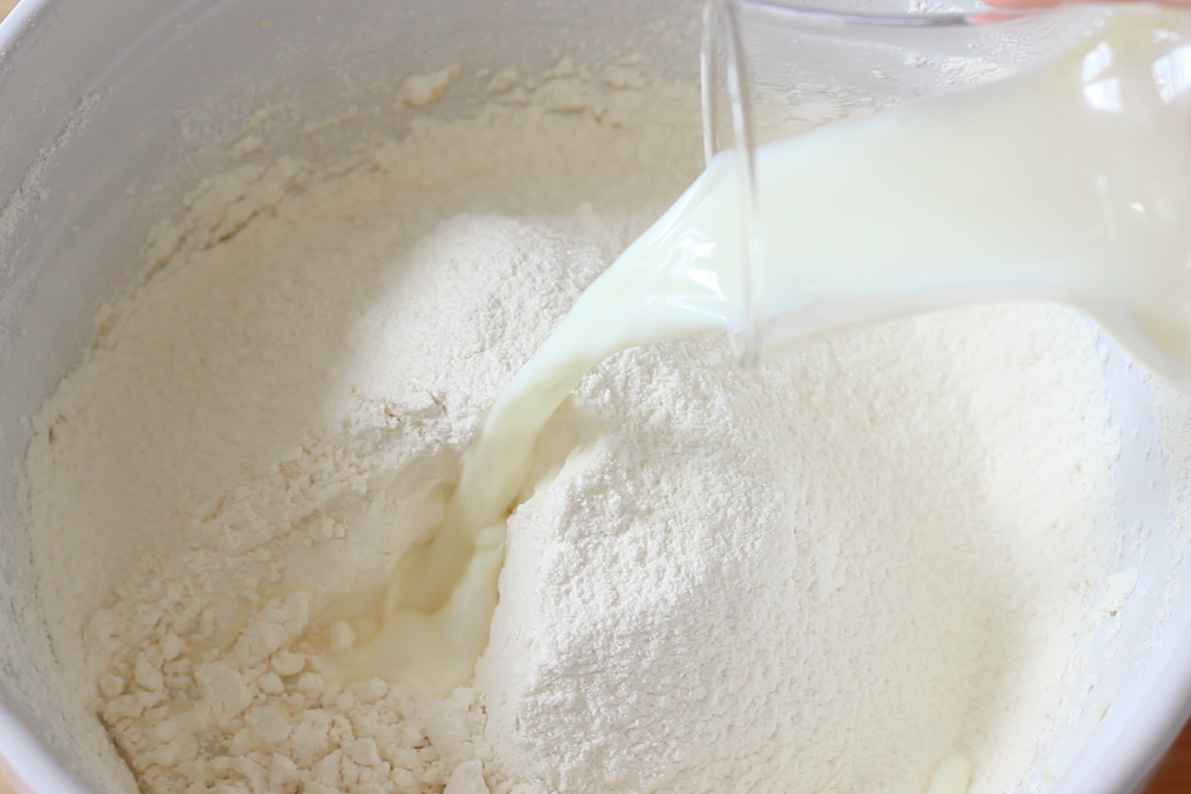 Mix the cupcake batter together until combined. Make sure not to over mix, just long enough until there is no dry flour, or the cupcakes will become dry and tough.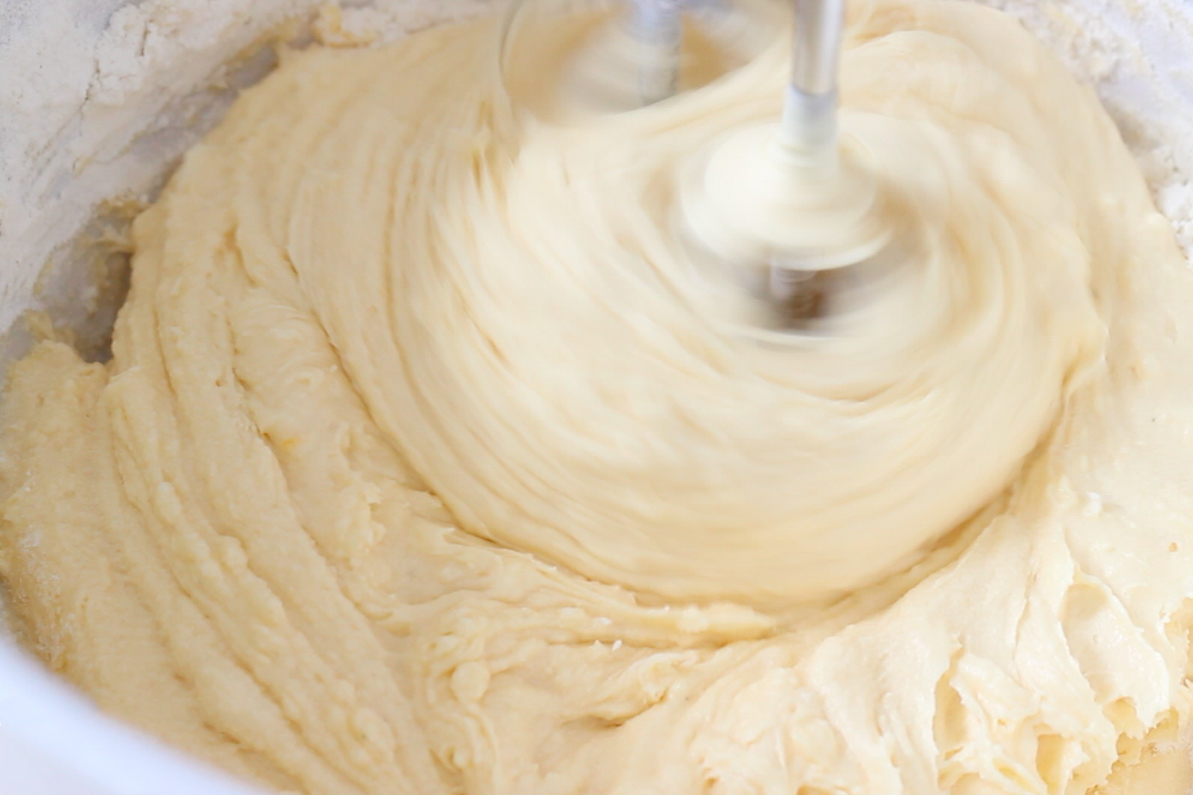 Divide the cupcake batter between 12 cupcake liners, an ice cream scoop works really well here. Place the cupcakes into a 180C/350F oven for 20 minutes or until the cupcakes spring back when lightly pressed in the centre.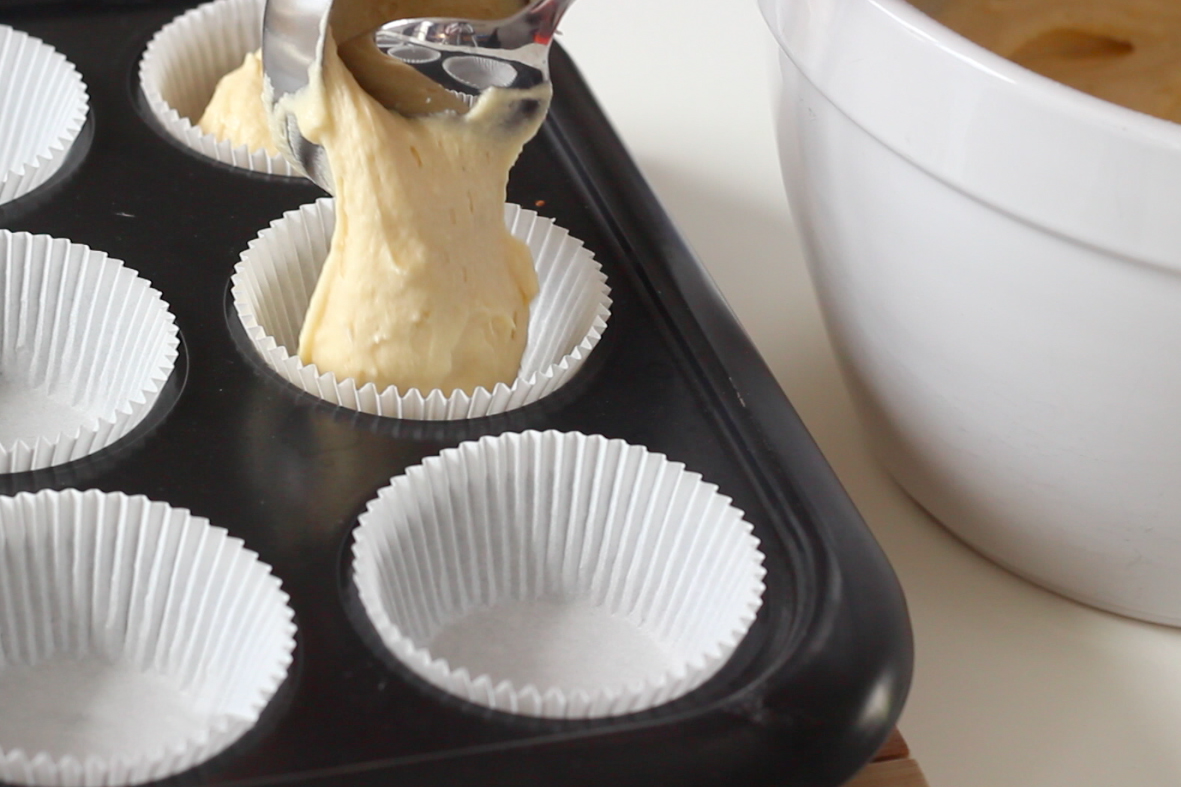 Let the cupcakes cool completely on a wire rack before decorating with vanilla buttercream.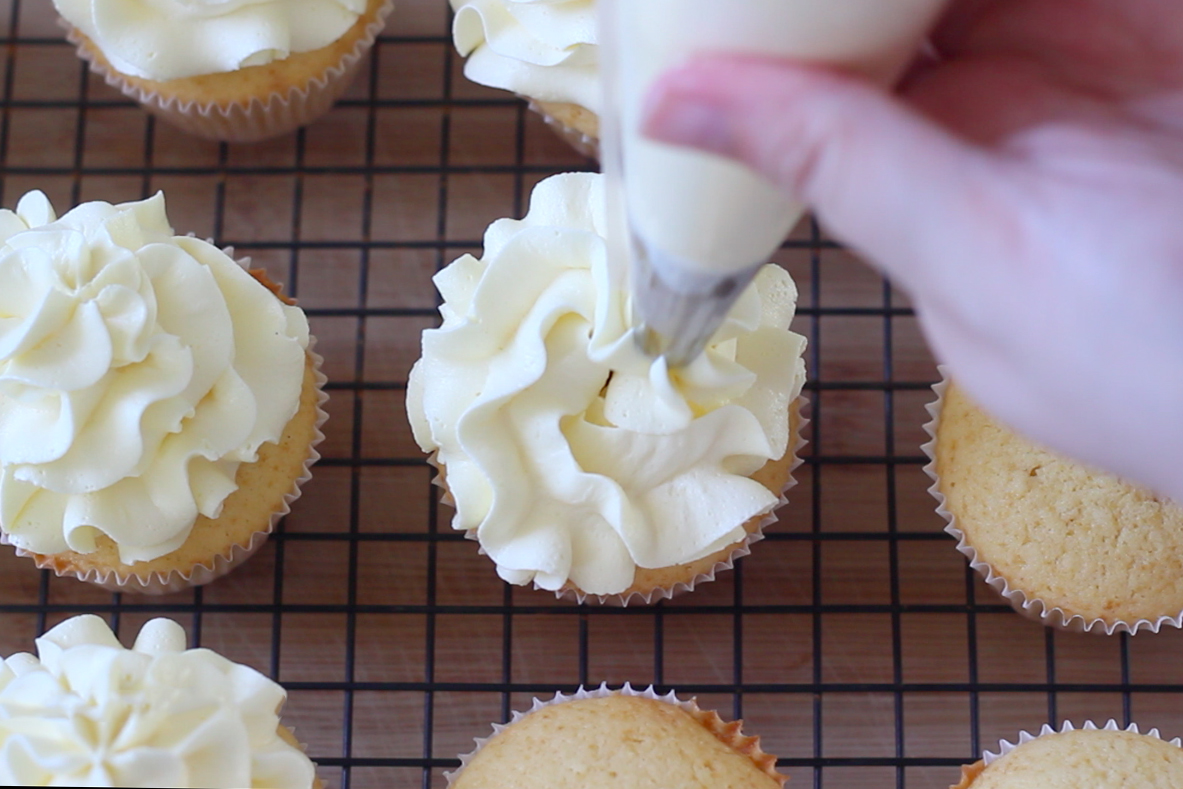 Equipment needed for this Vanilla Cupcake Recipe
The butter and sugar needs to be creamed together for this recipe. You can do this by hand but it does take quite a few minutes so using a machine gets the job done so much quicker and easier.
To measure the ingredients for this recipe measuring cups or a digital scale can be used. I have given the amounts for both as different people have different preferences.
Metal or silicone cupcake pan can be used here. I usually use cupcake liners when making cupcakes but if you are not don't forget to grease the pan so the cupcakes don't stick.
Not essential but it makes the job so much easier. Use an ice cream scoop so divide up the cupcake batter between the pan so you don't end up with not enough left for the last cupcake.

Common Questions about this Vanilla Cupcake Recipe
Can I double this recipe?
Yes you can. This recipe can be double, tripled or halved depending on how many cupcakes you would like to make. Make sure you have enough cupcake pans and space in your oven to bake all the cupcakes or I would recommend just making the recipe twice.
Do I need to use sour cream?
Sour cream works really well in this recipe but it isn't essential. If you don't have sour cream, natural unsweetened or greek yoghurt will do the same job but failing that you can just use the same amount of milk.
How long do these cupcakes last?
Like most baking, the fresher the better. I would recommend to eat these cupcakes the day of or the day after baking. By day three the cupcakes do start to dry out and become stale. Keep them in an airtight container at room temperature.
For more Cupcake Recipes check out:
Vanilla Cupcake Recipe
The perfect light and fluffy vanilla cupcakes
Ingredients
1 Stick / 113g Butter
¾ Cup / 150g Sugar
1 tsp Vanilla Essence
2 Eggs
1½ Cups | 190g Flour
1 tsp Baking Powder
½ tsp Salt
1 Tbsp Sour Cream or Natural Yoghurt (optional)
½ Cup / 125ml Milk
Instructions
In a large mixing bowl beat together the butter and sugar until light and pale.
Add the vanilla extract and eggs one at a time, beating in between each addition.
In a medium sized mixing bowl sieve the flour, baking powder and salt together.
Add the dry ingredients to the wet along with the sour cream and milk. Fold the batter together until just combined.
Divide the cupcake batter between 12 cupcake liners and place into a 180C | 350F oven for 20 minutes or until the cupcakes spring back when pressed.
Cool on a wire rack before decorating with Vanilla Buttercream.
Notes
The sour cream or natural yoghurt is optional but for the best cupcakes I recommend using it.
Make sure the butter is at room temperature before trying to cream it with the sugar. Just remove it from the fridge 1-2 hours before you need it.
This is a great basic vanilla cupcake recipe. Try adding 1 cup of fruit or chocolate chips to change up the flavor.