I'm sharing with you how to make a chocolate salted caramel tart. This is an incredibly decadent dessert. A biscuit base filled with smooth buttery caramel, topped with chocolate ganache and a sprinkle of flaky sea salt.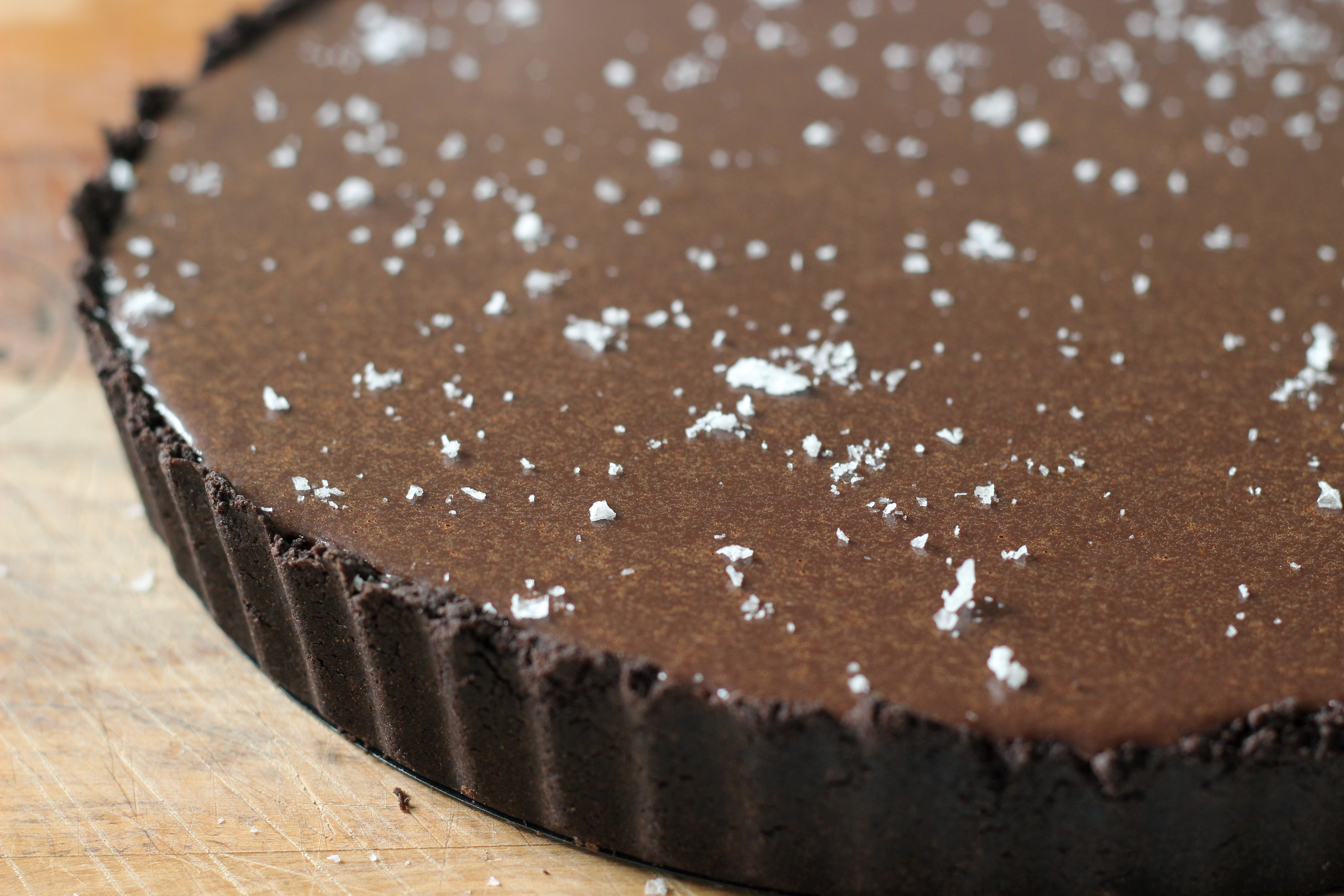 Chocolate Salted Caramel Tart
Ingredients
113g / ½ Cup Butter
60g / ½ Cup Icing Sugar
2 Egg Yolks
185g / 1½ Cups Flour
60g / ½ Cup Cocoa Powder
450g / 2¼ Cups Sugar
190ml / ¾ Cup Glucose Syrup (Corn Syrup)
60ml / ¼ Water
85g / ⅓ Cup Butter
375ml / 1½ Cups Cream
5ml / 1 Teaspoon Vanilla Extract
100g / 3.5oz Dark Chocolate
80ml / ⅓ Cup Cream
Flaky Sea Salt
Instructions
Place the butter and icing sugar into a mixing bowl. Mix together until everything is well combined.
Separate two eggs, placing both egg yolks into the mixing bowl. Mix together again.
Sieve in the dry ingredients, the flour and cocoa and mix everything together. It should be crumbly in texture but when pressed should clump together.
Pour into a tart pan press with a spoon until the base and sides are evenly coated. Prick all over with a fork and place into a 180C or 350F oven for 15 minutes. Cool on a wire rack.
Place the sugar, glucose syrup, and water into a medium sized pot. Heat over medium hight heat for 10-20 minutes until the sugar has turned a light amber colour. Don't stir the sugar as this creates sugar crystals up the sides of the pot.
Place in the butter, heavy cream, and vanilla extract. The caramel will bubble up but just wait for it to calm down and stir.
Continue cooking for 10-15 minutes until the caramel has darkened in colour and become thicker.
Cool for a few minutes until the bubbles dissipate and pour into the cooled tart base. Transfer to the fridge and leave to set for at least 2 hours.
When the caramel is set heat the cream over medium heat until it starts to simmer, do not let it boil.
Pour over the chopped chocolate and leave to melt for a few minutes. Stir together until the ganache is completely smooth and pour over the caramel.
Leave to set for an hour and sprinkle over the flaky sea salt.
Cut into slices and enjoy!