This French Crepe Recipe makes the perfect weekend breakfast served traditional with lemon and sugar or maybe something a little more decadent like chocolate and banana.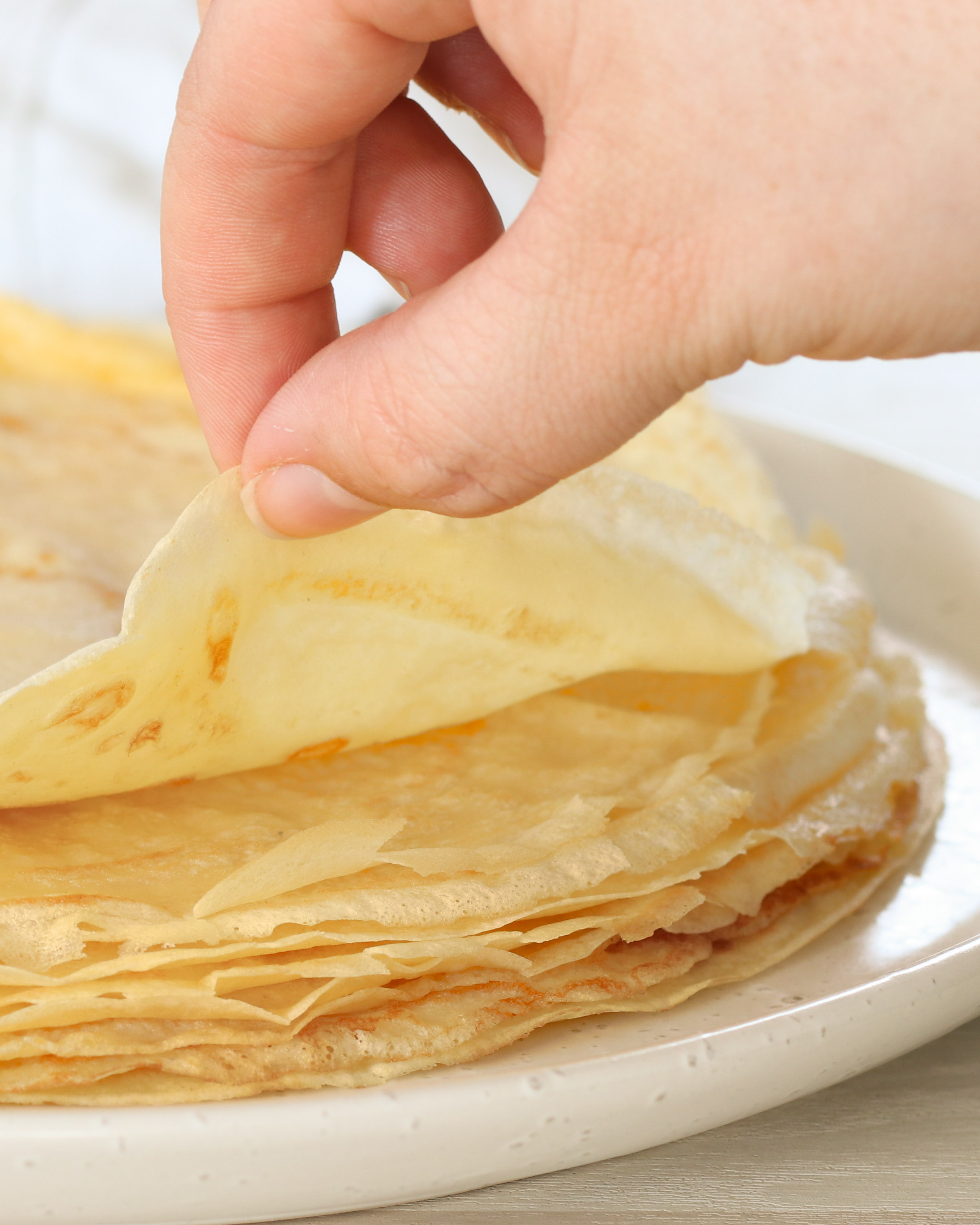 Video Tutorial
Watch the video below for how to make the most delicious French Crepes
A simple and foolproof Crepe Recipe
French Crepes are one of the easiest recipes to make at home. You only need a few basic ingredients that you most likely already have in your kitchen.
This recipe can be made in a mixing bowl with a whisk or hand mixer or an even easier method is to use a blender. You'll get a completely smooth batter in a matter of minutes with minimal effort.
French Crepe Fillings
French Crepes can be filled with just about anything you can think of, savoury or sweet.
A favorite of mine and one of the most traditional options is lemon juice and a sprinkling of sugar, the perfect mix of tangy and sweet.
Crepes can be for breakfast, lunch, dinner or dessert.

French Crepe Recipe Ingredients
1 Cup / 125g Flour – Plain all purpose or standard flour works best for this recipe. Don't use self raising as the crepes don't need to rise.
1/2 tsp Salt – Salt helps to round out the flavors of the crepes. It wont be salty!
2 Eggs – Make sure your eggs are at room temperature. If you store them in the fridge just remove them about 30 minutes before you start this recipe.
1 1/4 Cups / 310ml Milk – I use whole milk for this recipe but any type of milk or milk alternative should work.
2 Tbsp Melted Butter – The butter can be salted or unsalted. If you have salted butter remove the salt from the recipe.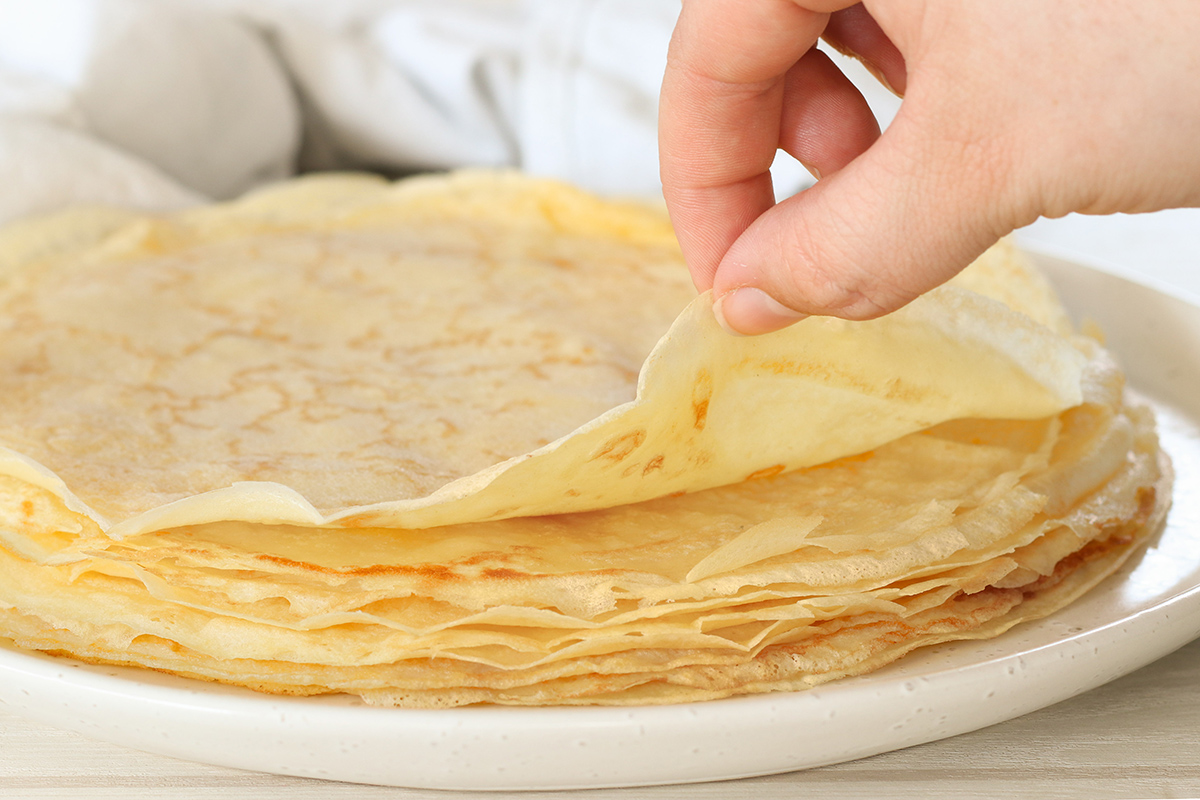 How to make Delicious French Crepes
Place a sieve on top of a medium sized mixing bowl.
Measure out the Flour and salt and sieve it into the bowl to remove any lumps.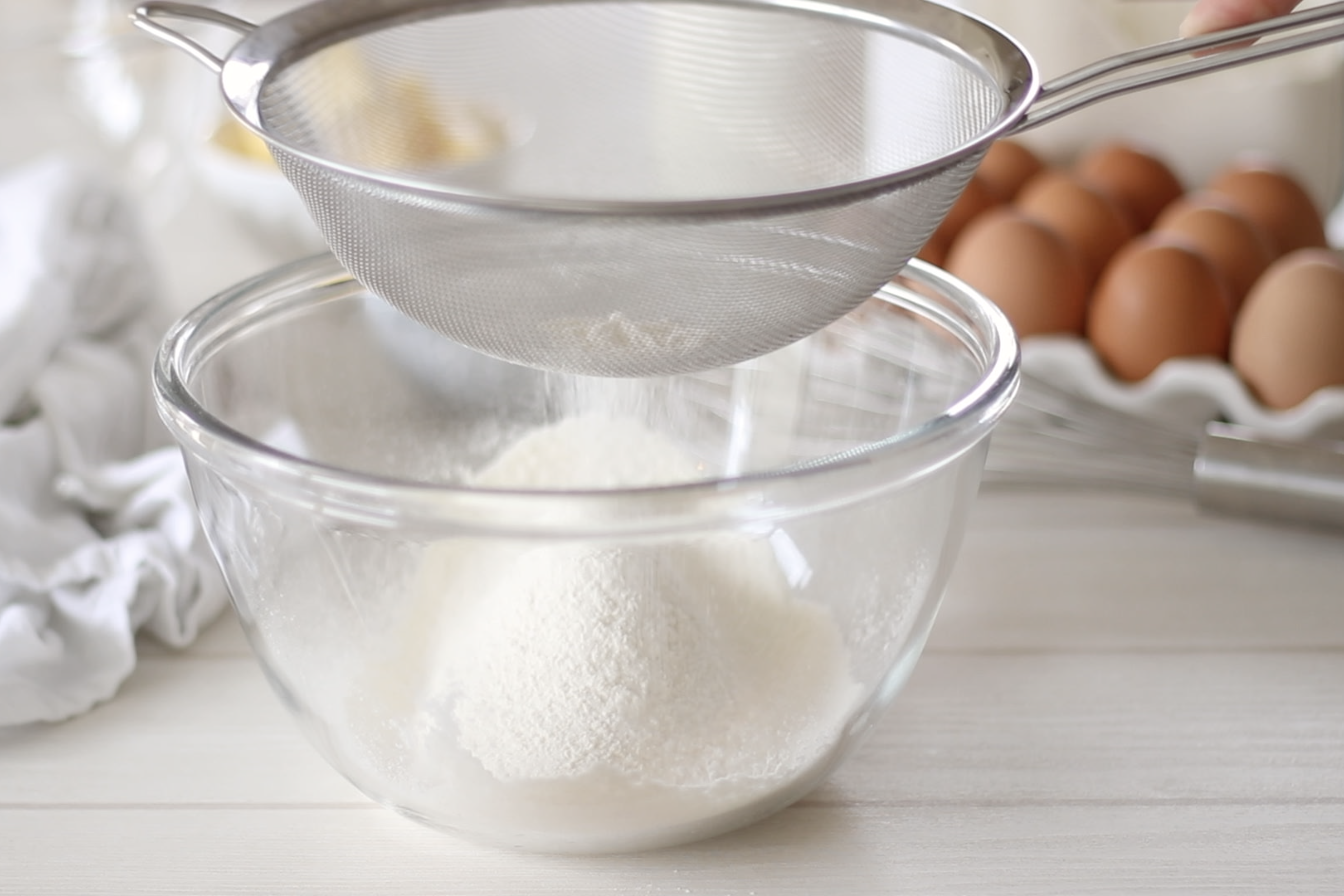 In a seperate smaller bowl crack in the two eggs.
Give them a good mix with a whisk until the whites and yolks are completely combined.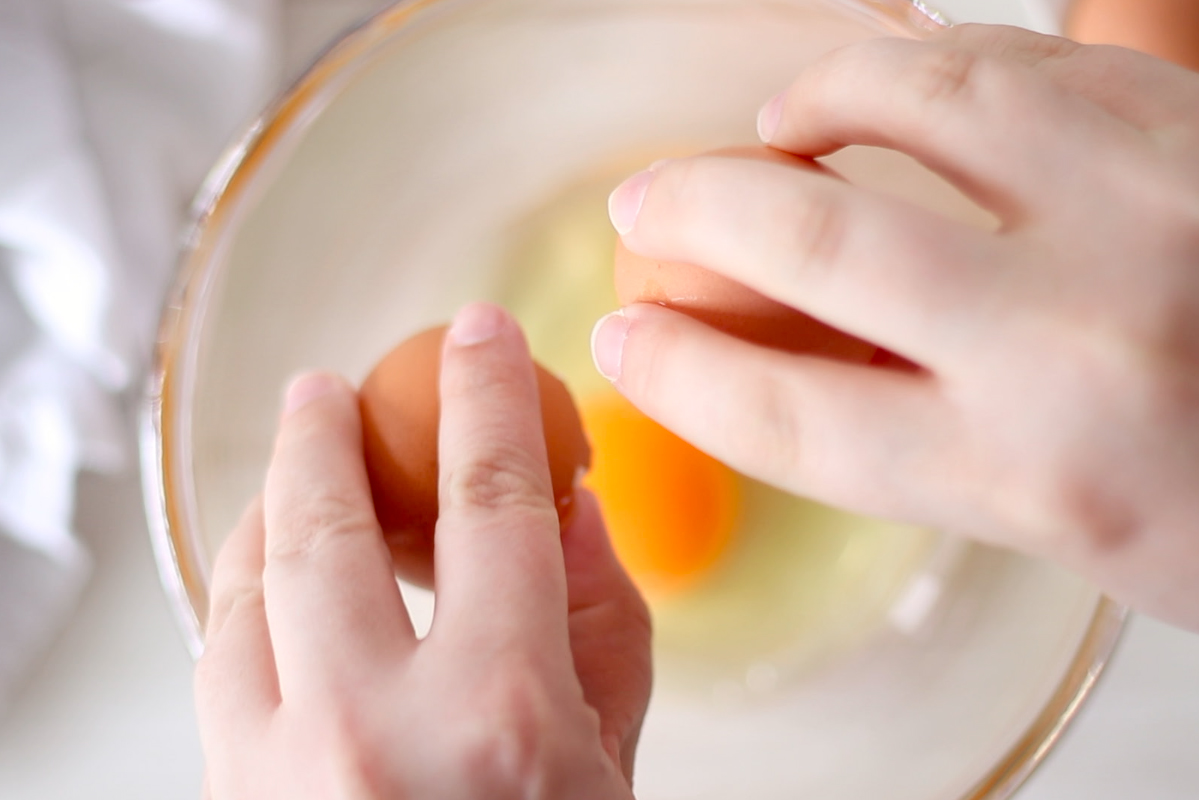 Pour the milk into the mixing bowl and combine the wet ingredients together with the whisk.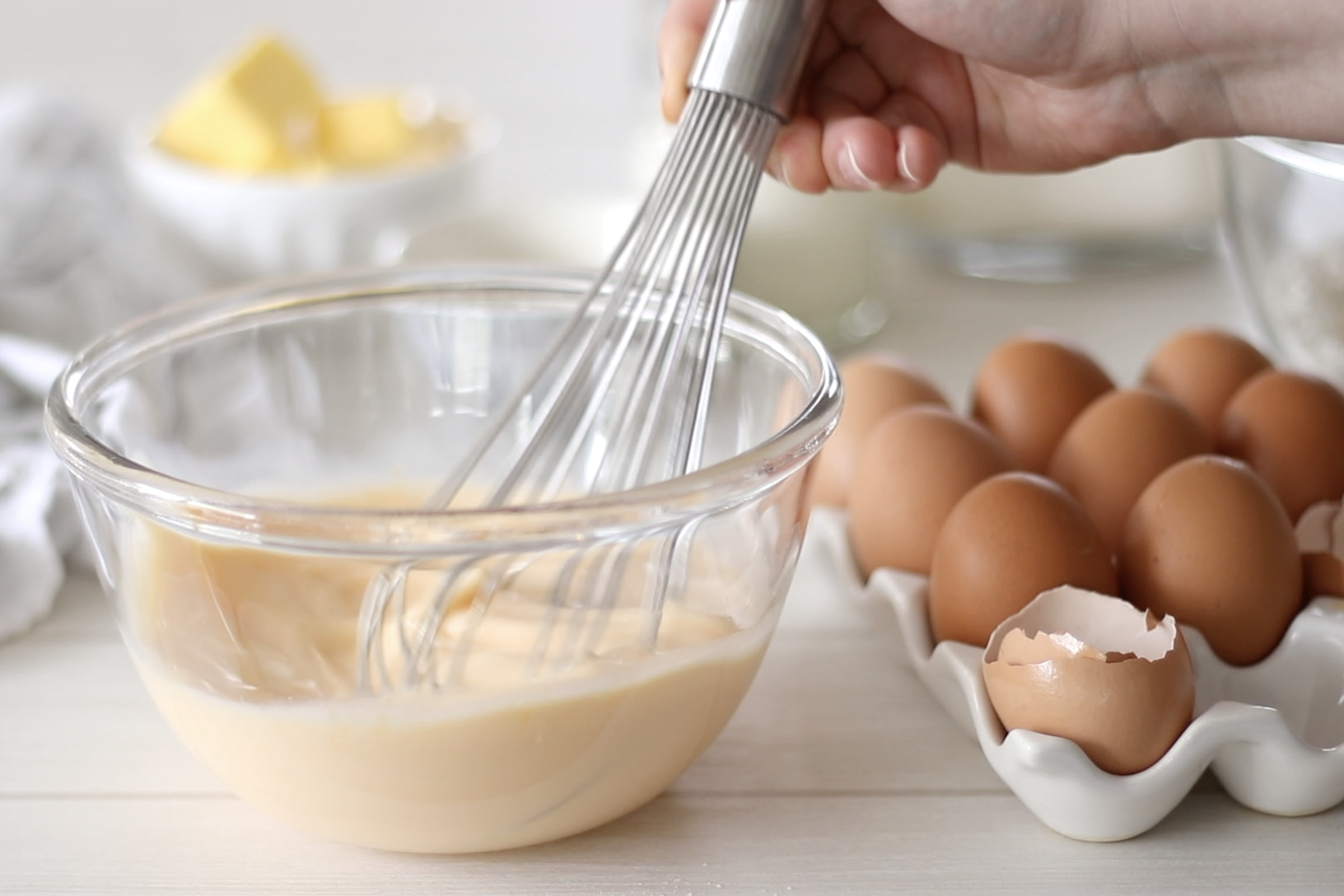 Slowly pour the wet ingredients into the bowl with the dry ingredients, about a third at a time.
Combine well using the whisk until there are no longer any lumps before adding the next amount.
Alternatively you can skip these steps and place all of the ingredients into a blender. Pulse for 20 seconds or so until mixed.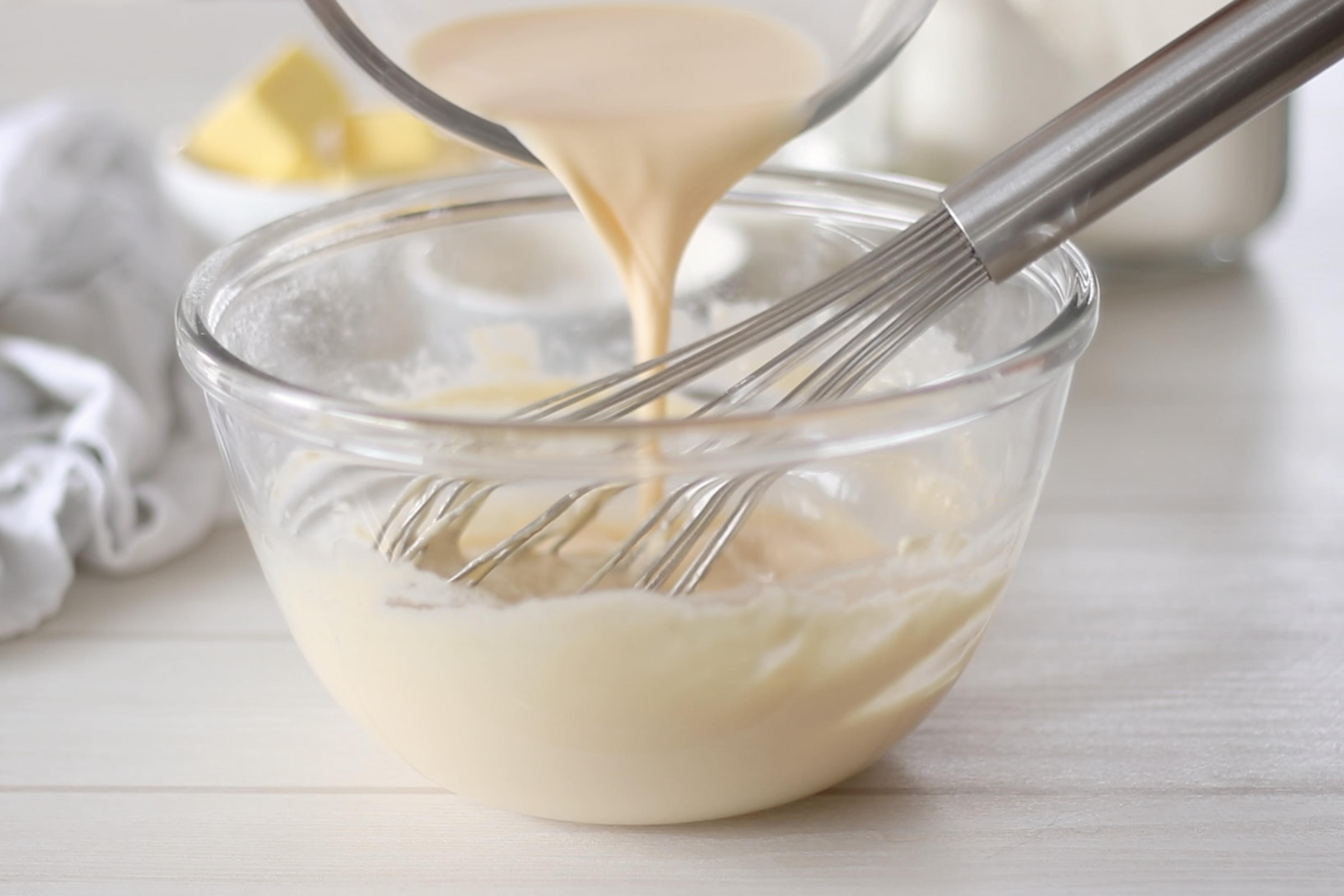 Melt your butter in the microwave or in a small saucepan on the stove top. Leave it to cool for a few minutes.
Pour the butter into the mixing bowl and using a whisk combine it with the crepe batter.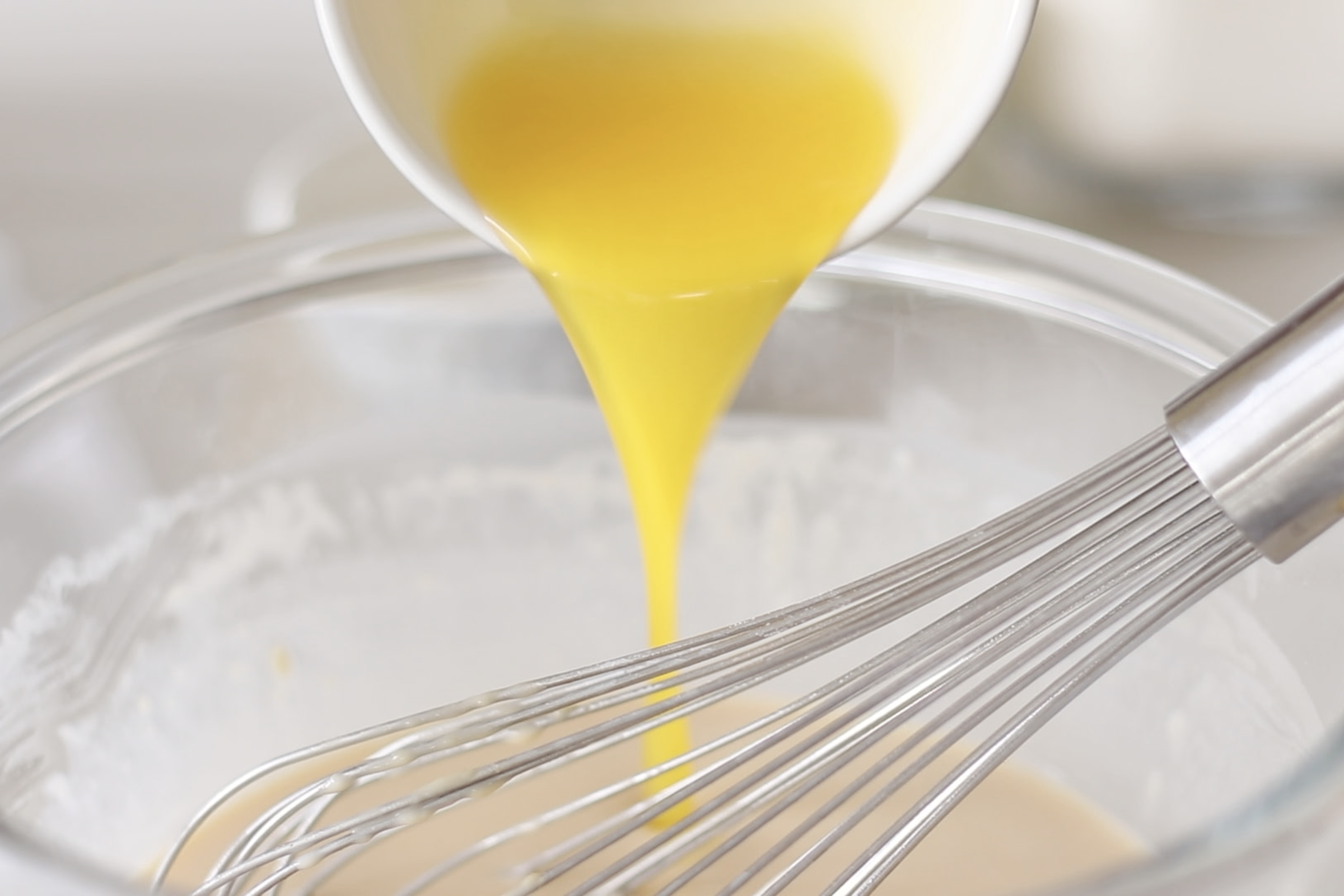 It's best to let the Crepe batter rest overnight – this stops it from tearing while flipping.
You can use it right away if you don't have the time to wait but I definitely recommend making it ahead of time.
I'll usually make this recipe the night before and leave it in the fridge until I'm ready to make the French Crepes the next morning. This is makes it so convenient!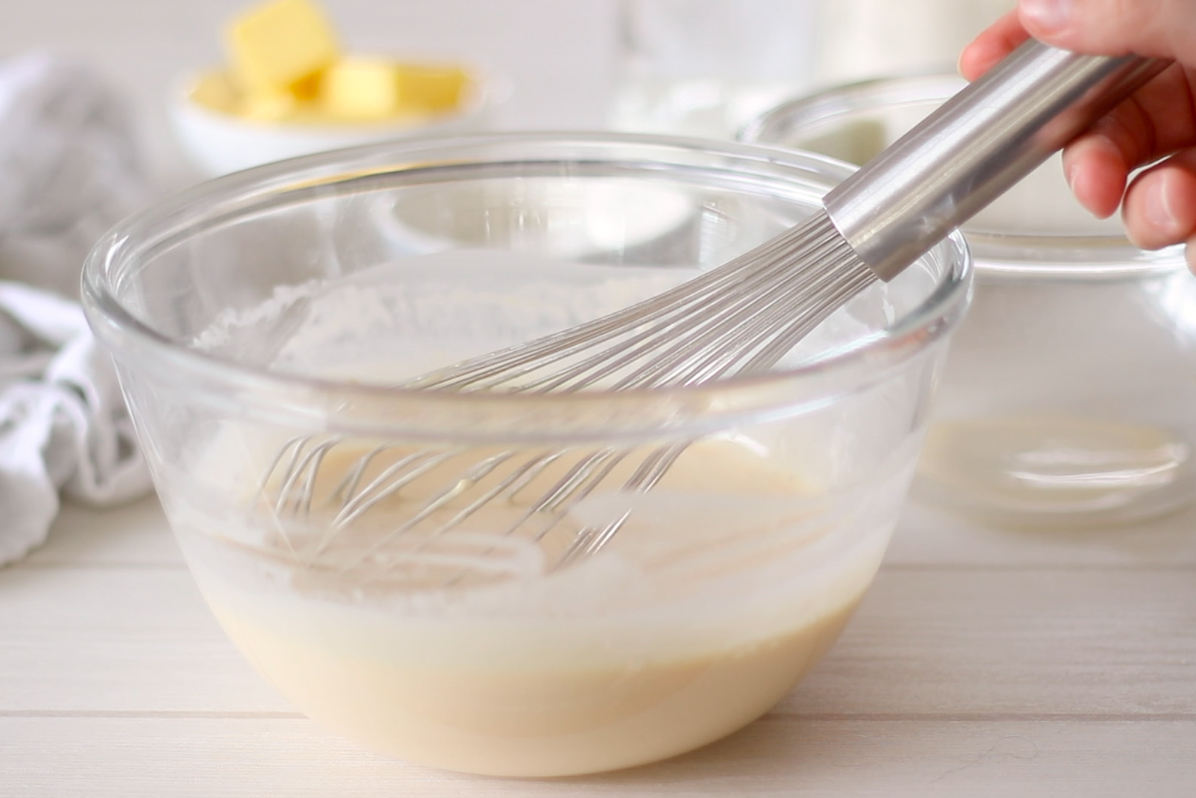 When you're ready to make your Crepes heat a frypan over medium low heat.
I'm using a Crepe pan here but it's definitely not necessary, a normal frypan will do the job just as well.
Grease with a small amount of butter or oil.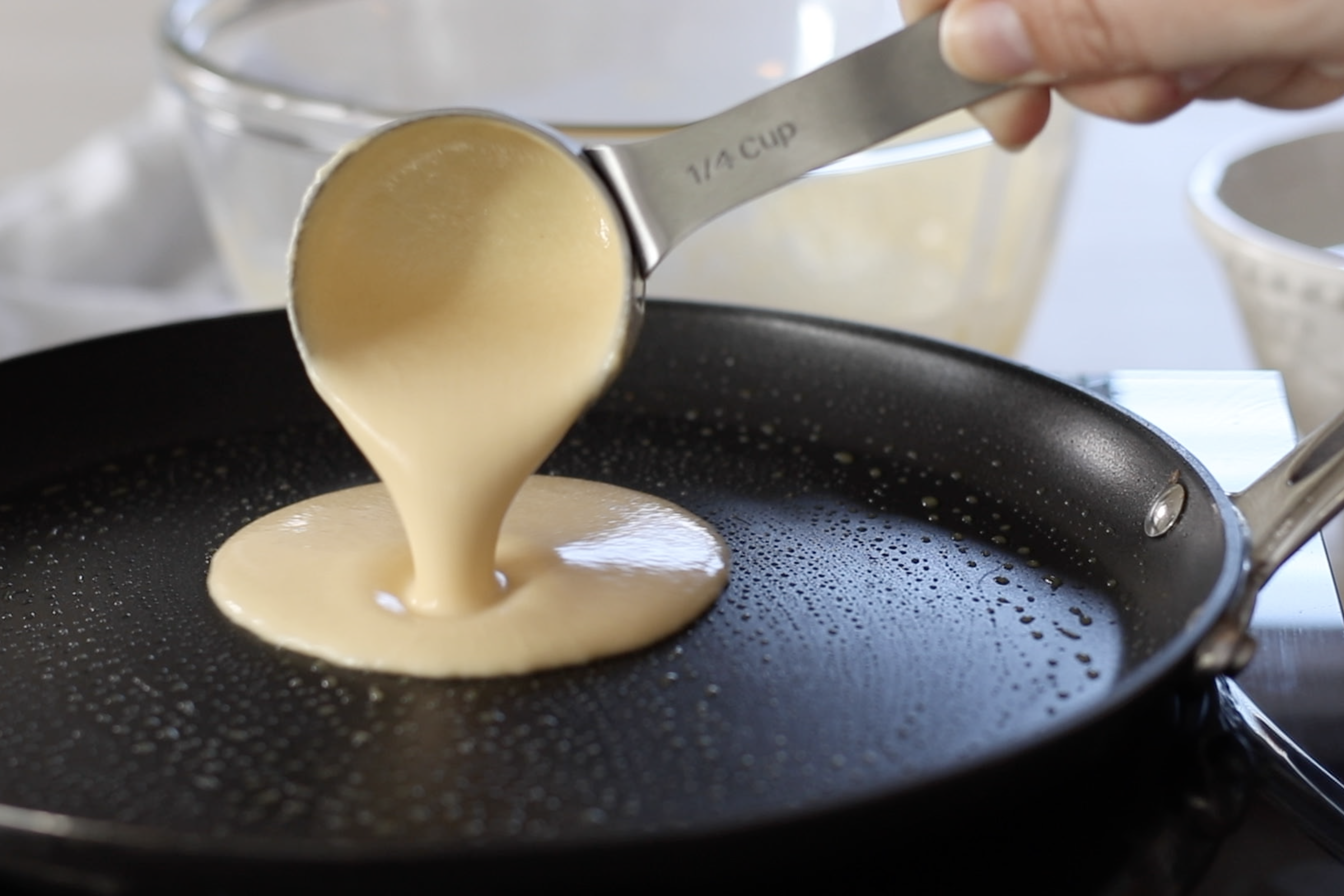 Spread a 1/4 cup of Crepe batter in the lightly greased pan.
I'm using a Crepe Tool here but again completely not necessary, you can do the same job by tilting the pan.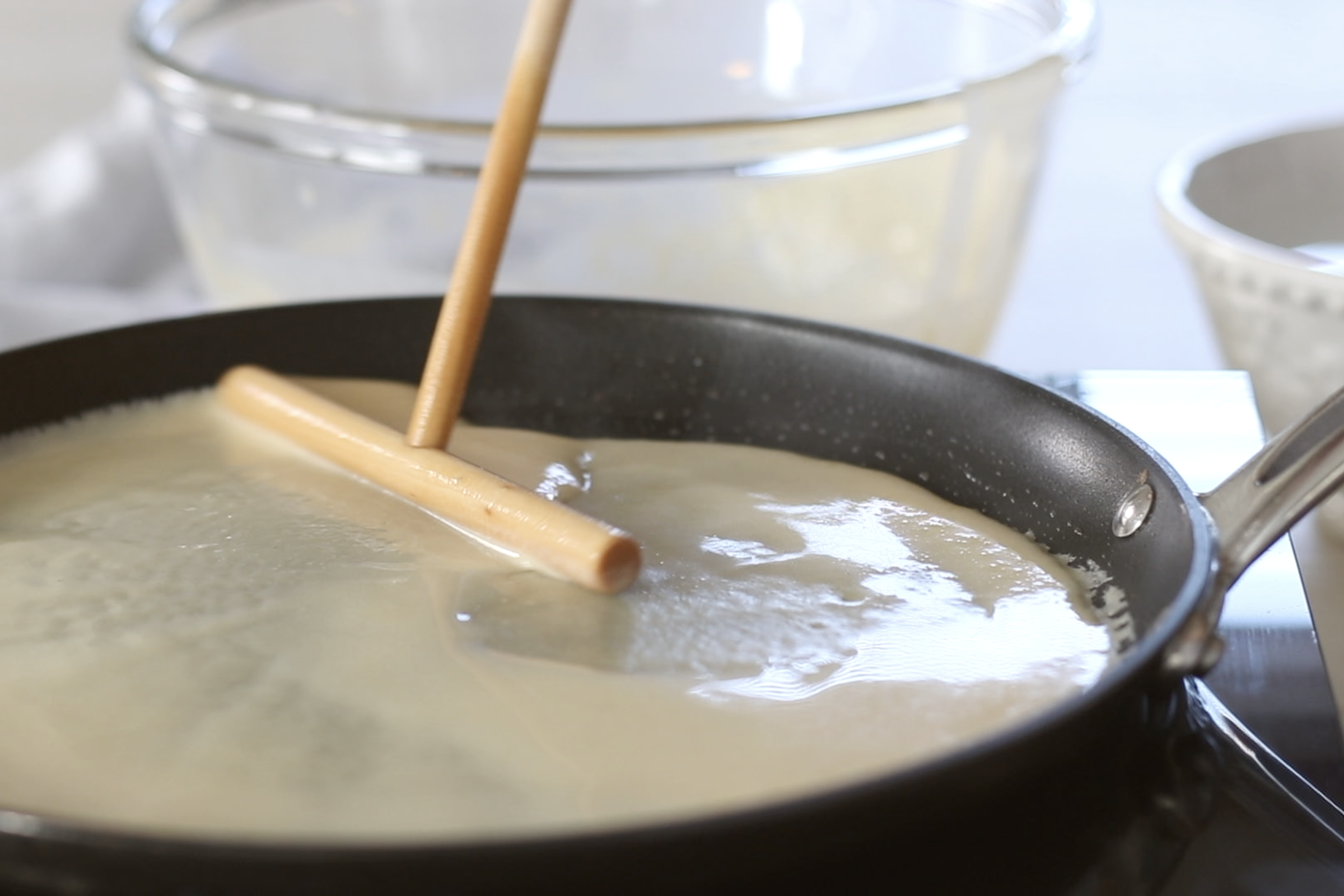 When the top of the crepe has started to set, about 30 seconds, use a spatula to flip it over.
Cook on the other side for another 30 seconds – 1 minute before transferring to a plate.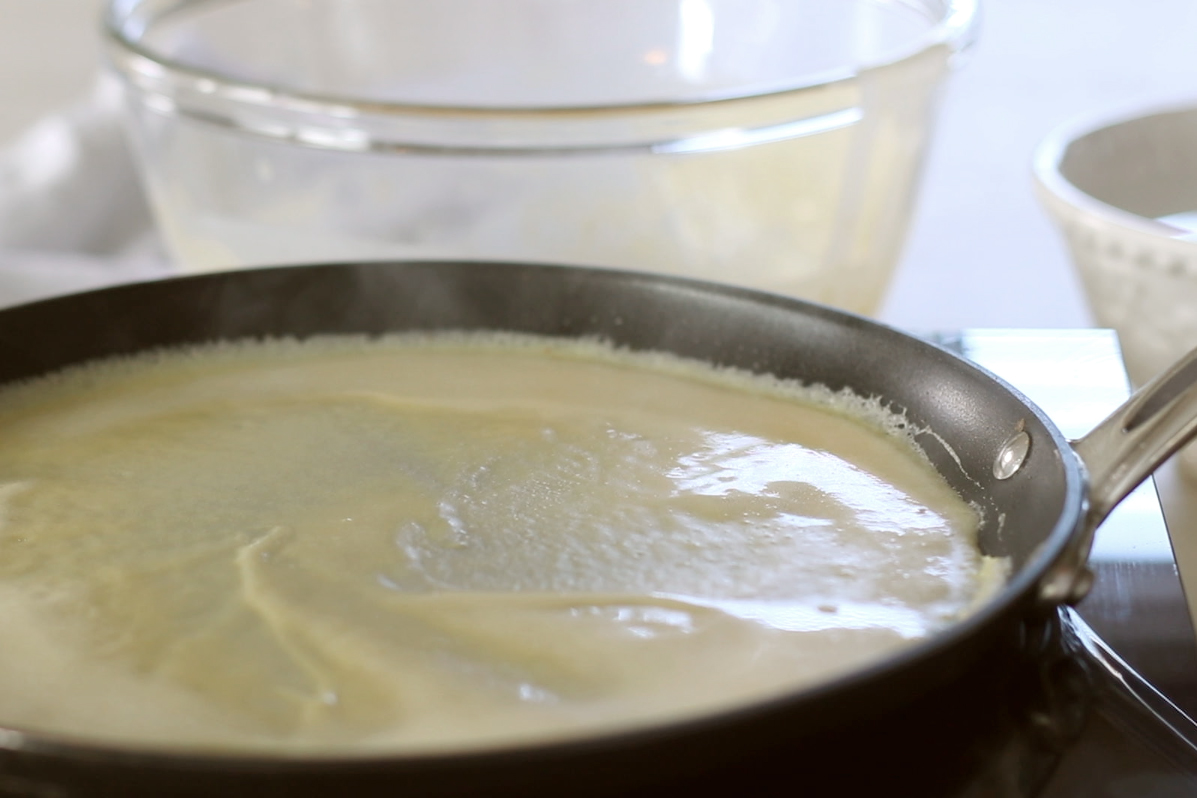 French Crepes in a blender?
This recipes is already so simple and easy to make but there's a perfect way of making it with even less effort and also less chance of lumps! A blender.
If you want to make your crepe batter in a blender you want to make sure you have enough time to do this the night before. Leaving the batter in the fridge overnight lets it relax so the gluten doesn't make them as tough and also they wont tear while flipping.
Add all of your ingredients to a blender, the flour, salt, eggs, milk and melted butter. Wizz it for a few seconds until you have a completely smooth mixture.
Cover and place in the fridge overnight!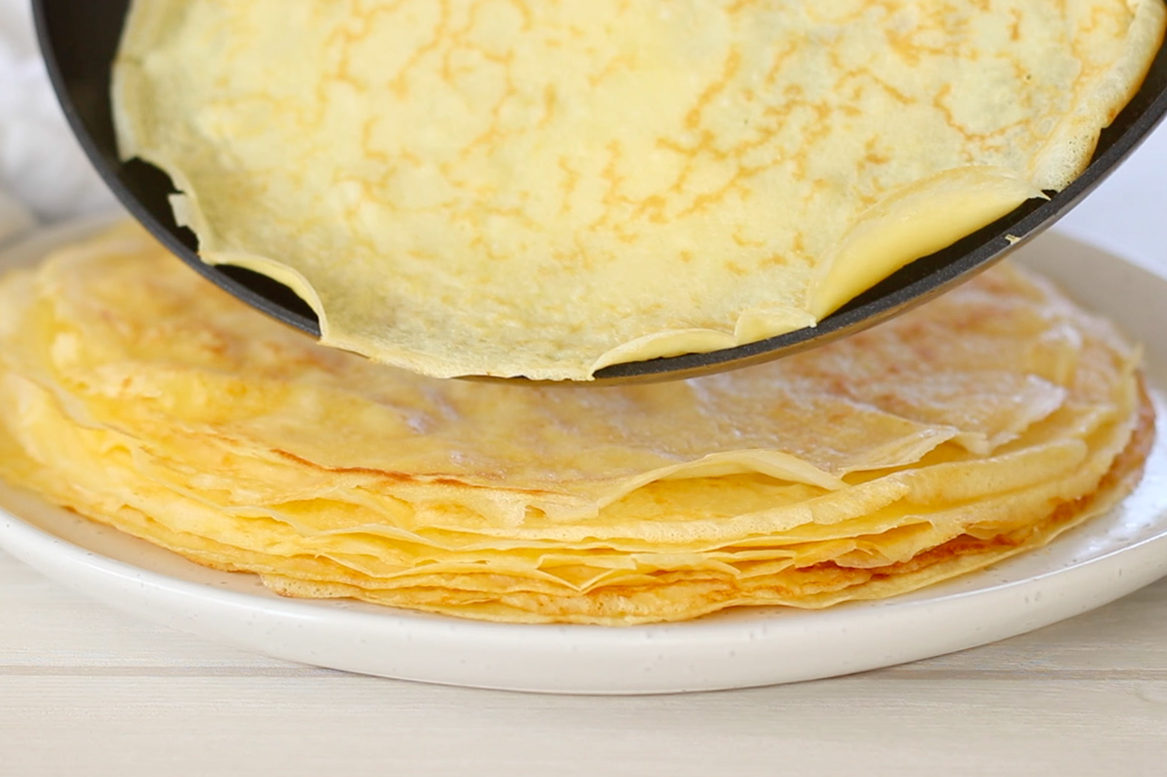 Common Questions about this French Crepe Recipe
Why do these Crepes have no sugar?
French Crepes don't contain sugar. They're thin and made for filling with ingredients, those can be savoury or sweet. If you would like the Crepes to be sweet you can add 1-2 Tbsp of white sugar to the batter.
Do I have to sieve the dry ingredients?
You don't have to but I strongly recommend you do. The batter is really light and thin so its extremely hard to whisk out any lumps that form, sieving the flour just helps to remove any lumps before making the batter.
Can I make the crepes in advance?
You can definitely make the batter in advance, I recommend you do. The crepes are best made just before you eat them so they stay super fresh and just a little warm! The crepes can also be used to make a Crepe Cake which would mean you make the crepes in advance.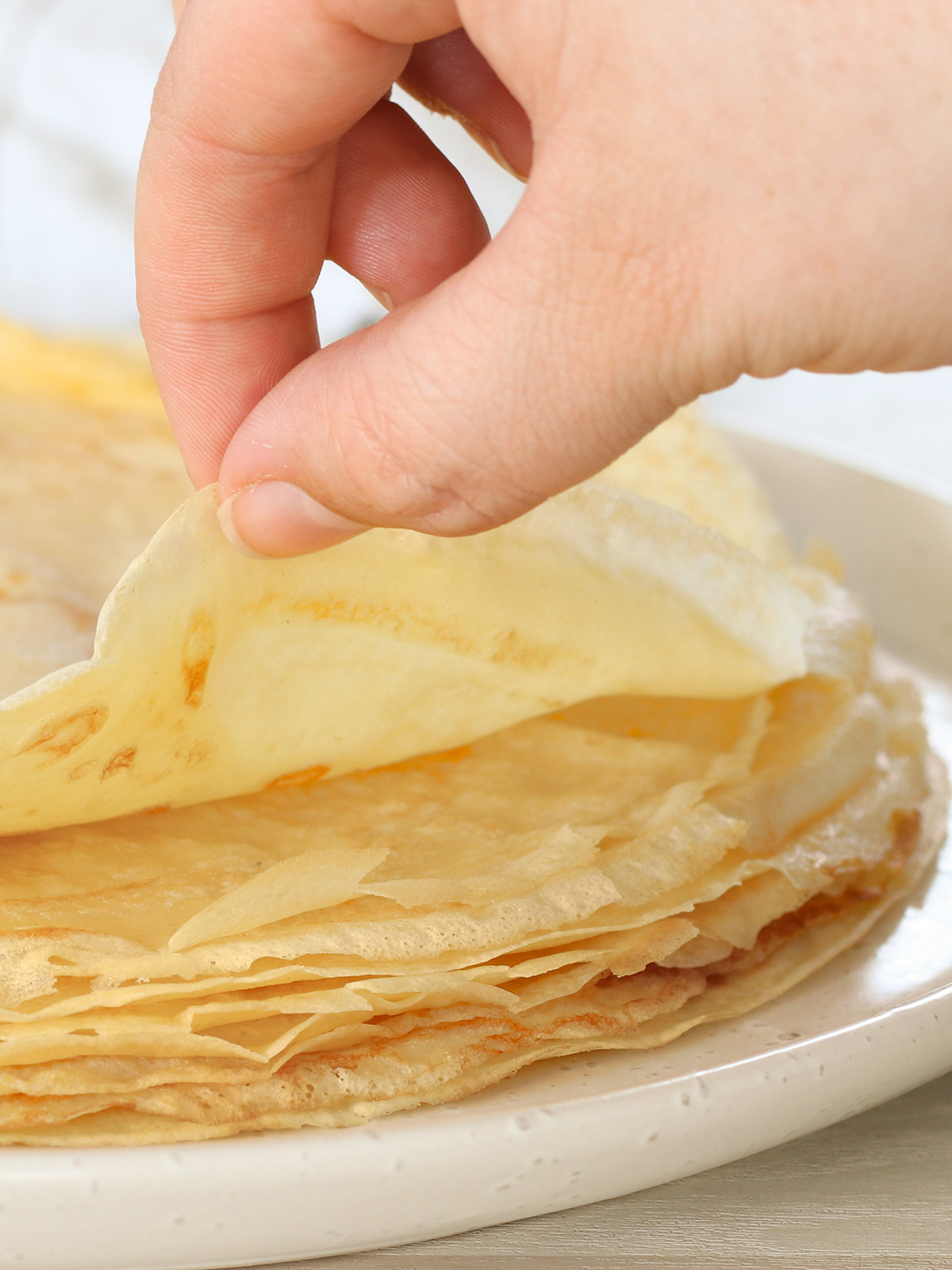 Equipment needed for this French Crepe Recipe
To measure the ingredients for this recipe measuring cups or a digital scale can be used. I have given the amounts for both as different people have different preferences.
If you make Crepes often I would recommend a Crepe Pan. This sides are much lower so it makes it easier to flip and also spread out the crepes. If you only them once in a while a large fry pan will do the trick perfectly!
If you want to make this recipe super easy and simple I recommend using a blender! I removes all lumps in the batter and combines the ingredients in 20 seconds.
Completely not 'needed' but super helpful. The tool helps to spread out the crepes evenly in the pan. If you don't have one tilting the pan will do the job.
For more Breakfast recipes check out:
French Crepe Recipe
This French Crepe Recipe makes the perfect weekend breakfast served traditional with lemon and sugar or maybe something a little more decadent like chocolate and banana.
Ingredients
1

Cup

Flour

1/2

tsp

Salt

2

Eggs

1 1/4

Cup

Milk

2

Tbsp

Butter

melted
Instructions
In a medium sized mixing bowl sieve the flour and salt together. In a seperate smaller mixing bowl whisk together the eggs and milk.

Pour the wet ingredients into the bowl with the dry ingredients, a ⅓ at a time, whisking together until smooth. Pour the melted butter into the crepe batter and whisk until combined.

Cover the crepe batter with plastic wrap and leave in the fridge to rest overnight or if limited for time 1 hour.

Heat a large frying pan or crepe pan over medium heat. Grease the pan with melted butter and pour in about a ¼ cup of crepe batter. Use a crepe tool or tip the pan around to spread the batter evenly.

Cook the crepe for 30 seconds to a minute or until the top has set, flip the crepe using a spatula and cook for a further 30 seconds on the remaining side.

Serve your crepes filled with your favourite filling.
Video
Notes
The Crepes will keep in the fridge for a few days, just keep them covered to stop them drying out.
There are so many different options for fillings - savoury and sweet!
Crepes do not contain any sugar. The fillings are what you use to sweeten or flavor.
Nutrition
Serving:
1
Crepe
Calories:
119
kcal
Carbohydrates:
15
g
Protein:
5
g
Fat:
4
g
Saturated Fat:
1
g
Cholesterol:
45
mg
Sodium:
178
mg
Potassium:
82
mg
Fiber:
1
g
Sugar:
2
g
Vitamin A:
121
IU
Vitamin C:
1
mg
Calcium:
56
mg
Iron:
1
mg