This Cast Iron Pizza is crispy on the bottom but soft and fluffy on the inside. Topped with melted mozzarella and spicy pepperoni, its one of the easiest pizzas to make.
Your next pizza night just got a whole lot more delicious!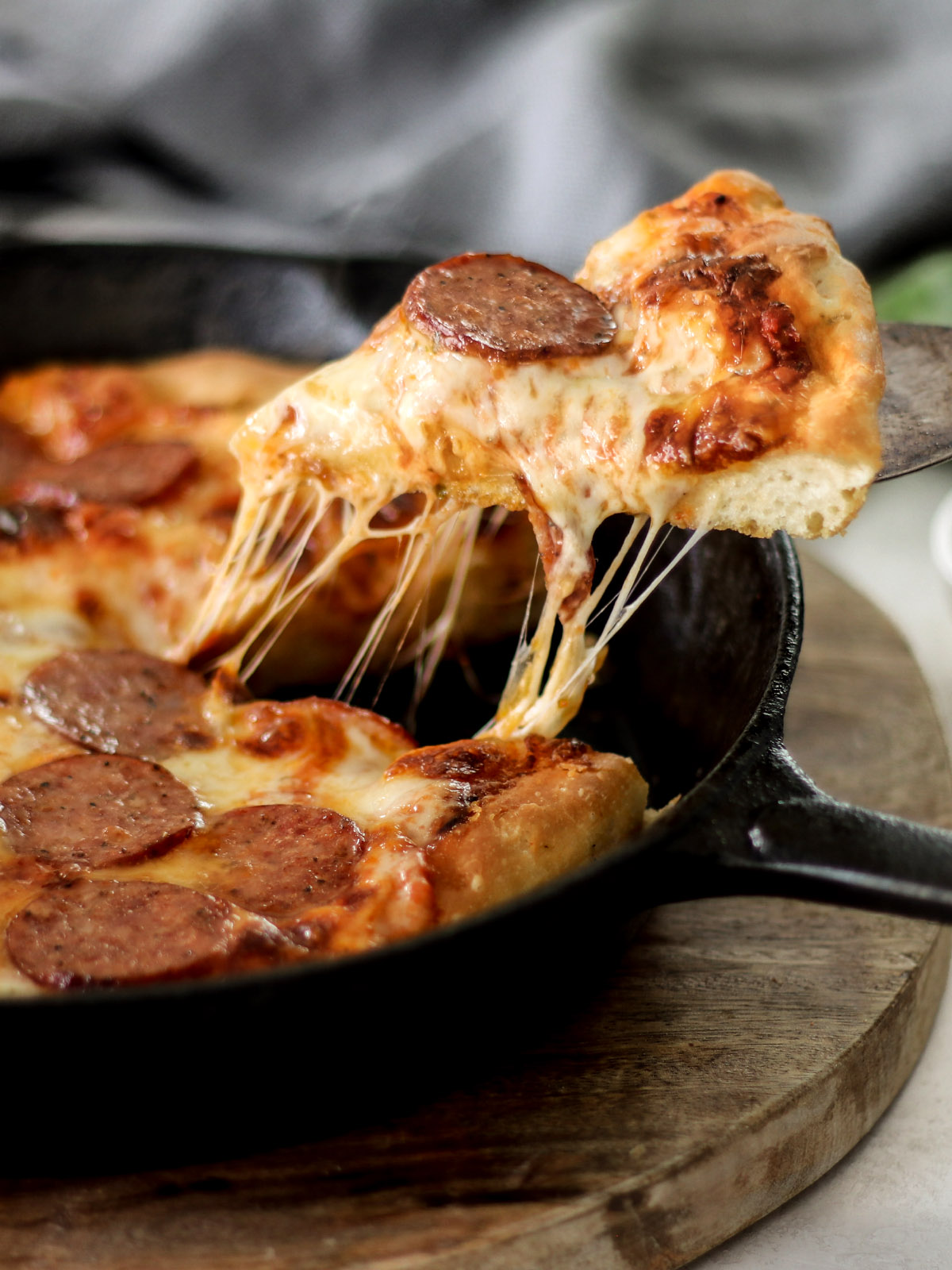 Video Tutorial
Watch the video below for a full tutorial for how to make this delicious Cast Iron Pizza Recipe
Perfect Cast Iron Pizza
Pizza is one of my favorite foods (isn't it everyones?) and this Cast Iron Pizza doesn't disappoint.
Homemade pizza can kind of be a little lacklustre sometimes with soggy bases. Cast Iron fixes that.
Crispy Homemade Pizza Crust
Pizza needs high heat and cast Iron is one of the easiest ways to achieve this. It absorbs the heat from the oven and gives an even temperature that a metal tray just can't do.
Think of it like a pizza stone which can sometimes be such a hassle to work with in your home kitchen.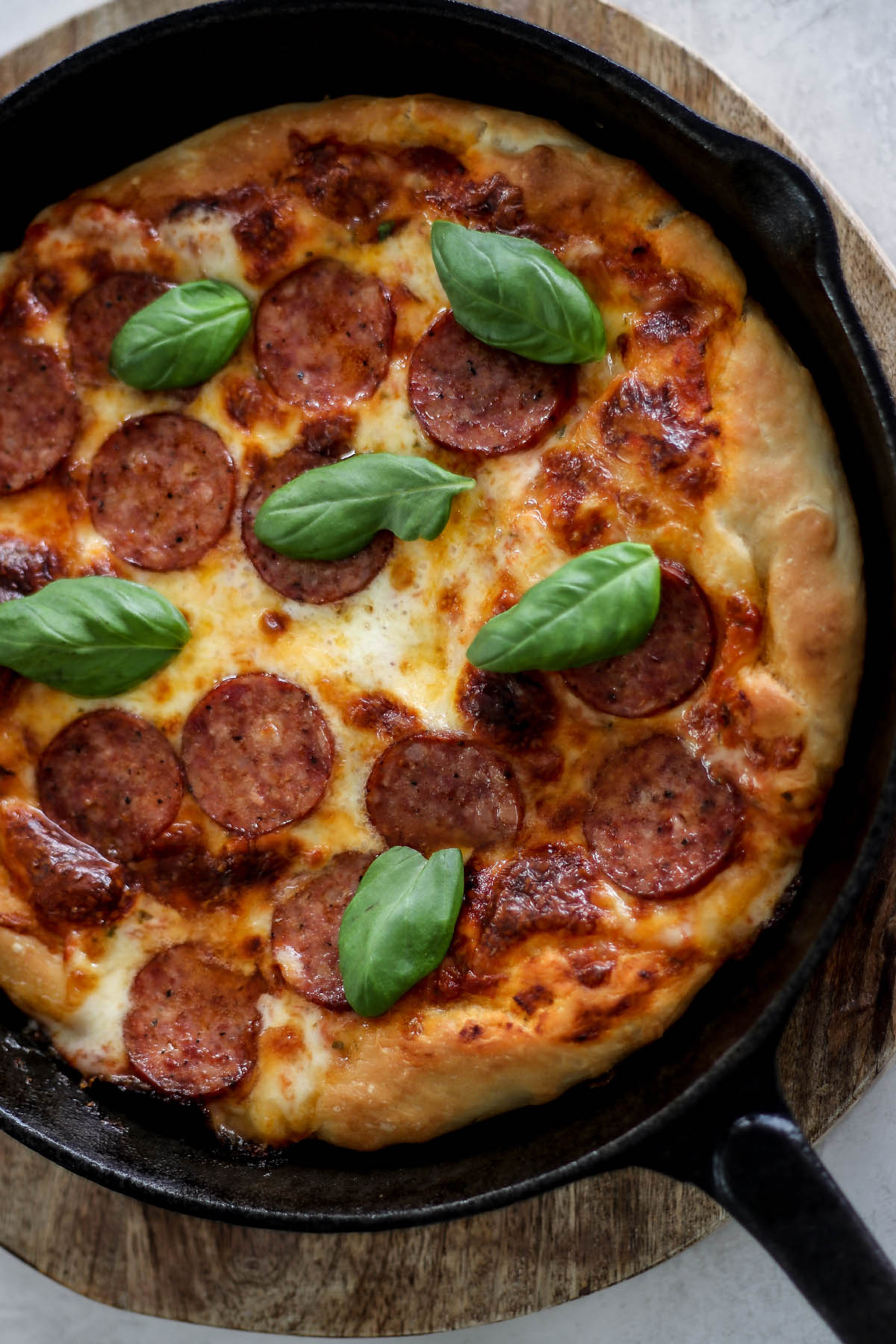 Easy Homemade Pizza Dough
This recipe uses a homemade pizza dough but you can still follow this pizza recipe and use frozen or store bought pizza dough.
The dough is risen in the fridge overnight so this pizza so easy to make in advance. You don't have to worry about leaving it in a warm place to double in size, check on it continuously or set a timer.
Simply make the dough and place it in a bowl in the fridge until you're ready to make your pizzas. It couldn't be easier!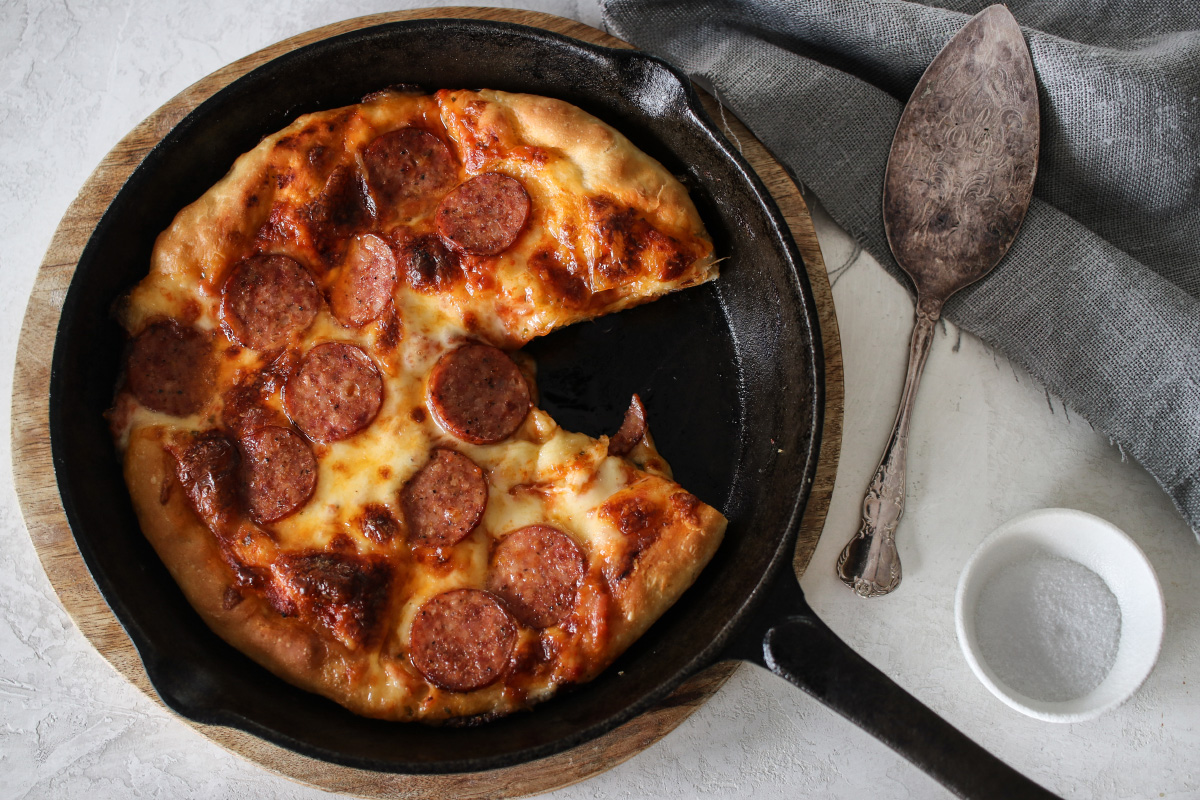 Cast Iron Pizza Recipe Ingredients
Pizza Dough Ingredients
1 tsp / 3g / 1/2 Sachet Yeast – Make sure your yeast is in date, expired yeast is the most common issue with yeast not activating.
1/2 tsp Sugar – Sugar helps with activation of the yeast, this can be left out.
2/3 Cup / 160ml Warm Water – Body temperature of about 37C / 98F is the perfect temperature to activate the yeast. It should feel luke warm but not hot.
2 Cups / 250g Bread Flour – Bread flour or high grade flour contains more protein which helps gluten formation to get the soft and chewy bread texture. Standard or all purpose flour can be substituted.
1 tsp Salt
2 Tbsp Olive Oil
Pizza Sauce Ingredients
14 oz / 400g Can Italian Whole Tomatoes, drained – Plum or San Marzano Tomatoes work best for this recipe but use what you can find.
2 Garlic Cloves
2 Tbsp Olive Oil
1/4 Cup Fresh Basil – Use the basil stalks as well as leaves for the most flavor.
Pizza Toppings
1/2 Cup / 200g Shredded Mozzarella Cheese – Mozzarella cheese is the best for pizza for its stretch and melting but mixes two different types of cheeses works well.
12 Pieces of Pepperoni – Use your favorite type of pepperoni. Any other kind of pizza topping can be used here.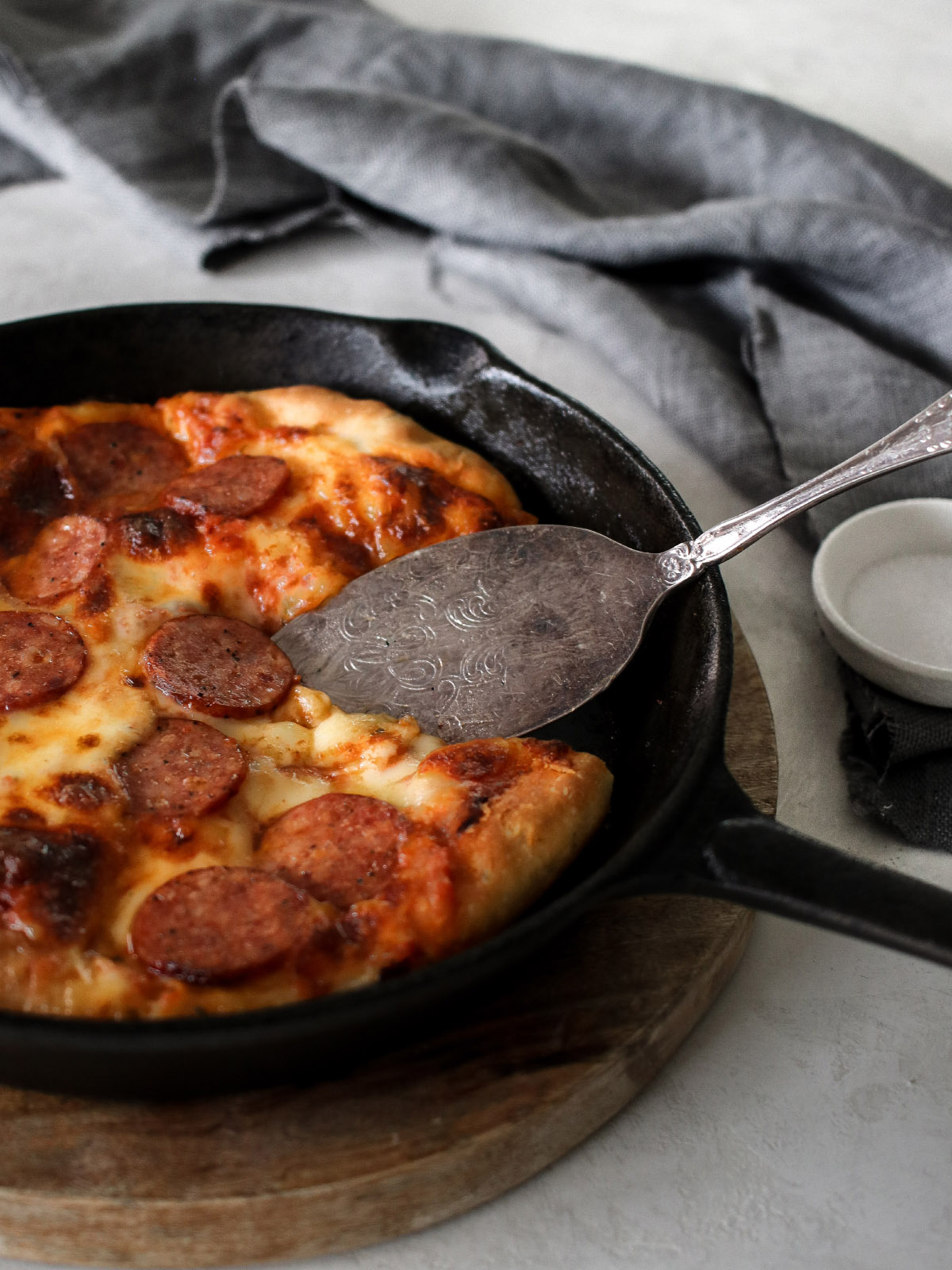 How to Make Cast Iron Pizza
In a small bowl measure out the activated dry yeast. Add the sugar if you're using it. The sugar helps to speed up the activation of the yeast but it is not needed.
Pour over the 2/3 Cup of warm water and stir the mixture together.
Set to the side to activated while carrying on with the rest of the pizza dough ingredients.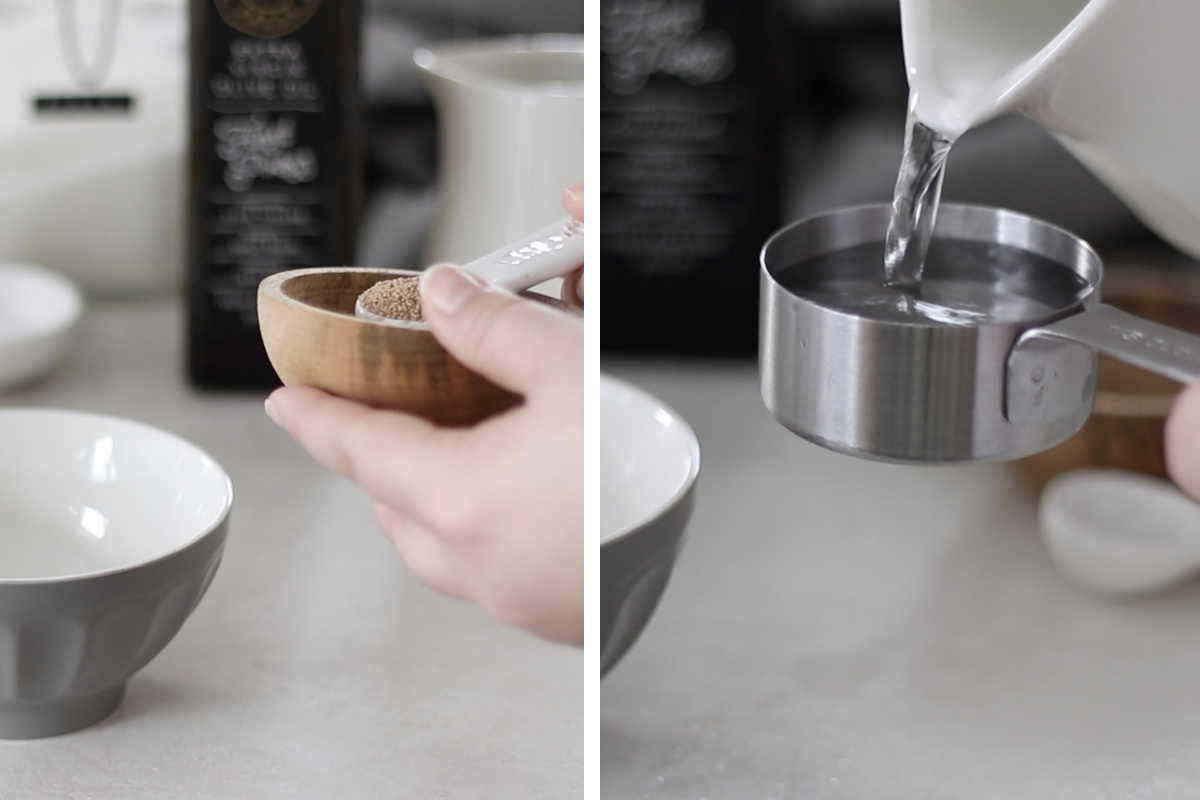 Measure out 2 Cups or 250g of bread flour.
You can either make this recipe in a stand mixer with the dough attachment or in a mixing bowl with a wooden spoon.
The dough doesn't need to be kneaded for a long period of time as it will develop gluten during the rising time in the fridge.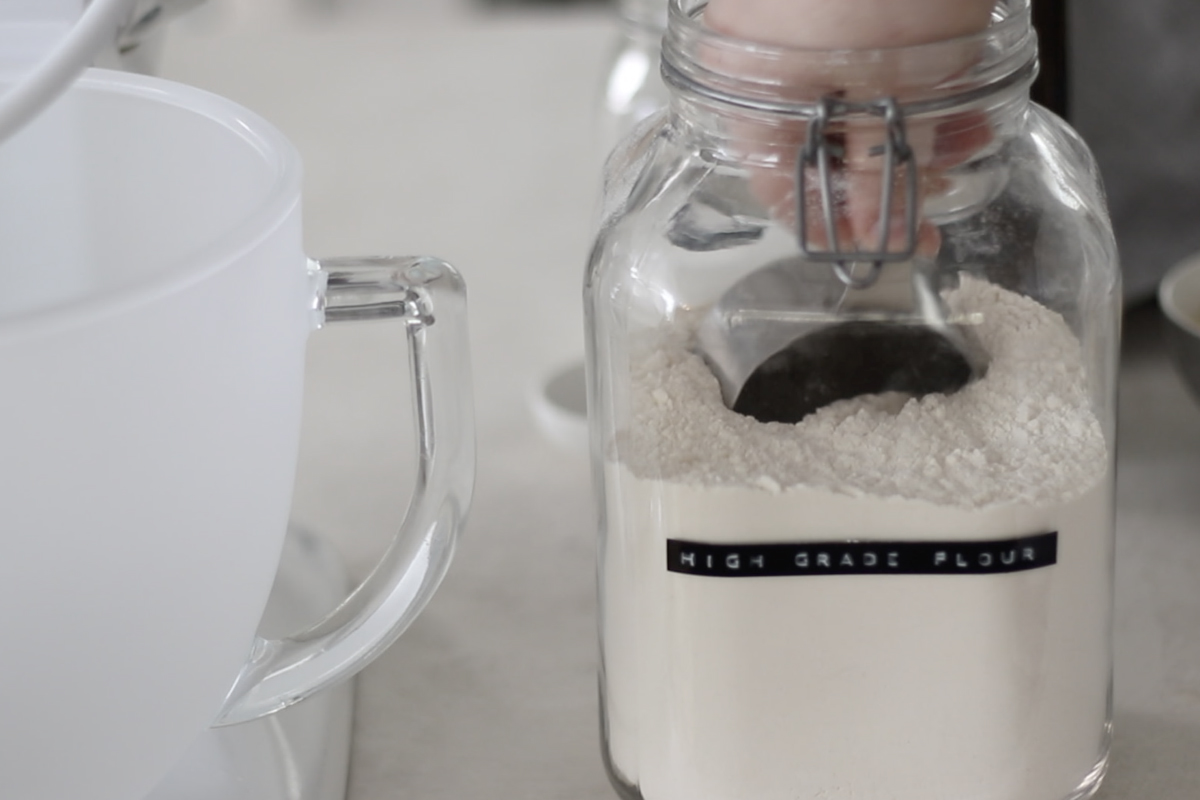 Add the olive oil and salt to the flour.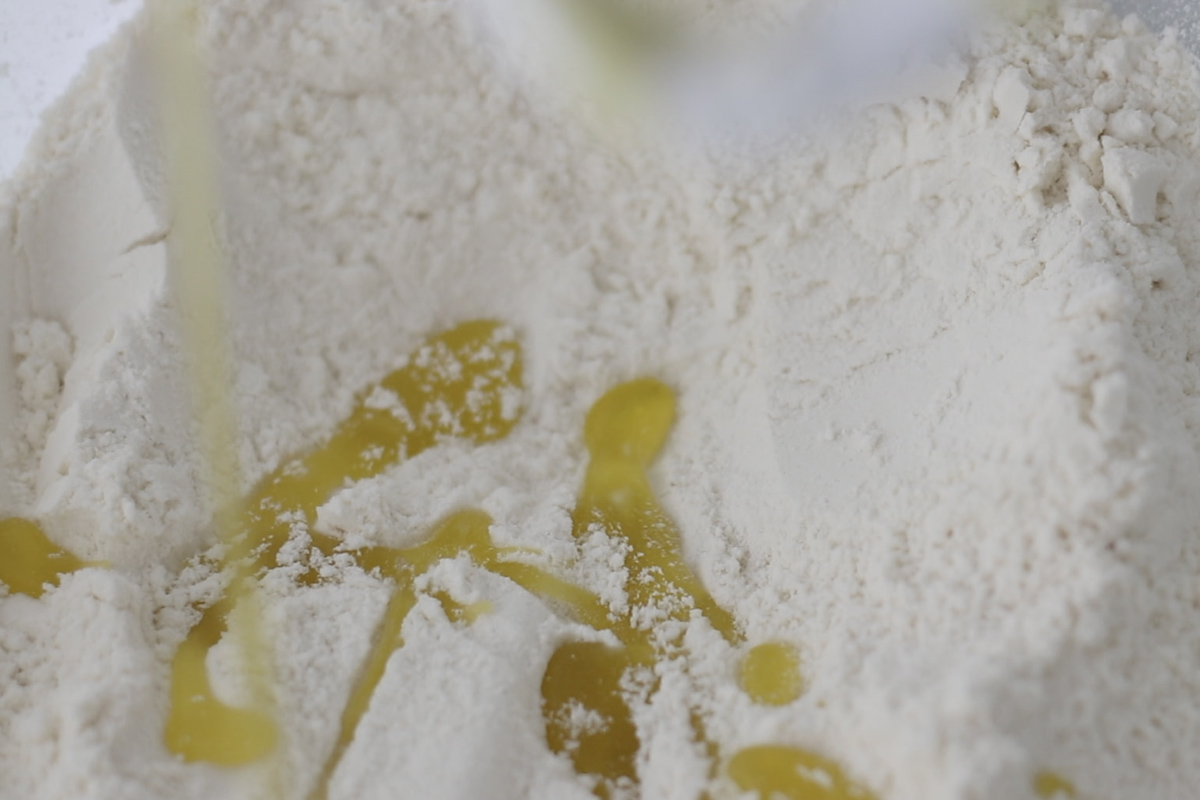 The yeast should have activated by now. It should be foamy and bubbly.
If this hasn't happened check the best before date on your yeast as it may be out of date. If it is in date the most common cause would be too hot or too cold water.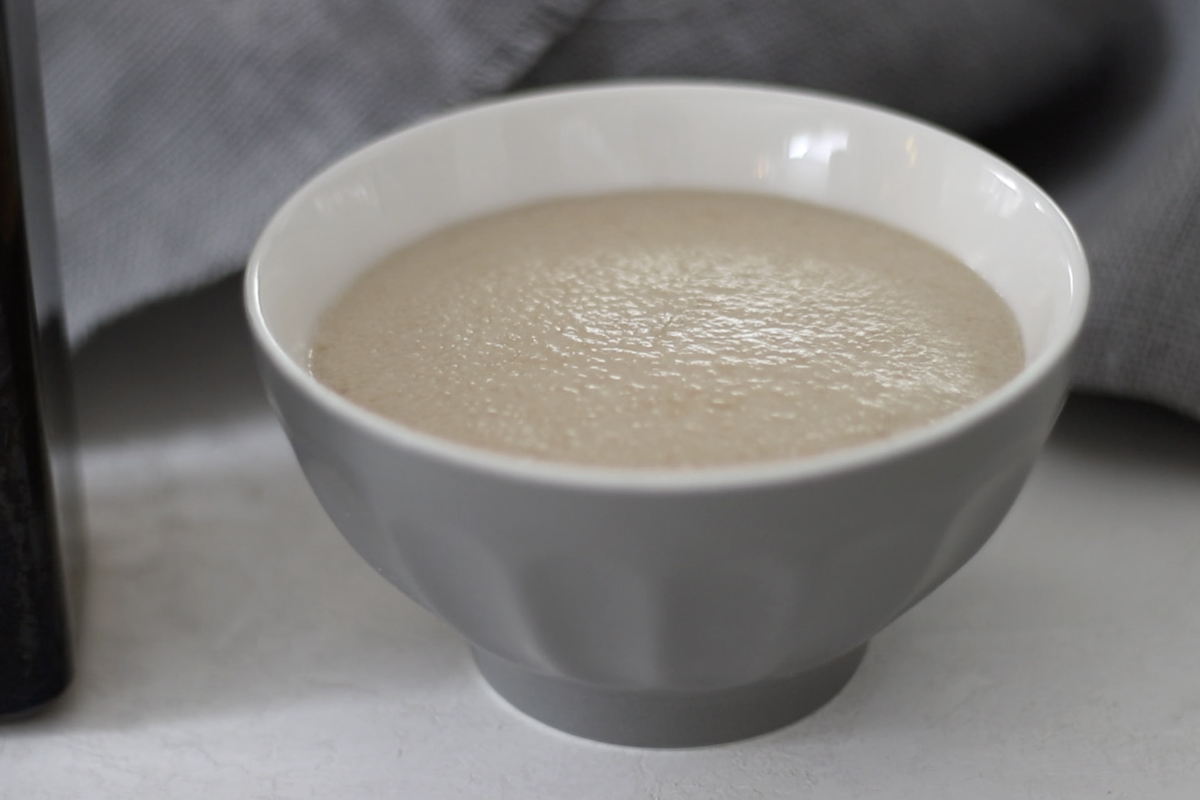 Pour the yeast mixture into the bowl with dry ingredients and mix until you have a dough that has started to smooth out – about 2-3 minutes.
You may need to add more water or more flour depending on if your dough is dry and flaky or too sticky.
The ideal consistency is it should feel sticky but it shouldn't be sticking to everything.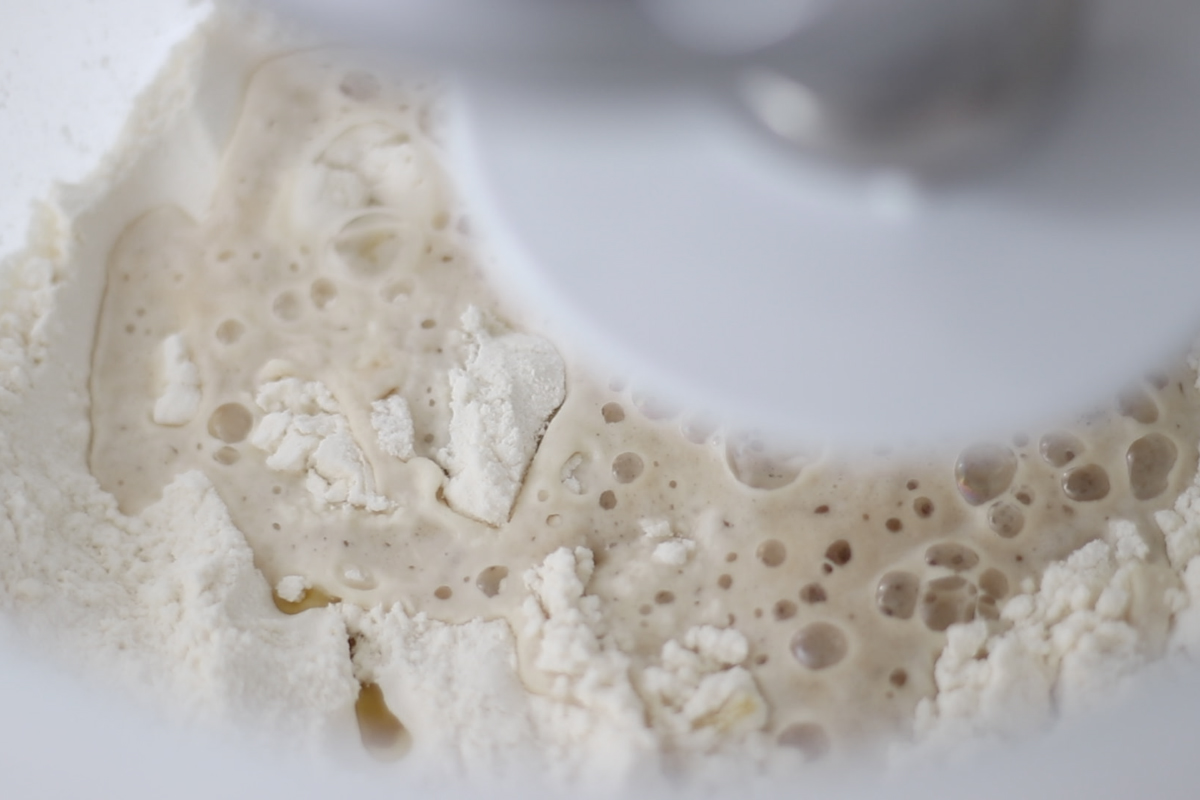 Form the dough into a ball and place in an oiled bowl. Cover and place in the fridge for at least 12-14 hours or overnight is ideal.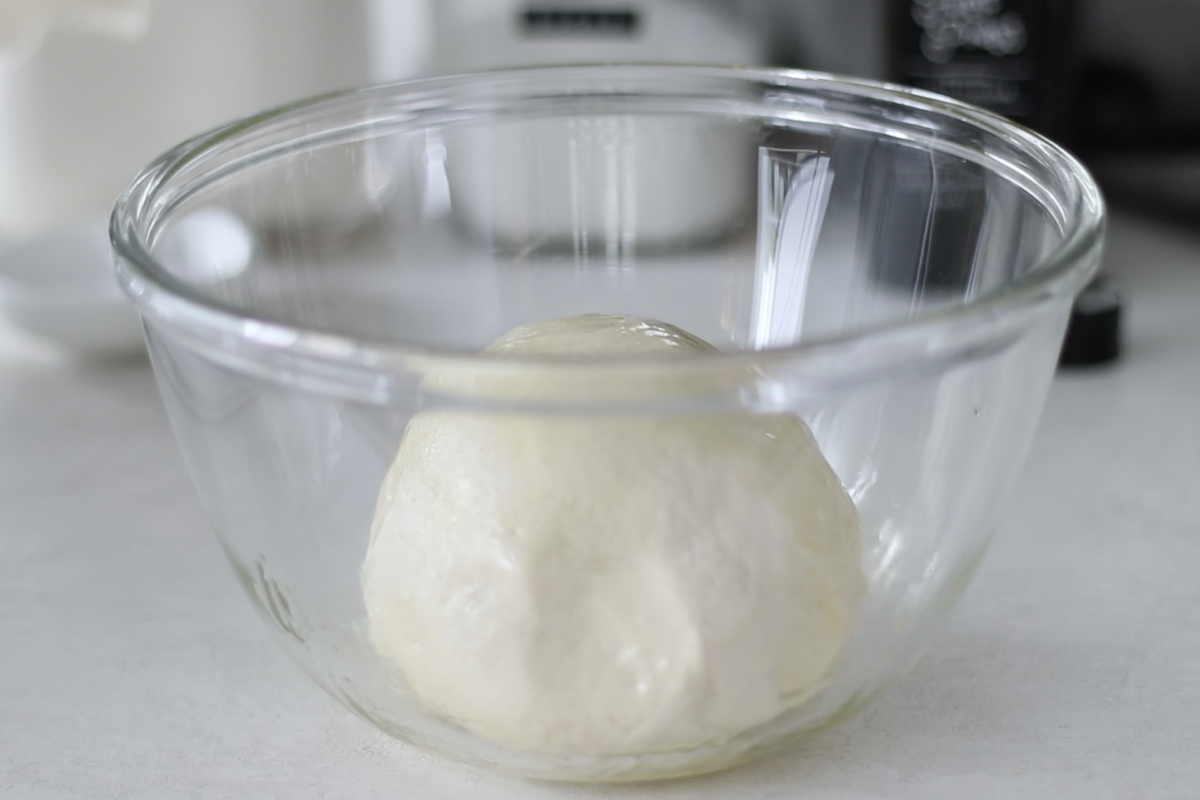 When your dough has doubled in volume and you are ready to make your pizza place about 1 Tbsp of olive oil into a cast iron pan.
Add half of your dough (this recipe makes enough dough for two pizzas) and press it down to the edges with your finger tips.
Cover and leave to rest for 30 mins – 1 hours while you make the sauce and let the oven preheat.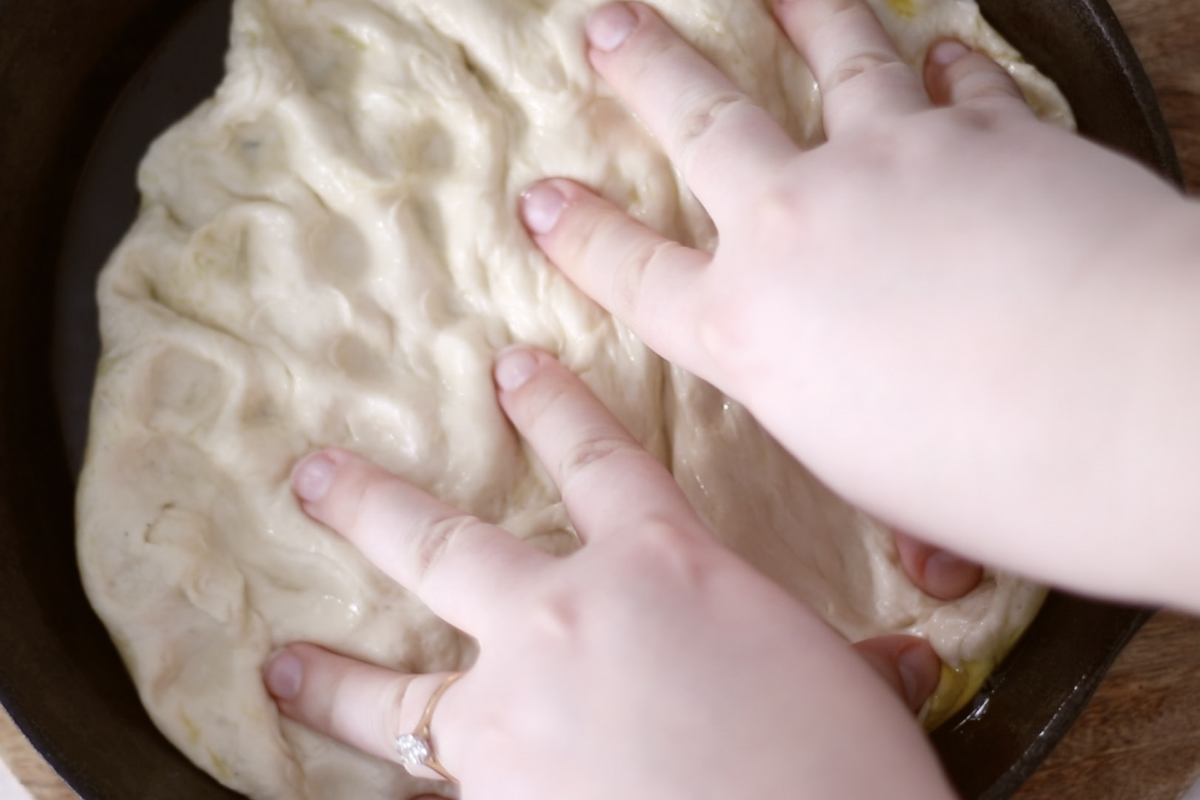 To make the sauce place all of the ingredients into a blender or food processor.
Pulse or blend the ingredients for just a few seconds until you have a chunky sauce, don't let it get too smooth or it will be too thin.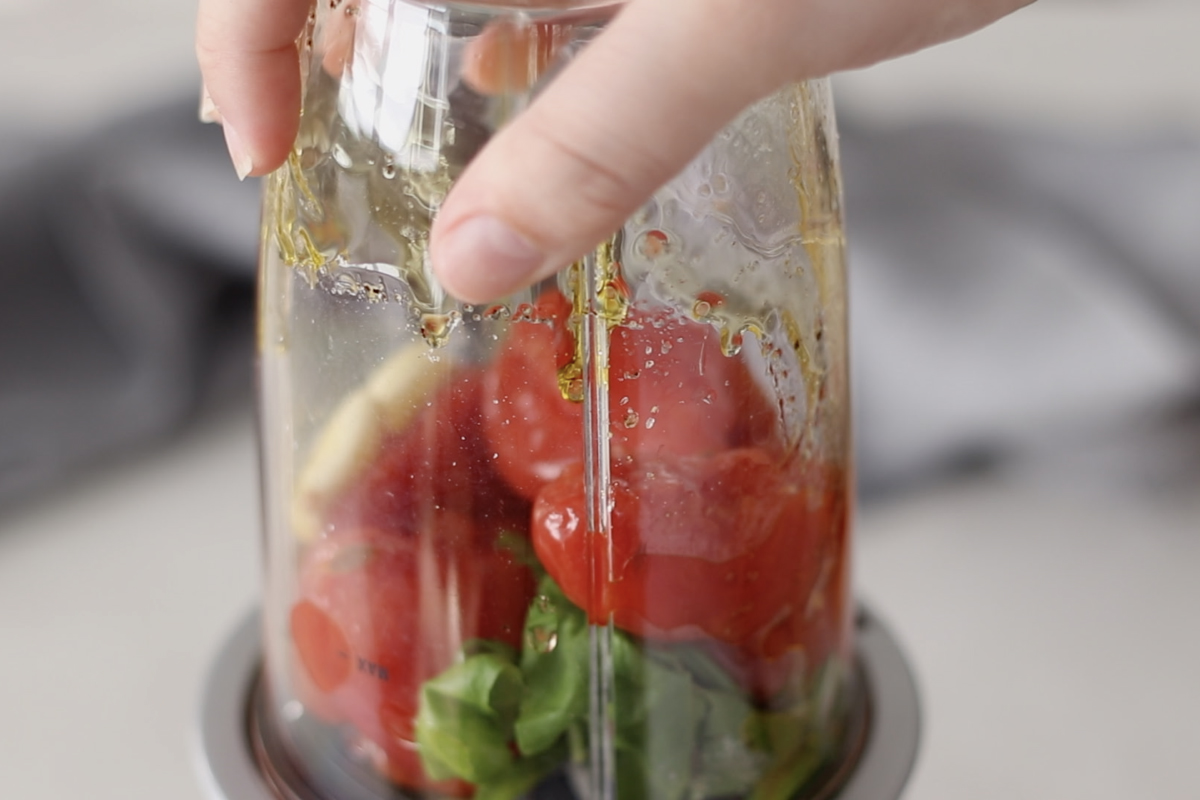 To make the pizza place about a 1/4 cup of the pizza sauce on your risen pizza base.
Use a spoon to spread it over evenly, getting close the edges.
Top with the mozzarella cheese and pepperoni. Alternatively you can use any type of pizza topping you would like!
Bake the pizza in your preheated oven for 10-20 minutes or until it has puffed up, is golden brown and the cheese is sizzling.
Cooking times will vary from oven to oven so make sure to keep an eye on it and pull the pizza out when it looks done.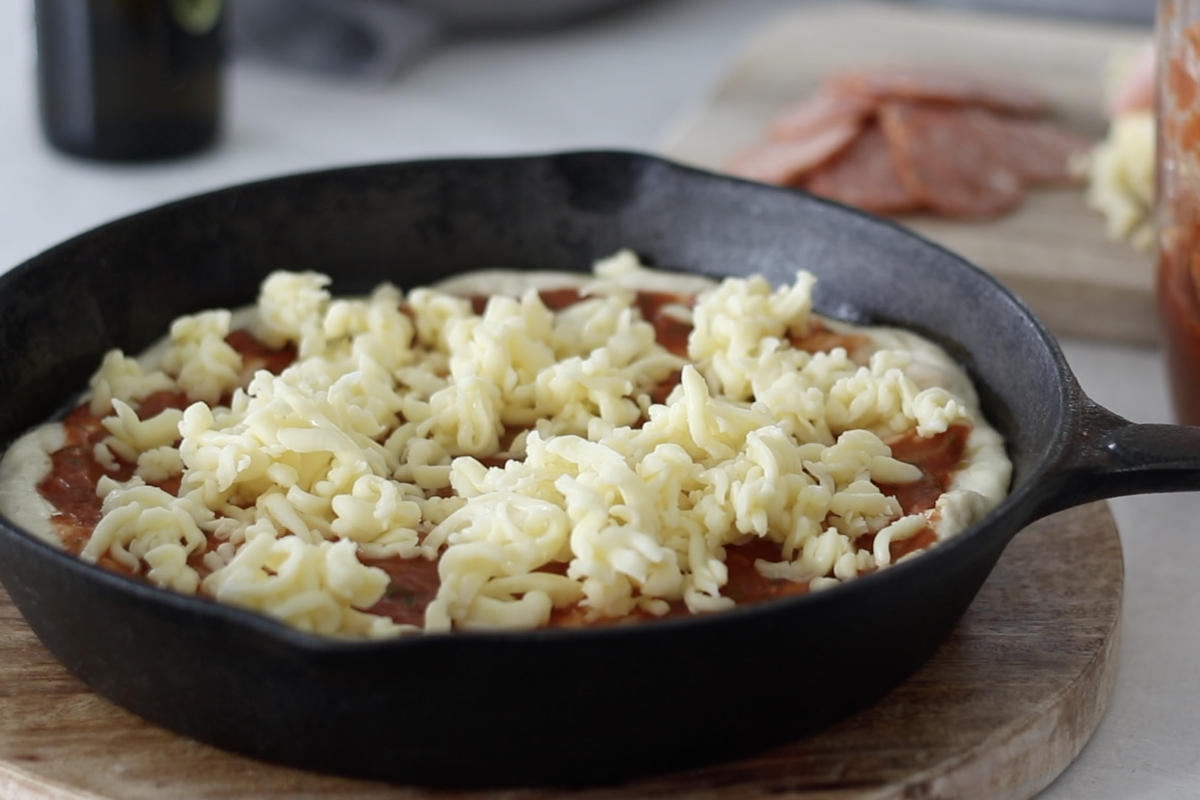 Equipment needed for this Cast Iron Pizza Recipe
A cast Iron Skillet works the best for this recipe. It's perfect at heat transfer, providing and intense and even heat. If you don't have a Cast Iron Skillet you can instead use a glass pie dish or a sheet pan. These wont provide as perfect of a pizza but it will still be delicious!
To make the sauce for this pizza a food processor or blender is needed. If you want a really chunky sauce instead you can just chop the ingredients up a small as possible.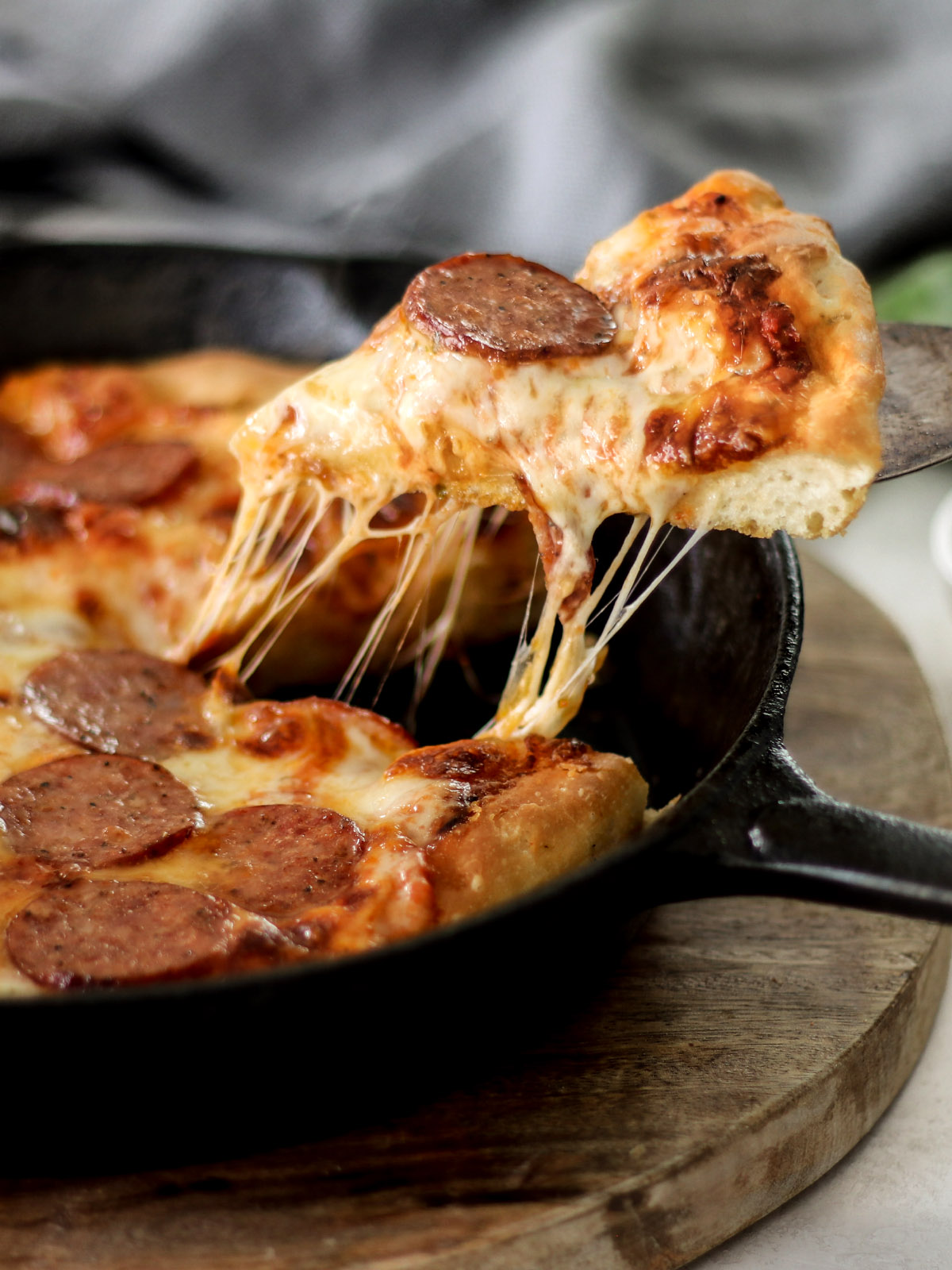 Common Questions about this Cast Iron Pizza
Do I need to preheat the cast iron skillet?
No you don't. Preheating the cast iron skillet doesn't give the pizza base time to rise to it wont be as fluffy. Placing the pizza in a cold or preheated cast iron wont effect the crispiness of the pizza base, the cooking time will. Preheated will cook a lot faster than cold.
Can I make this pizza in advance?
The pizza dough is best to be made in advance and can be kept in the fridge for 2-3 days. I wouldn't recommend making the whole pizza more than a few hours in advance to get the best results.
For more delicious recipes check out:
Cast Iron Pizza Recipe
This Cast Iron Pizza is crispy on the bottom but soft and fluffy on the inside. Topped with melted mozzarella and spicy pepperoni.
Ingredients
Pizza Dough
1

tsp

Active Dry Yeast

1/2

tsp

Sugar

2/3

Cup

Warm Water

2

Cups

Flour

1

tsp

Salt

2

Tbsp

Olive Oil
Pizza Sauce
15

oz

Can of Italian Whole Tomatoes

2

Garlic Cloves

2

Tbsp

Olive Oil

1/4

Cup

Fresh Basil

Salt and Pepper
Pizza Toppings
3/4

Cup

Mozzarella Cheese

12-15

Pepperoni Slices
Instructions
Pizza Dough
In a small bowl combine the yeast, sugar and water. Mix until combined and leave to activate for 5-10 minutes.

In a large bowl or the bowl of your stand mixer measure out the flour, salt and olive oil.

Pour the activated yeast mixture into the bowl with the dry ingredients and mix until combined and the dough has started to smooth out - 2-3 minutes. You may need slightly more water or flour.

Place the dough in an oiled bowl and cover. Place into the fridge overnight to rise.
Pizza Sauce
Combine all of the pizza sauce ingredients into a food processor or blender. Pulse or blend for a few seconds until your have a chunky sauce, do not blend until smooth.
Making the Pizza
To make the pizza remove the risen dough from the fridge. Using a knife or a dough scraper cut the dough in half.

Pour 1 Tbsp of olive oil into your cast iron pan and add the dough. Use your finger tips to press the dough out until it hits the edges of the pan. Cover and leave to rest and rise for 30 mins to an hour.

When your pizza dough has risen slightly add a 1/4 cup of the sauce. Use a spoon to spread the sauce out to the edges. Top with the shredded mozzarella and pepperoni.

Place the pizza into a preheated oven as hot as it will go (around 250C / 480F). The pizza should take about 10-20 minutes depending on the temperature of your oven. Check it every few minutes and remove it when the base has risen and is golden brown, the cheese has melted and the pepperoni is sizzling.

Leave the pizza to rest for a few minutes after you have removed it from the oven. Run a slicer around the edges to unstick any cheese from the cast iron before cutting the pizza and enjoying.
Notes
You can use any pizza toppings you would like on the pizza.
The base recipe makes enough dough for two pizzas. You can freeze the other half of the dough for later use.
Nutrition
Serving:
1
Slice
Sodium:
411
mg
Calcium:
60
mg
Vitamin C:
1
mg
Vitamin A:
111
IU
Sugar:
1
g
Fiber:
1
g
Potassium:
64
mg
Cholesterol:
11
mg
Calories:
229
kcal
Saturated Fat:
3
g
Fat:
11
g
Protein:
7
g
Carbohydrates:
25
g
Iron:
2
mg