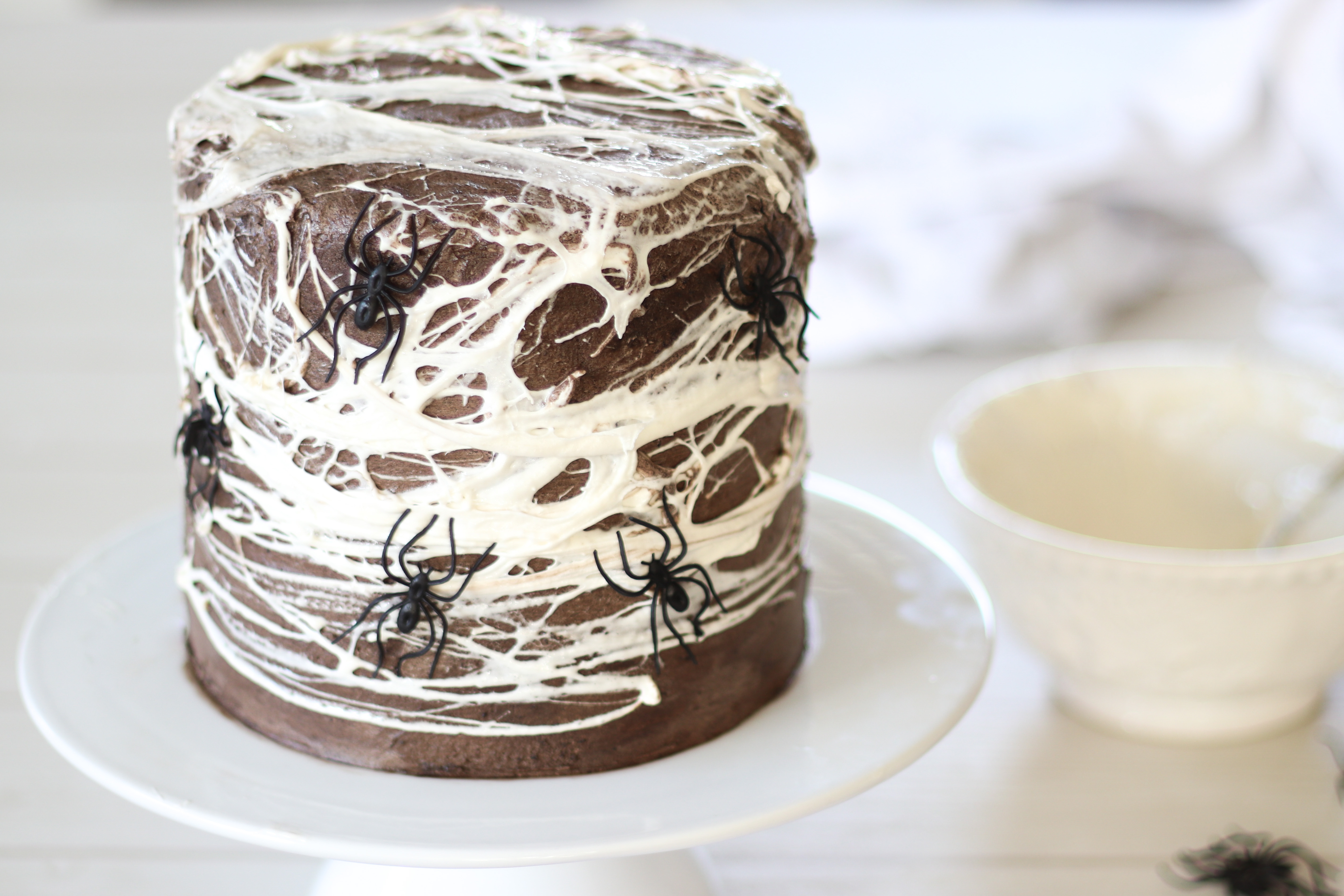 This spider web cake looks just the part for Halloween and best of all it's incredible easy and fun to make.
Spider Web Halloween Cake
Chocolate Cake covered in a Halloween Spider Web
Ingredients
3 Cups | 375g Flour
⅔ Cups | 85g Cocoa Powder
1 tsp Baking Soda
½ tsp Salt
2 Sticks | 1 Cup | 225g Butter
2 Cups | 400g White Granulated Sugar
4 Eggs
1 tsp Vanilla Extract
1 Cup | 250ml Buttermilk
1 Cup | 250ml Hot Coffee
2 Cups Buttercream
1 tsp Black Gel Colouring
⅓ Cup | 40g Cocoa Powder
1 Cup White Marshmallows
Instructions
In a medium sized mixing bowl sieve together the dry ingredients.
In a larger mixing bowl mix together the butter and sugar until combined. Add the vanilla and mix again. Crack in all 4 eggs and mix until combined, scraping down the sides of the bowl.
Pour the dry ingredients and the buttermilk and coffee into the larger mixing bowl with the butter mixture and use a wooden spoon to fold the ingredients together until well combined.
Divide the batter between two 6 inch or one 8 inch lined and greased cake tin and bake in a 160C | 320F oven for 40-50 mins or until the cake springs back when pressed.
To decorate the cake add the black colouring and cocoa powder to the buttercream and mix until combined. Level and cut each cake in half so you have 4 layers and place ⅓ Cup of buttercream between each layer. Use the remaining buttercream to cover the outside of the cake. Place into the fridge for 2 hours to set.
Place the marshmallows into the microwave for 30 second intervals until completely melted. Use clean and dry hands to stretch the marshmallow between your hands and drape over the cake. Continue until you are happy with the amount of marshmallow. Press the fake spiders around the cake.
Let the marshmallow set for an hour before serving.