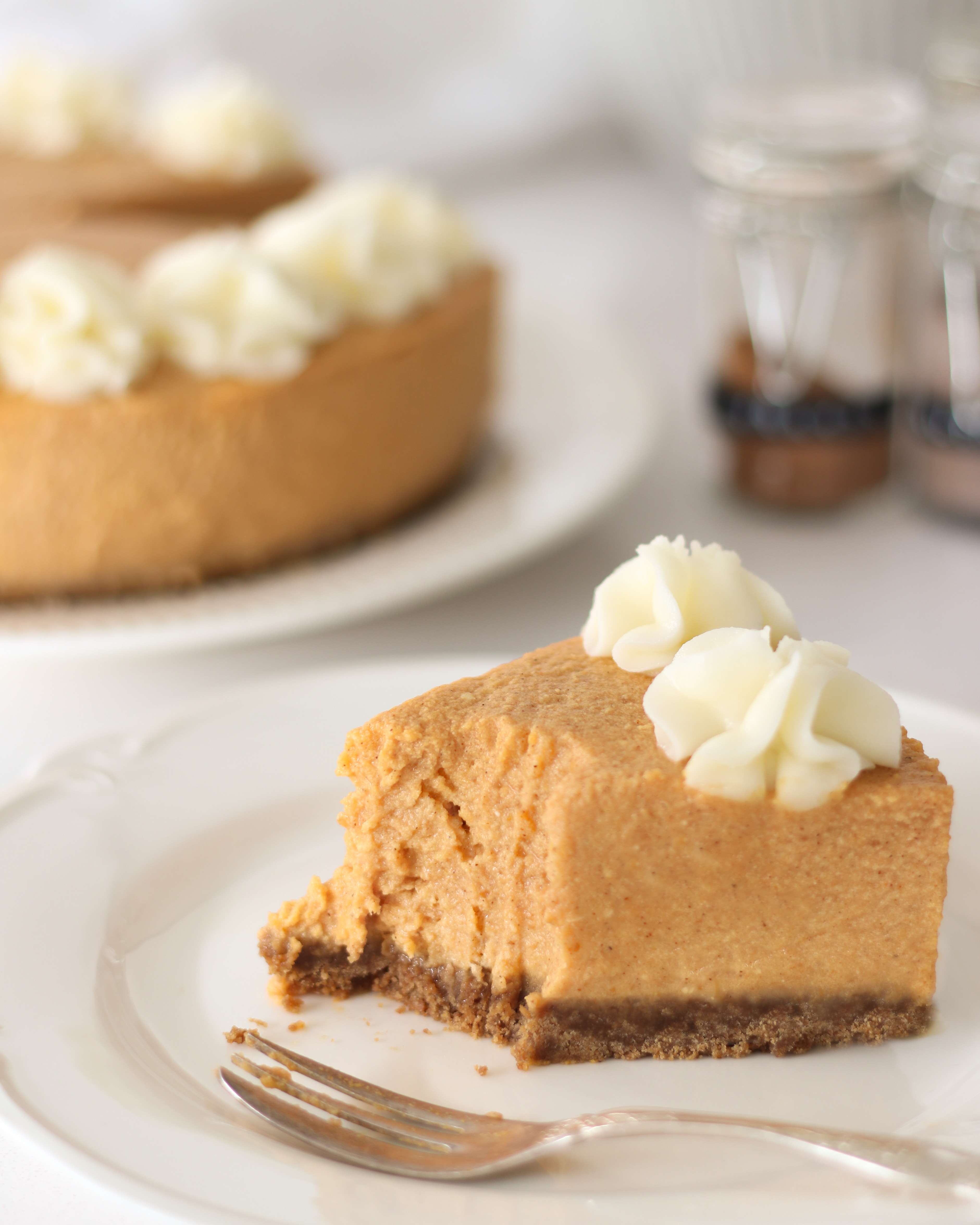 This No Bake Pumpkin Pie Cheesecake is creamy and delicious plus bonus it doesn't require an oven to make. Filled with spices you'll definitely be wanting more than one slice!
Equipment for this Recipe
No Bake Pumpkin Pie Cheesecake Recipe
Pumpkin flavoured no bake cheesecake
Ingredients
250g / 9oz Gingernuts or Ginger Snap Cookies
1 Stick / ½ Cup / 113g Butter, Melted
2 Cups / 500ml Whipping Cream
250g / 9oz Cream Cheese
1 Cup / 125g Powdered Sugar
½ Cup / 100g Brown Sugar
1 Cup Pumpkin Puree
¼ tsp Nutmeg
1 tsp Cinnamon
1 tsp Ground Ginger
Whipped Cream to serve
Instructions
Crush the cookies using a food processor or in a plastic bag using a heavy object like a rolling pin or frypan.
Place the cookies into a bowl and add in the melted butter. Mix to combine.
Pour the crumbs into a lined 8inch or 20cm springform cake pan and use a spoon or flat bottom of a glass to spread it into an even layer.
Whip the cream until softly whipped and set to the side.
In a large mixing bowl combine the cream cheese and sugar together until smooth.
Add the pumpkin puree and spices into the bowl with the cream cheese mixture and mix together until combined. Pour in the whipped cream and fold together until combined.
Pour the cheesecake filling into the cake pan and place into the fridge for at least for hours or overnight to set.
Serve topped with whipped cream.
Notes
You can use homemade pumpkin puree instead of canned.
Add the pumpkin puree to a kitchen towel first to absorb up the extra moisture.
The cheesecake will set enough from the fridge but keep it cold or it will start to soften.