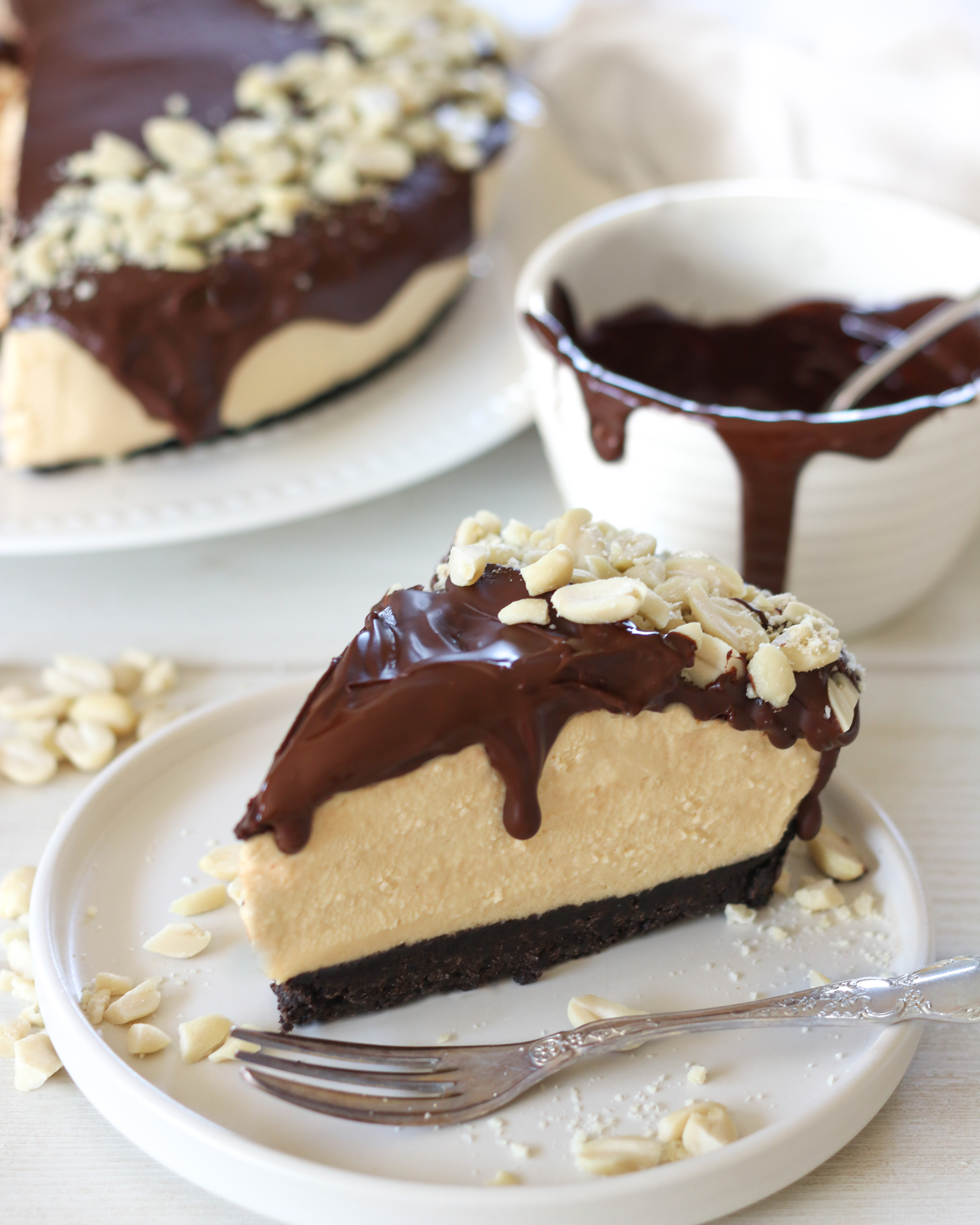 This no bake peanut butter cheesecake is sweet, peanutty, chocolatey, creamy and delicious. It's quick and easy to make and doesn't require an oven.
Equipment for this Recipe
No Bake Peanut Butter Cheesecake Recipe
Peanut Butter Flavoured No Bake Cheesecake
Ingredients
25 Oreos
½ Stick / 1/14 Cup / 60g Melted Butter
1⅔ / 400ml Cup Cream
250g / 9oz Cream Cheese
1 Cup / 125g Icing Sugar / Powdered Sugar
½ Cup / 125ml Smooth Peanut Butter
½ / 125ml Cup Cream
200g / 7oz Dark Chocolate
Peanuts for decorating
Instructions
Crush the Oreos with a heavy object or by using a food processor. Place them into a bowl and pour over the melted butter. Mix to combine.
Press the biscuit base into an even layer in a lined 8inch or 20cm springform cake pan. Place in the fridge to set.
In a medium sized mixing bowl pour in the cream and using a whisk or a hand mixer, beat until softly whipped. Set to the side.
In another bowl add the cream cheese and sugar. Mix together until smooth and combined. Add in the peanut butter, and whisk again. Finally pour in the cream and mix again until the cheesecake mixture is smooth and combined.
Pour the cheesecake filling into the cake tin and place back into the fridge for at least 6 hours or overnight to set. Once set remove the cheesecake from the pan.
To make the cheesecake topping heat the cream over medium heat until it just comes to a boil. Pour the hot cream over the chopped chocolate and leave for a few minutes before mixing with a spoon until completely smooth. Leave the chocolate to firm up for about an hour.
Pour the chocolate ganache over the cheesecake, spreading it with an offset spatula and pushing it over the sides. Decorate the edges with chopped chocolate. Place the cheesecake back into the fridge for at least a few hours to set before serving.
Notes
Try to use an unsweetened peanut butter that just contains peanuts and maybe salt.
You can use any type of biscuit or cookie for the cheesecake base. If it doesn't have a creme center just double the amount of melted butter in the recipe.
This cheesecake doesn't need anything to set it but make sure to serve it cold, it will start to soften at room temperature.