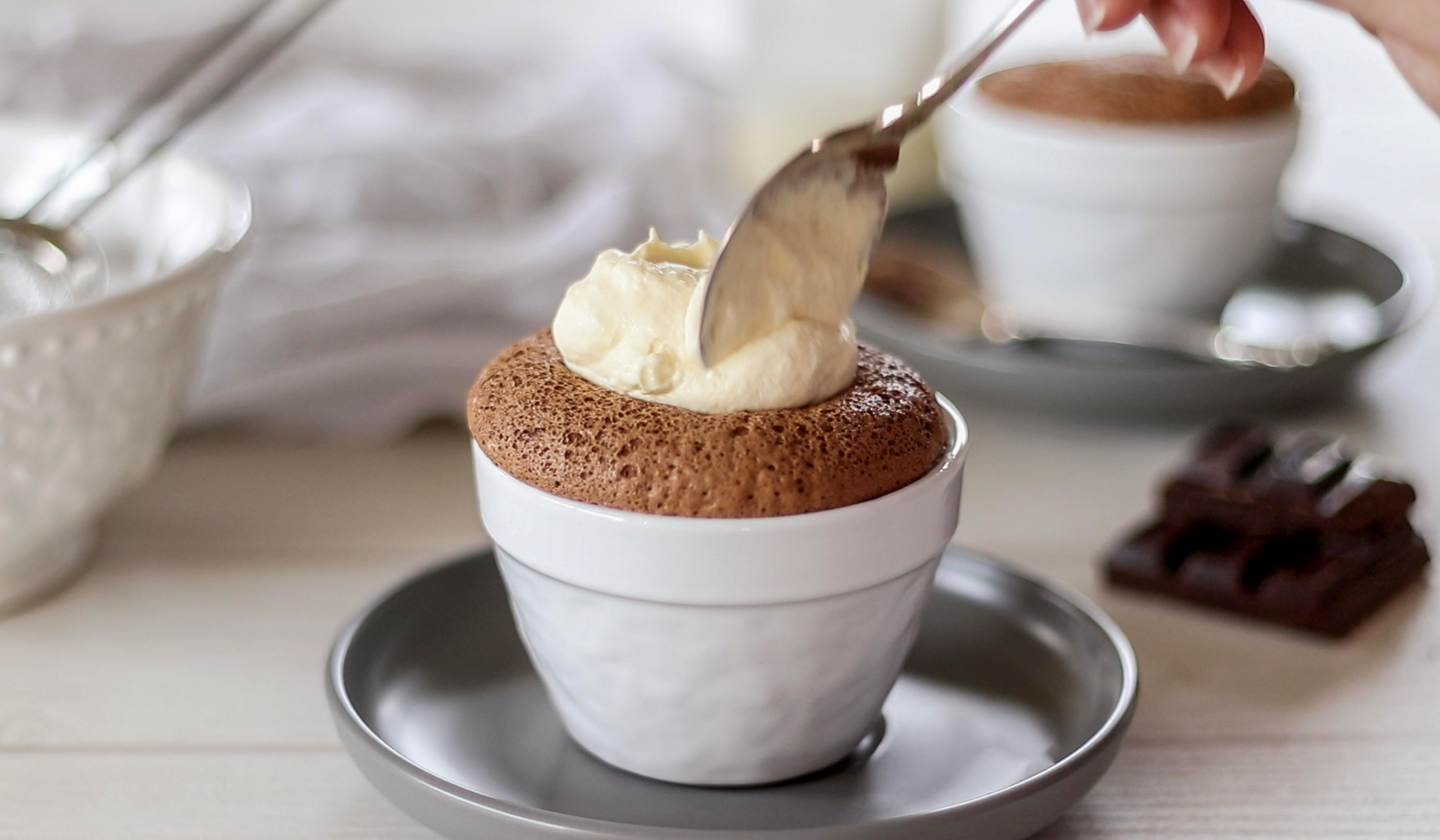 If you're wanting to impress, chocolate soufflés are a great way to do it. This one only requires 6 ingredients and minimal effort.
Molten Chocolate Soufflé Recipe
Light rich and decadent Chocolate Soufflé
Ingredients
6oz | 170g Dark Chocolate
1 Tbsp Butter
2 Tbsp Cream
3 Egg Yolks
5 Egg Whites
1 tsp Salt
½ Cup | 100g Sugar
Instructions
Cut the chocolate into small pieces and place in a heat proof bowl with the butter and cream. Melt over a water bath until smooth. Leave to cool for a few minutes.
Place the 3 egg yolks in the bowl with the melted chocolate, butter and cream. Use a rubber spatula to mix the egg yolks into the chocolate until you have a smooth glossy mixture, set to the side.
Place the 5 egg whites in the bowl of a stand mixer or a large bowl if you are using a hand mixer. Mix on medium speed until the eggs become frothy and add the salt. Continue to mix on a higher speed until the egg whites are at the soft peak stage.
Gradually add the half cup of sugar to the egg whites while mixing on high. Continue to mix for 3-5 minutes until they are at the hard peak stage.
Add a third of the whipped egg whites to the chocolate mixture and use the rubber spatula to mix until combined. Add the remaining two thirds and fold together gently until combined.
Spoon the chocolate soufflé mixture into greased and sugared ramekins. Flatten the tops and run your thumb around the rim. Place in a 200C | 400F oven for 12 minutes for a molten centre or closer to 15 for a completely set centre.
Serve the soufflés immediately out of the oven with whipped cream and a sprinkling of powdered sugar.