You only need a few simple ingredients to make Focaccia but it comes together into the most beautiful soft and flavourful bread. Perfect to a side of soup, to have with a cheese platter or just simply to enjoy on its own.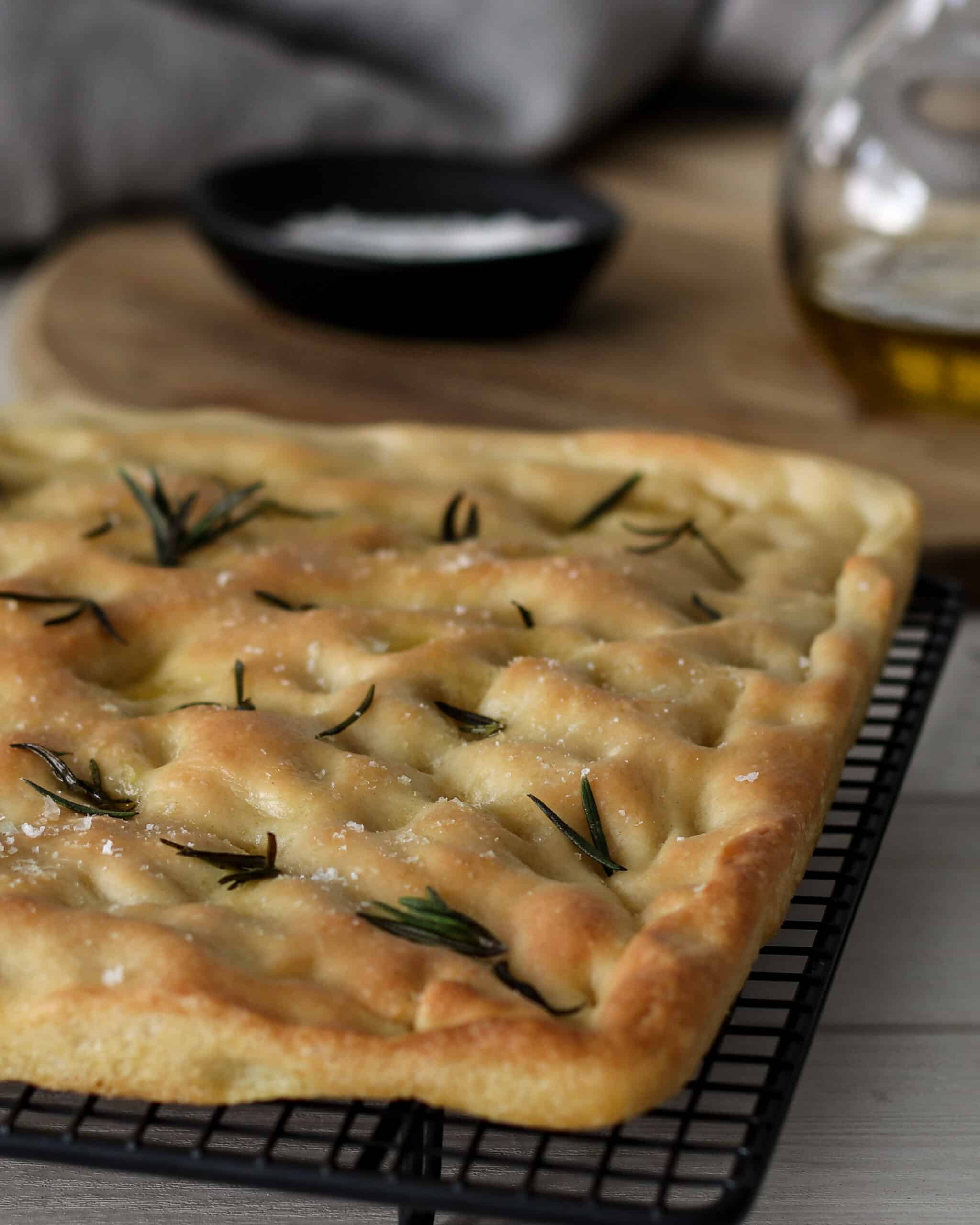 Equipment for this Recipe
Rosemary and Olive Oil Focaccia Recipe
Ingredients
2 tsp / 7g Active Dry Yeast
1 Cup / 250ml Warm Water
3½ Cups / 450g Bread Flour or High Grade Flour
3 tsp Salt
2 Tbsp Olive Oil
3 Tbsp + 2 Tbsp / 45ml + 30ml Olive Oil
1 Sprig Rosemary
2 tsp Salt
Instructions
Mix together the active dry yeast and warm water in a small bowl. Leave for 10-15 minutes for the yeast to activate. You'll know it's ready when the top is foamy and bubbly.
In a large bowl or the bowl of your stand mixer measure out the flour, salt and olive oil. Pour in the activated yeast and water mixture and stir until combined.
Tip your dough out onto a floured work surface and knead for about 10 minutes until the dough is soft, smooth and elastic. It may need a little more water or flour here if its too dry or too sticky.
Shape the dough into a ball or place in an oiled bowl. Cover with a damp tea towel and leave to rise somewhere warm until it has doubled in volume.
Pour two tablespoons of olive oil onto a rimmed baking sheet. Around 12-14" or 30-35cm long and 8-10" or 20-25cm wide. Add the dough and press it into an even layer using your finger tips. Cover with plastic wrap or a damp tea towel and leave to rise for 45 minutes to an hour or until it has double in volume.
When you are ready to bake the focaccia preheat your oven to 200C / 400F. Press your finger tips into the risen dough to create dimples all over. Pour over the three tablespoons of olive oil, add the sprigs of rosemary and sprinkle over the salt. Bake the Focaccia for 15-20 minutes or until golden brown.
Remove from the tray immediately and leave to cool on a wire rack.
Notes
You can leave the Focaccia to slow rise in the fridge overnight, this will give it more flavour. Let it come back up to room temperature before placing it in the oven.
Swap out the olive oil, rosemary and salt for other option like caramelised onions, cherry tomatoes or sweet chilli sauce!