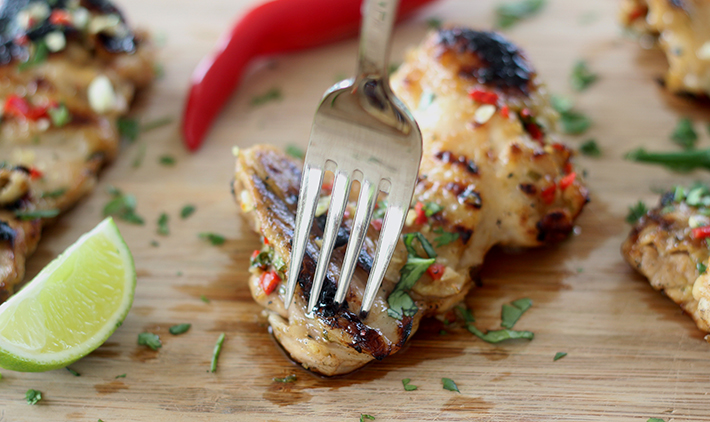 This Chili Lime Chicken is the perfect mix of spicy and sweet. Perfect for an easy mid-week dinner or a great dish to cook outside on the bbq!
Chili Lime Chicken
Ingredients
6 Boneless Skin on Chicken Thighs
3 Teaspoons Lime Zest
4 Tablespoons Lime Juice
2 Chilis
1 Clove Garlic
Handful of Coriander | Cilantro
2 Tablespoons mild tasting Oil
1 Teaspoon Honey
½ tsp Salt
Instructions
Zest and juice 2 limes into a bowl large enough to accommodate the chicken thighs.
Dice the chili, garlic, and coriander or cilantro finely and place into the bowl.
Add the oil, honey, and salt and stir until everything is evenly combined.
Rinse and pat dry the chicken thighs and add to the bowl with the marinade ingredients. Toss the chicken in the marinade until well coated and cover with plastic wrap. Leave the chicken to marinade in the fridge for at least 2 hours but preferably over night.
When you are ready to cook the chicken remove it from the fridge and allow it to come up to room temperature.
Heat a griddle pan over medium high heat and add the chicken thighs, cooking for about 4 minutes on each side until golden brown and cooked through. Alternatively you can cook these on the bbq outside or in the oven under the grill.
Serve the chicken with more chopped coriander or cilantro and a squeeze of lime juice.