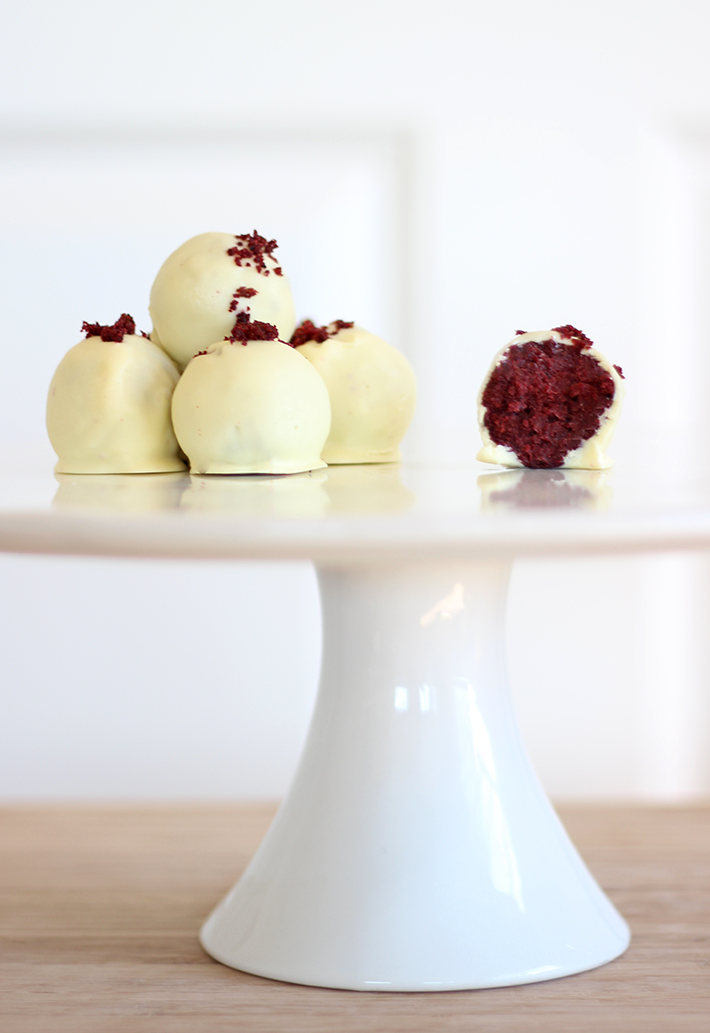 These Red Velvet Truffles are the perfect sweet treat! They're so simple and easy, a great way to use up leftover cake!
Red Velvet Truffles
Ingredients
¾ Cup / 170g Butter
1 Cup / 200g Sugar
2 Eggs
1 Tbsp Red Food Colouring
1 Tsp Vanilla Essence
1⅓ Cups / 160g Flour
3 Tbsp Cocoa Powder
½ Tsp Baking Soda
½ Cup / 125ml Milk
1 Tsp Vinegar
250g / 9oz Cream Cheese
½ Cup / 60g Icing Sugar
300g / 10oz White Chocolate
Instructions
In a mixing bowl cream together the butter and sugar.
Add the eggs one at a time mixing after each addition.
Add the food coloring and vanilla essence and beat together until everything is well combined.
In a clean bowl whisk together the flour, cocoa powder and baking soda.
In a separate bowl or glass mix together the milk and vinegar, leave for about 5 minutes.
Add half of the milk mixture and half of the dry ingredients to the butter mixture. Mix until combined before adding the second half of the ingredients.
Pour into a greased cake tin and bake in a 350f or 180c degree oven for about 35 minutes or until a skewer comes out clean.
Leave to cool on a wire rack.
Break the red velvet cake up into a bowl. Use your finger tips to crumble the cake until it is all crumbs. Reserve a handful of the crumbs to use to decorate the truffles later on.
In a separate clean bowl add the cream cheese making sure it is at room temperature. Use a whisk or a hand beater to mix the cream cheese together until it has softened and whipped up a little. This makes it much easier to mix with the cake crumbs.
Add half of a cup of icing sugar to the cream cheese and beat together until well combined.
Use a wooden spoon to mix the cream cheese and cake crumbs together until there are no lumps, it's a velvety texture, and the crumbs are sticking together.
Roll out 1 tablespoon amounts of the truffle mixture and place onto wax paper so it doesn't stick. Continue until you have used all of the truffle mixture. Place the truffles into the fridge for at least a few hours for them to set.
Use a sharp knife to cut a block of white chocolate into small pieces and place into a heat proof bowl. Melt the white chocolate over a double boiler until completely smooth.
Remove the truffles from the fridge and dip them into the white chocolate, draining the excess chocolate before placing onto wax paper to set. Sprinkle with a small amount of the cake crumbs we reserved earlier. Continue with the remaining truffles.