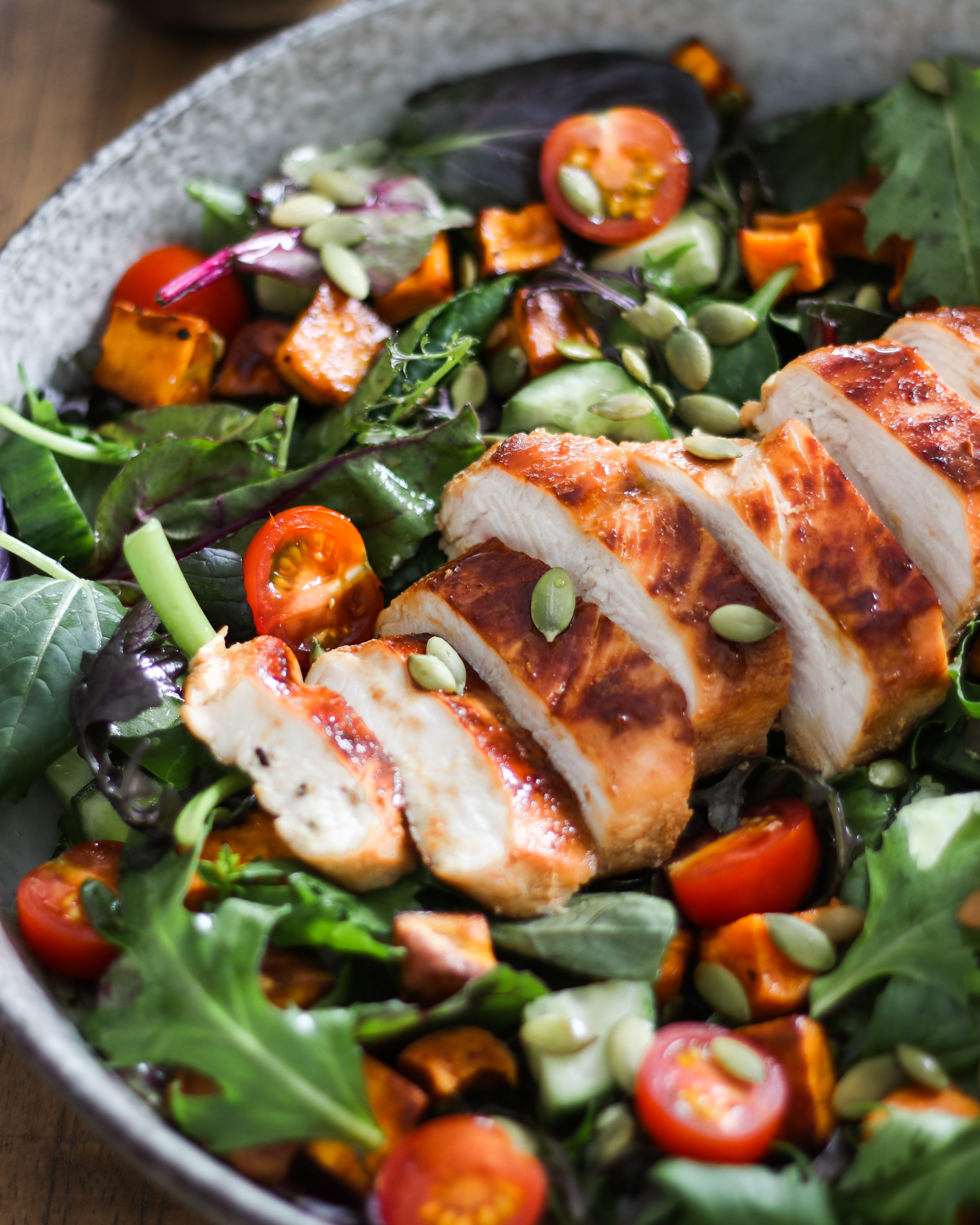 This Chicken Salad is fresh, filling, and delicious, quick and easy to make and perfect for lunch or dinner.
Equipment for this Recipe
Chicken Salad with Lemon Dressing
Ingredients
300g | 0.6 lb Sweet Potato (Kumara)
3 tsp Honey
3 tsp Oil
1 Large Chicken Breast
2 Tbsp Pumpkin Seeds
1 Cup diced Cucumber
2 Handfuls Cherry Tomatoes
4 Cups Salad Greens
2 Tbsp Extra Virgin Olive Oil
Juice of half a Lemon
Salt + Pepper
Instructions
Dice the Sweet Potato or Kumara into 2cm or half an inch pieces. Place on a baking sheet lined with paper. Drizzle over 1 tsp of honey, 2 tsp of oil and season with a pinch of salt and pepper. Toss to coat and place in a 200C / 400F oven for 20-25 minutes or until golden brown and caramelised.
Season both sides of the chicken breast with salt and drizzle over 1 tsp of honey. Turn the chicken breast a few times to cover evenly in the honey.
Heat a nonstick frypan over medium heat and add in the pumpkin seeds. Toast, tossing occasionally until fragrant and starting to brown. Set to the side on a plate.
Heat a teaspoon of oil in the same frypan over medium heat and add the chicken breast. Cook for about 5-6 minutes on each side or until cooked through. Adjust temperature occasionally to make sure the chicken isn't getting too much colour.
To make the salad dressing add the extra virgin olive oil, 1 tsp of honey, the juice of half a lemon and a pinch of salt and pepper to a small jar. Screw on the lid and shake until evenly combined.
To serve the salad mix together the salad greens, cucumber, cherry tomatoes and caramelised sweet potato. Slice the cooked chicken into strips and add on top, sprinkle over the toasted sunflower seeds and pour over the dressing.
Notes
The chicken breast can be replaced for two chicken thighs if preferred.
If the chicken is much thicker on one side use a heavy object to pound it out to cook more evenly.