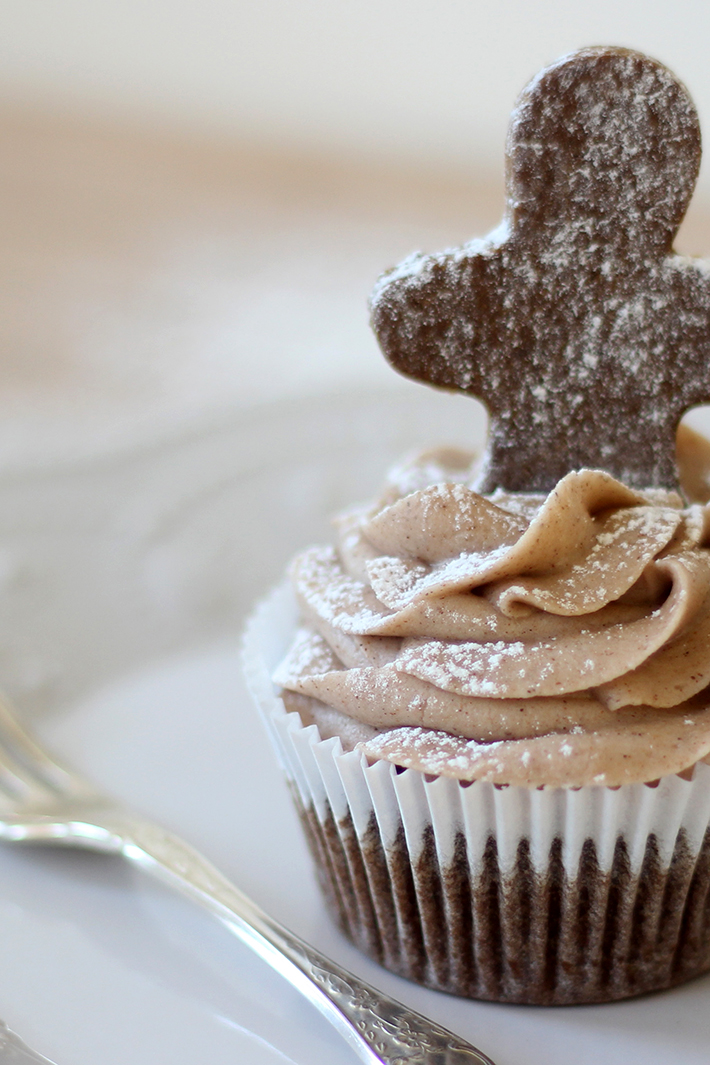 Today I'm sharing with you how to make a Gingerbread Cupcake with Cinnamon Cream Cheese Frosting. These are a perfect Christmas recipe to make just in time for Christmas.
Christmas Gingerbread Cupcakes
Ingredients
113g | ½ Cup Butter
100g | ½ Cup Brown Sugar
1 Egg
125ml | ½ Cup Molasses
125ml | ½ Cup Water
1⅓ Cup Flour
½ Teaspoon Baking Powder
½ Teaspoon Baking Soda
1 Teaspoon Cinnamon
½ Teaspoon Ground Ginger
½ Teaspoon Nutmeg
½ Teaspoon Salt
150g | 5oz Cream Cheese
750g | 6 Cups Icing Sugar (powdered Sugar)
15ml | 1 Tablespoon Cinnamon
3ml | ½ Teaspoon Vanilla
Instructions
In a medium sized mixing bowl measure out the dry ingredients. Whisk together until well combined and set aside.
In a clean mixing bowl add the room temperature butter and brown sugar. Beat together until light and creamy using a hand mixer or a stand mixer. Crack in the egg and beat again until well combined.
Measure out the molasses and water and add to the wet ingredients. Mix together. The mixture will look very separated and lumpy but it will come together once the dry ingredients are mixed in.
Pour the dry ingredients into the wet ingredients and fold together until just combined, do not over mix.
Divide the cupcake batter between 12 cupcake liners and bake in a 350F or 180C oven for 20-25 minutes or until the cupcakes spring back when pressed. Cool on a wire rack.
To make the icing add the cream cheese, cinnamon and vanilla to a mixing bowl. Beat together until smooth.
Slowly add the icing sugar a cup at a time, beating well in between each addition.
Decorate the cupcakes with the icing using a piping bag or spread the icing on with a knife. Top with a gingerbread man.