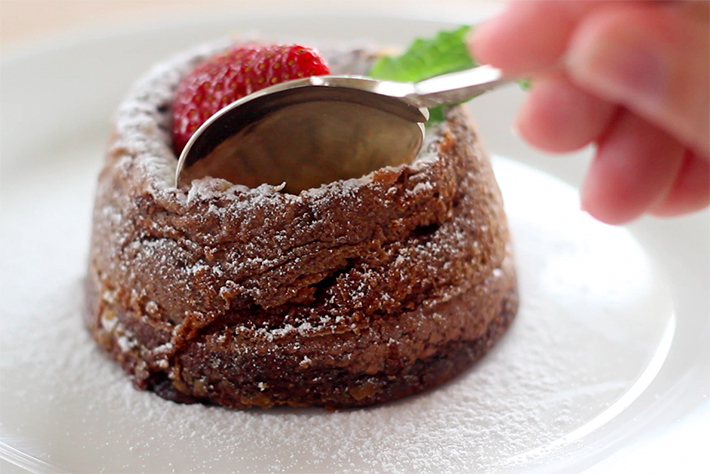 Moleten Chocolate Lava Cake, the perfect dessert! Best served with fresh berries and whipped cream.
Chocolate Lava Cake
Chocolate Cake with a molten lava middle
Ingredients
250g / 9oz Dark Chocolate
40g / 3 Tablespoons Butter
100g / ½ Cup Sugar
3 Eggs
5ml / 1 Teaspoon Vanilla
40g / ⅓ Cup White Flour
Instructions
Melt the chocolate over a double boiler or in the microwave until smooth and completely melted. Set to the side to cool while we prepare the remaining ingredients. Place the room temperature butter and white sugar into a medium sized mixing bowl. Beat together with a whisk until creamed and a little lighter in colour. Crack in the eggs one at a time, beating well in between each addition. Add the vanilla essence and flour. Beat together until well combined and there are no longer any lumps. Pour in the melted chocolate and whisk together until the lava cake batter is smooth. Divide the batter between four well greased ramekins and place into a 200C or 400F oven for 14 minutes. Remove the lava cakes from the oven and turn out onto plates straight away. Dust with icing sugar and serve with some vanilla ice cream.