This Classic French Toast recipe is easy and delicious to make, perfect for breakfast or brunch on the weekend. Serve it easy and simple with just maple syrup or make it a delicious brunch with all the toppings!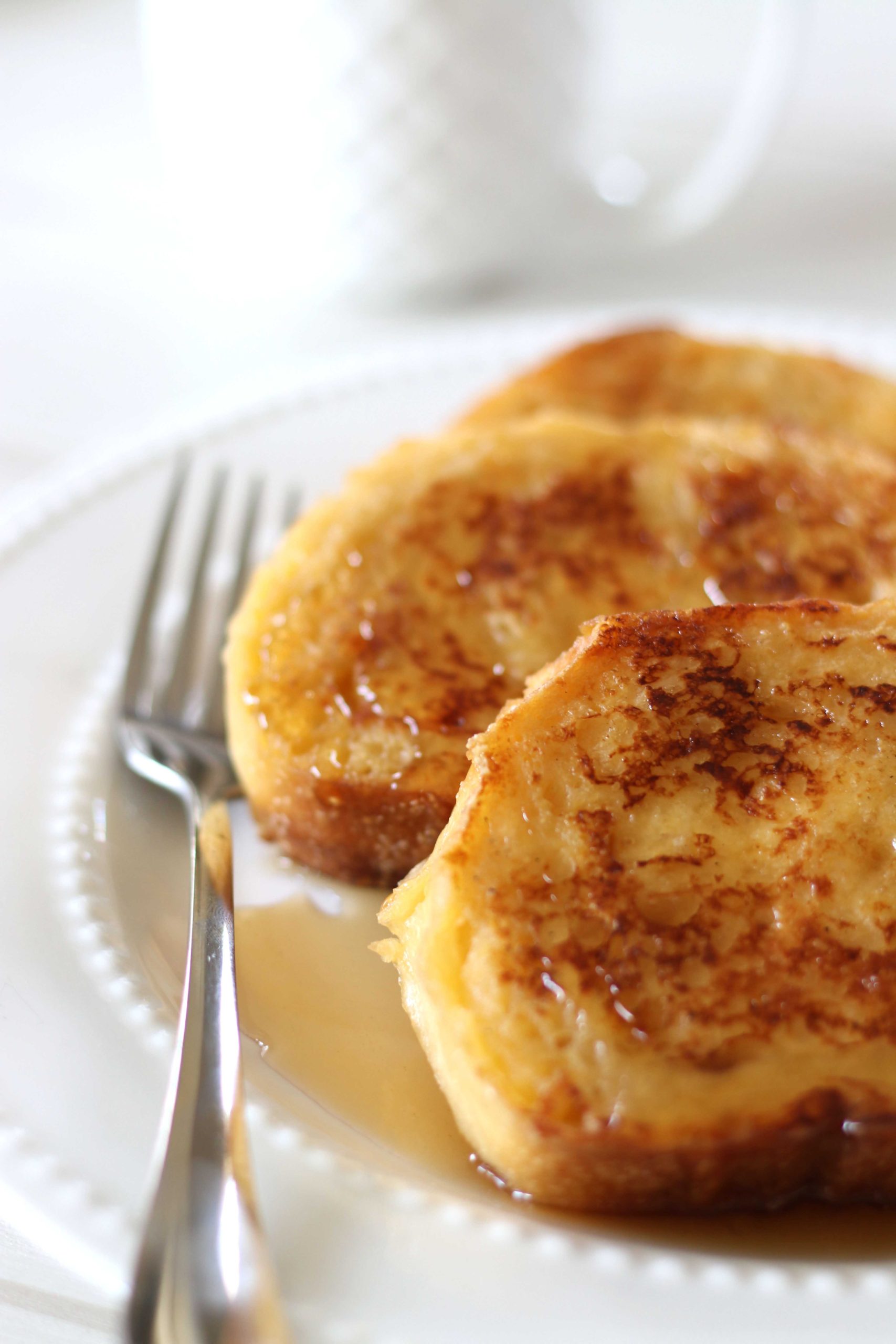 Classic French Toast
This recipe makes the best French Toast that will become your weekend tradition. You don't need to be a pro at cooking and chances are you already have all of the ingredients you need.
It's the perfect dish to make with leftover bread (fresh bread actually makes it soggy) and you can use nearly any type of bread you have on hand.
Video Tutorial
Watch the video below for step by step instructions for how to make the most delicious Classic French Toast Recipe
Quick and Easy French Toast
Whether you're making French Toast to feed a crowd or just a few people you'll have it ready in minutes! I've been making this recipe for so many years and it turns out perfect every single time.
The french toast custard mixture can be made in advance so it means weekend breakfast is hassle free. Place it in fridge overnight for one less step in the morning.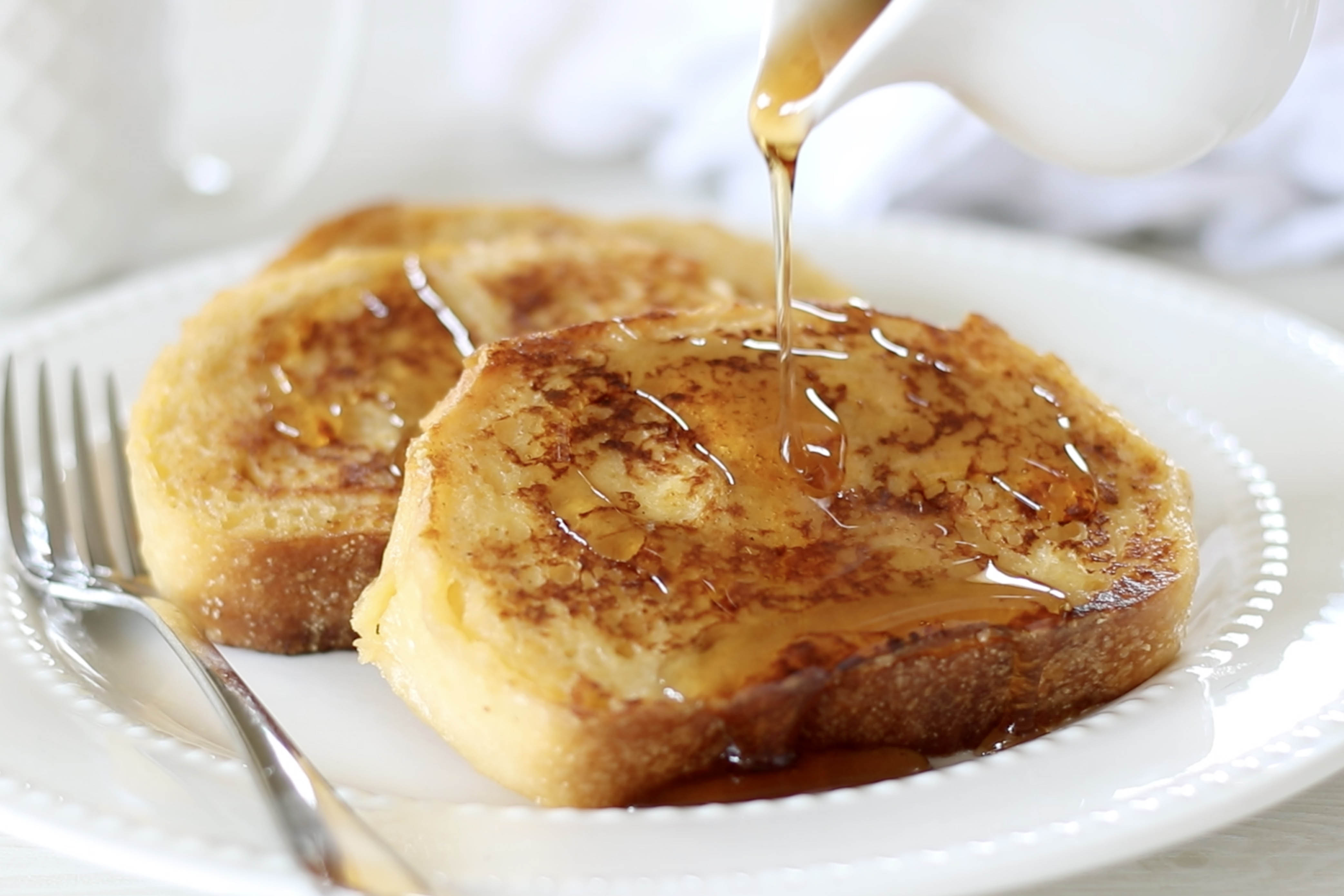 Classic French Toast Recipe Ingredients
3 Eggs – Medium sized room temperature eggs work best here. For a richer more custard french toast you can use replace 1 egg with two egg yolks. This is a great way to use up leftover egg yolks from recipes that just require egg whites.
1 Cup Milk – I make this recipe with whole milk but this can be substituted. Soy, almond, oat or coconut milk can all be used as well as cream of half and half for a richer french toast recipe.
2 tsp Sugar (optional) – French Toast can be served savoury so you may not want any sugar.
Flavorings (1 tsp ground cinnamon / 1 tsp Vanilla Essence) – The flavorings you use depend on how you want to serve the french toast. Cinnamon and vanilla go really well with berries and whipped cream but you may not want them with just maple syrup.
8 Slices of Bread – Any bread can be used here, I would recommend using what you have on hand. Make sure it's stale so it can soak up the egg mixture or instead leave the slices sitting out for a few hours to dry out.
Butter for frying – Butter can be replaced with margarine or oil.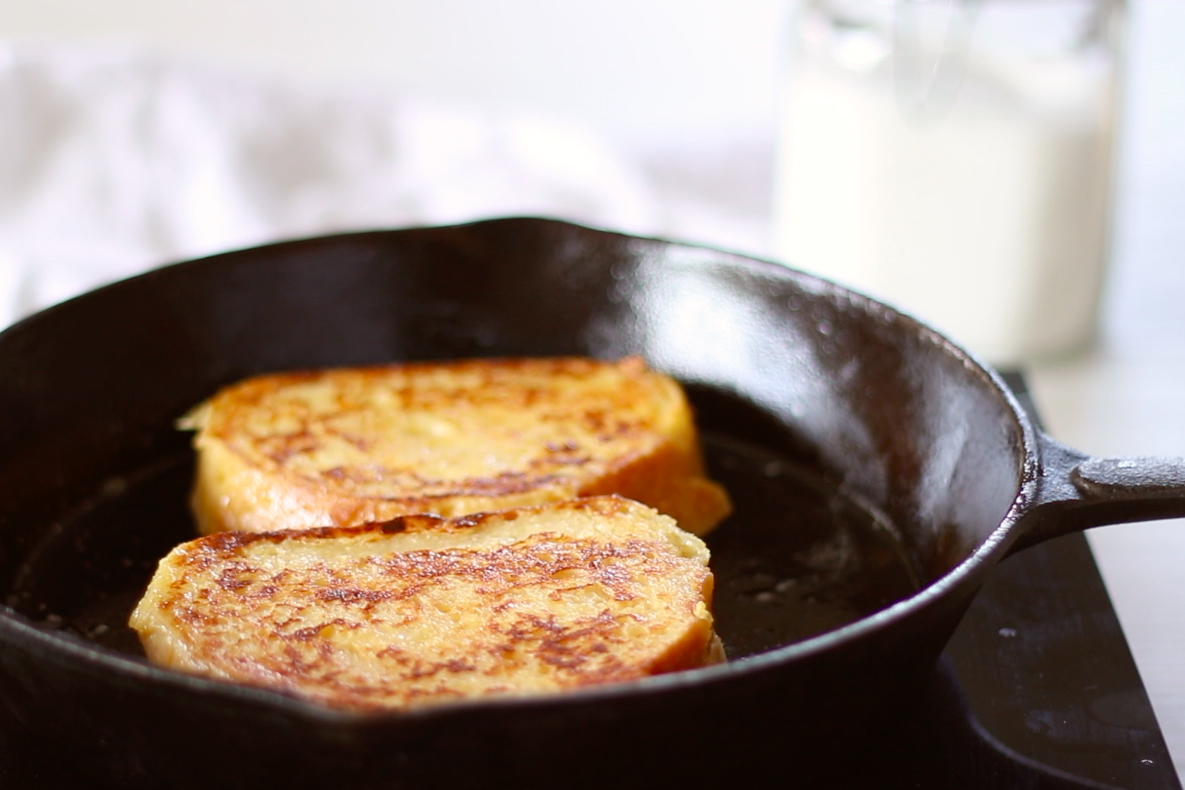 What bread to use for French Toast?
You can really use any type of bread you would like but here are a few good options!
Brioche

Sourdough Bread

Crusty Bread
How to Make French Toast
Crack three medium sized room temperature eggs into a mixing bowl.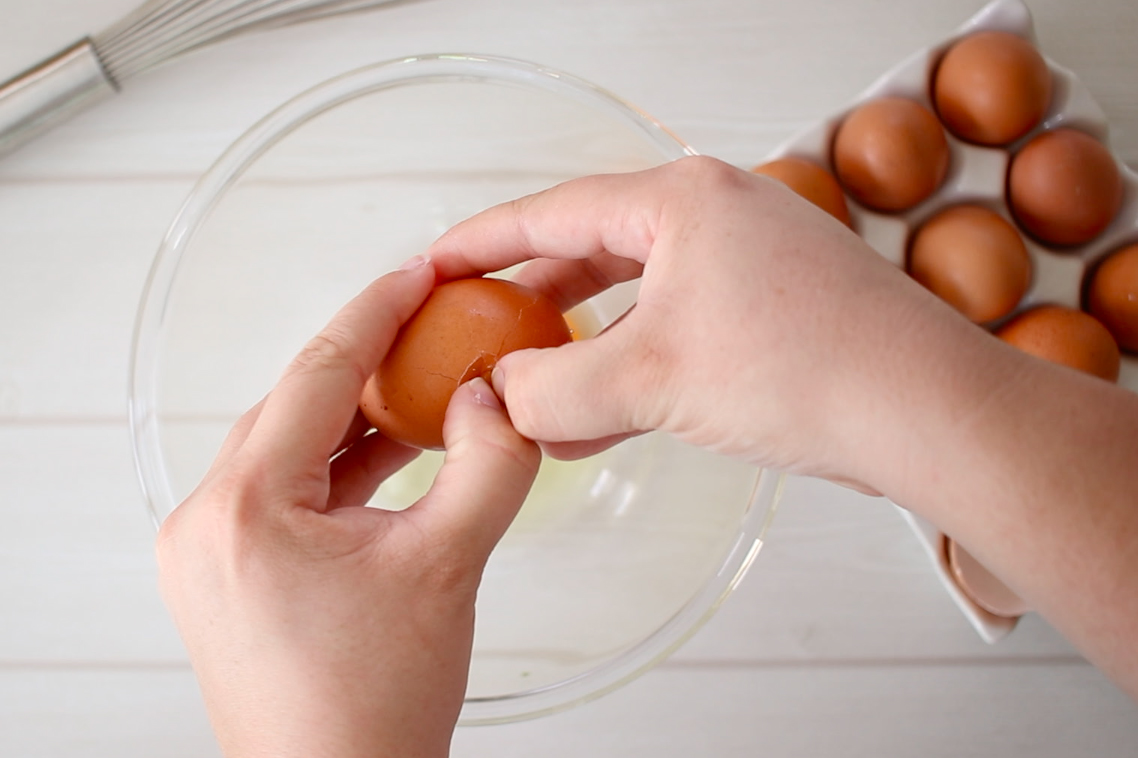 Whisk the eggs together really well for a few minutes until they are really well combined.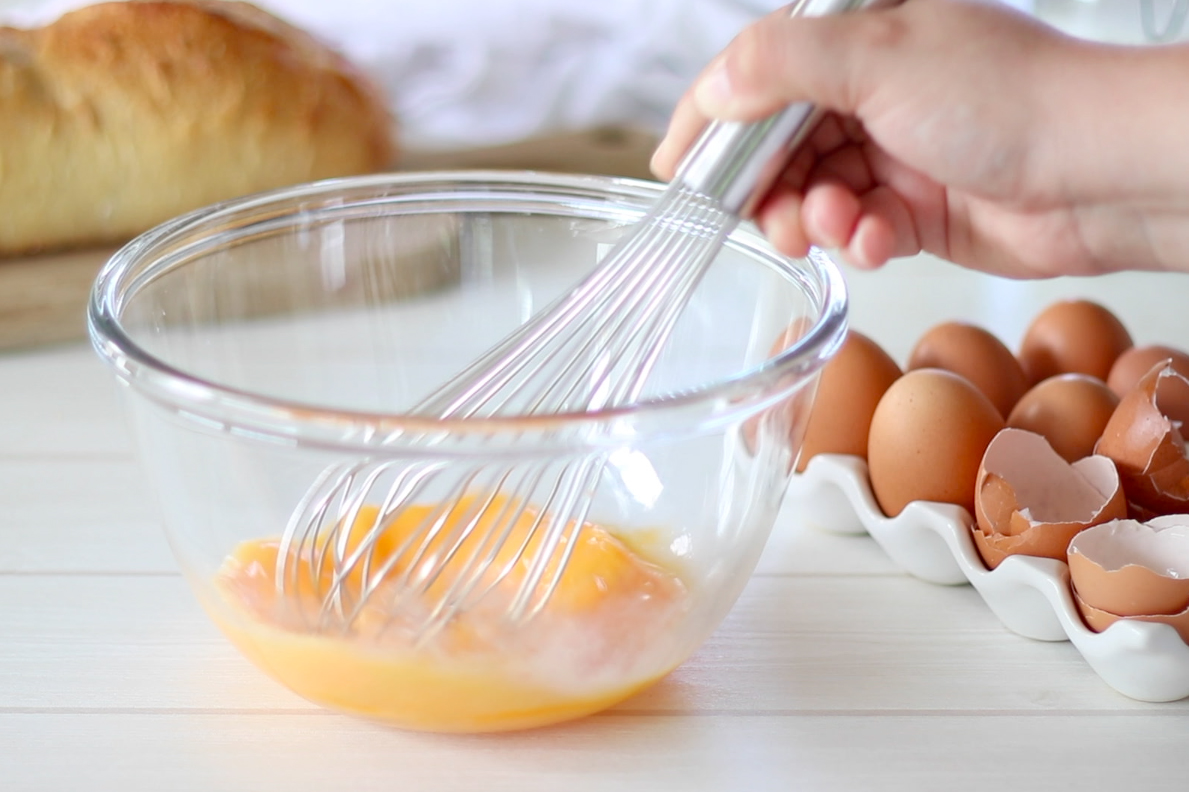 Add the milk into the mixing bowl. You can also use cream or half and half here if you would like a more indulgent custardy French Toast or a milk alternative.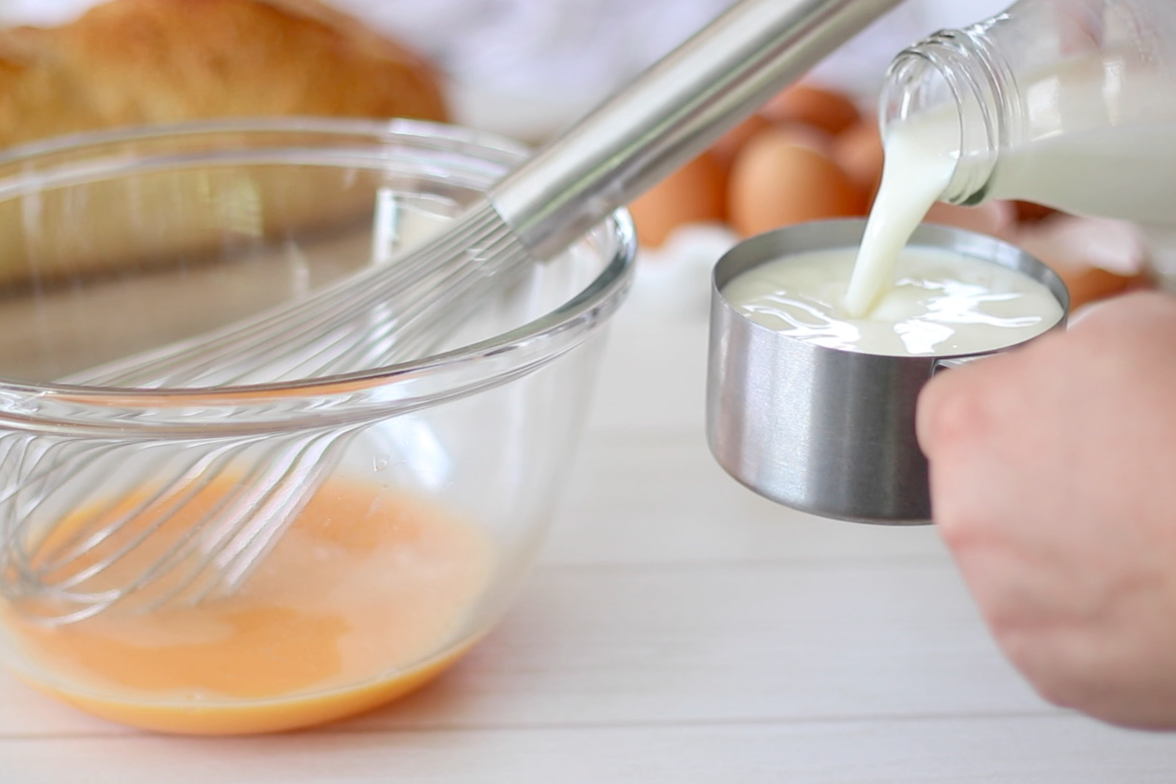 Add in the sugar and mix to combine. You can also add in any flavorings at this point like cinnamon or vanilla essence.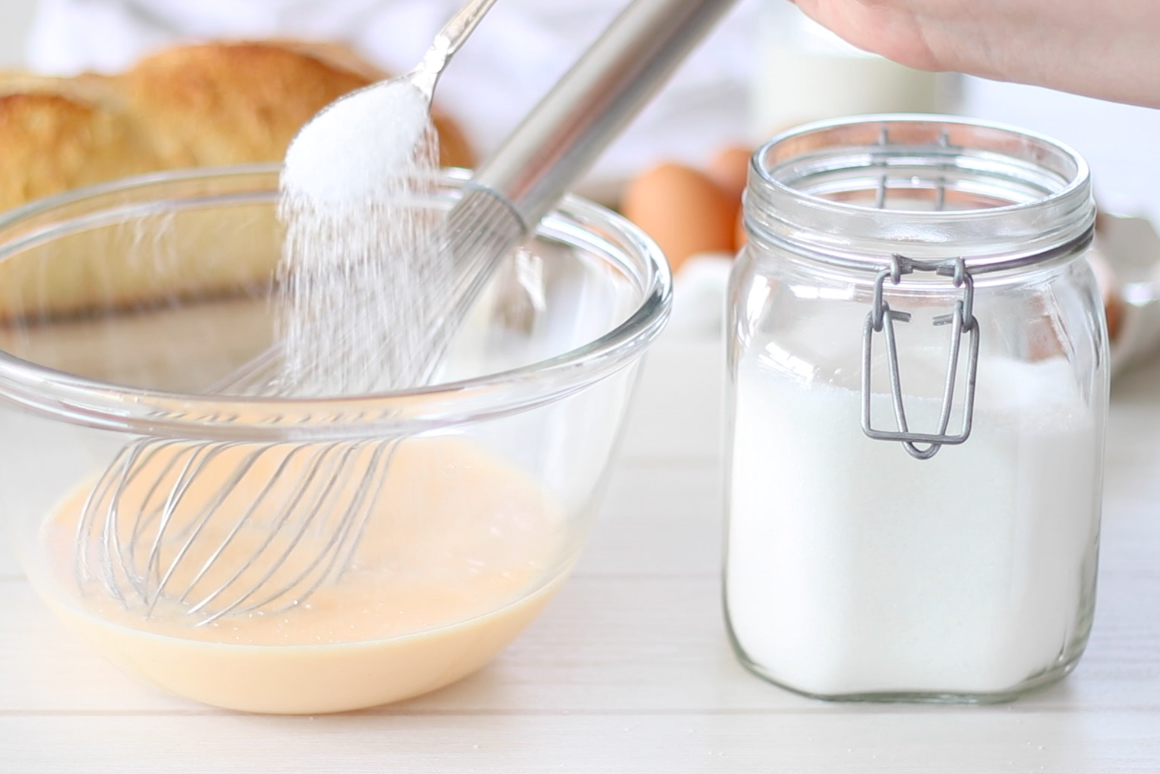 Slice up your bread into 2cm or 1 inch thick slices. Make sure you are using stale bread here not fresh!
Fresh bread will have too much moisture which leads to soggy french toast. If you do have fresh bread slice it up and leave it uncovered for a few hours or overnight to get stale.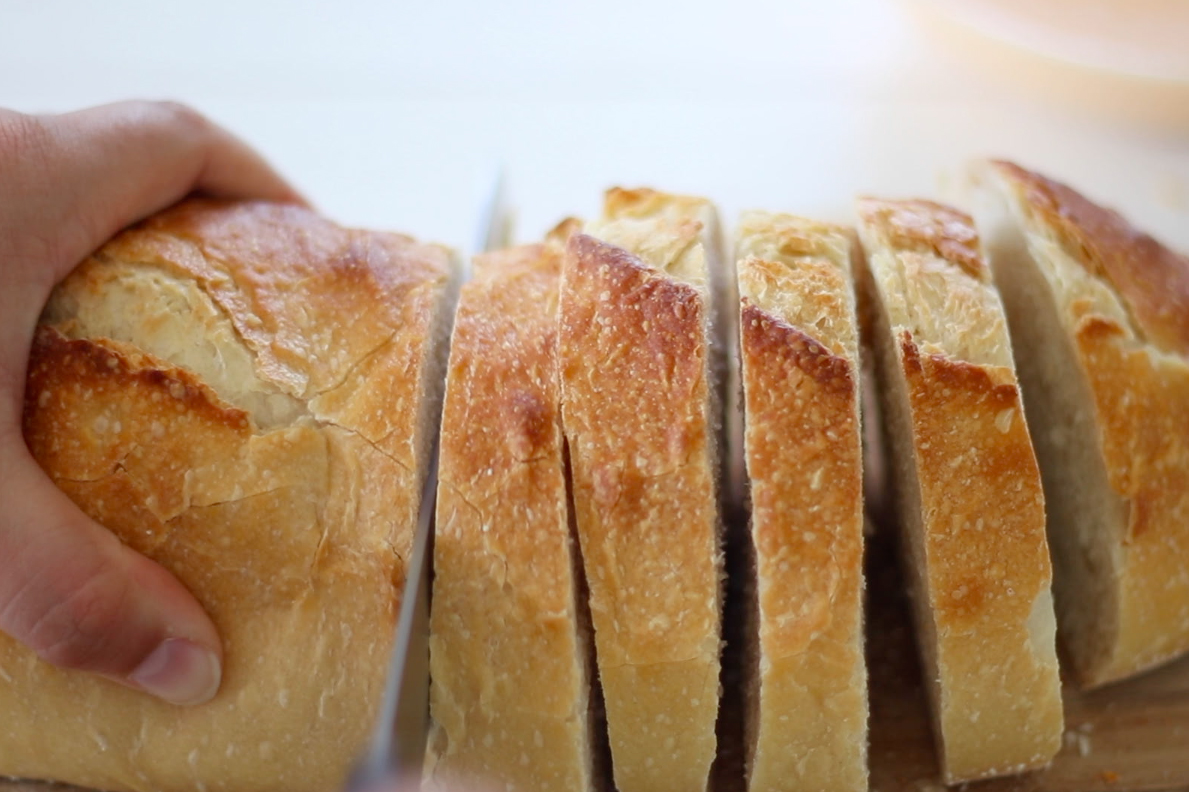 Place the sliced bread into the french toast custard mixture.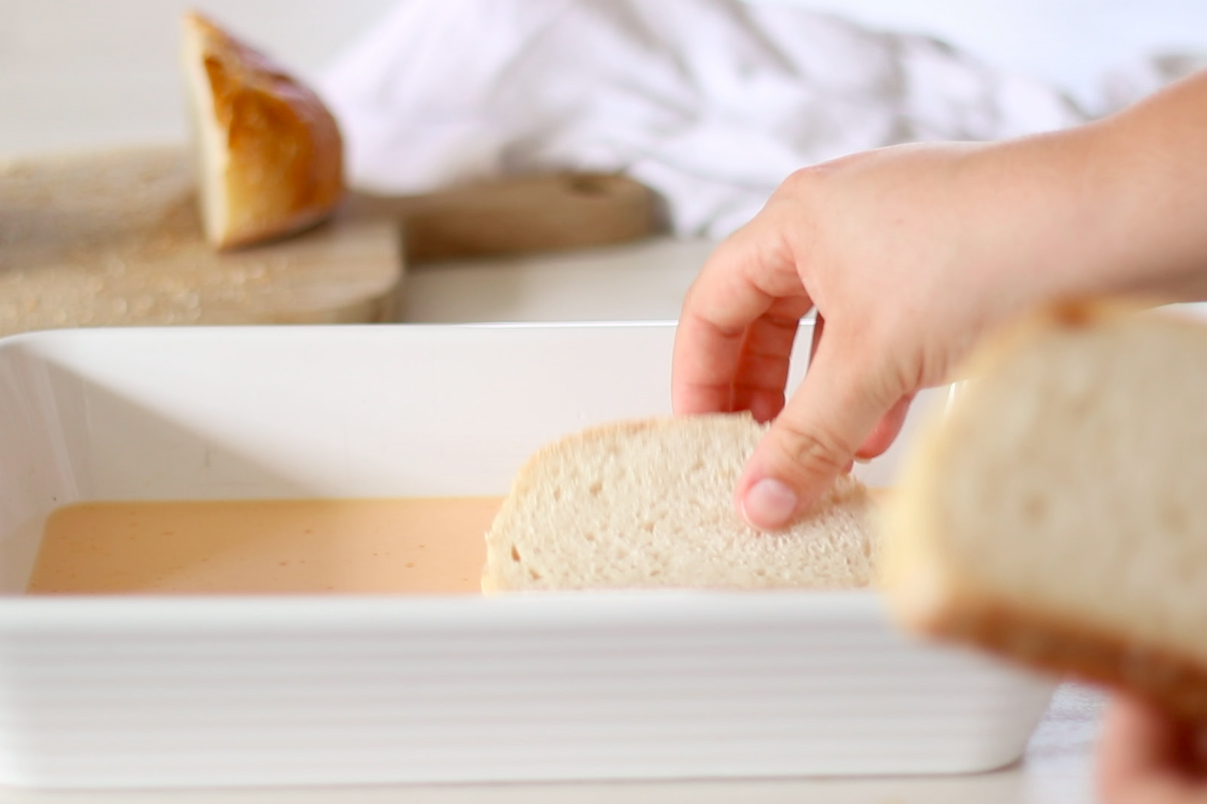 Turn the bread after 30 seconds so it has time to soak up the mixture.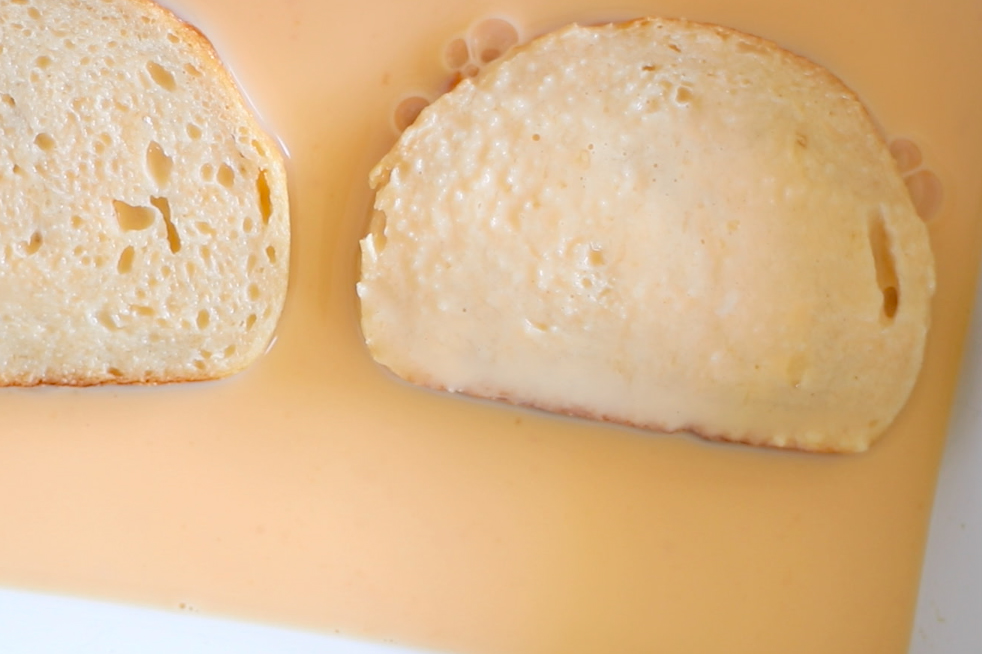 Heat a heavy based frypan like a cast iron skillet over medium low heat and cook the french toast for about 5 minutes each side.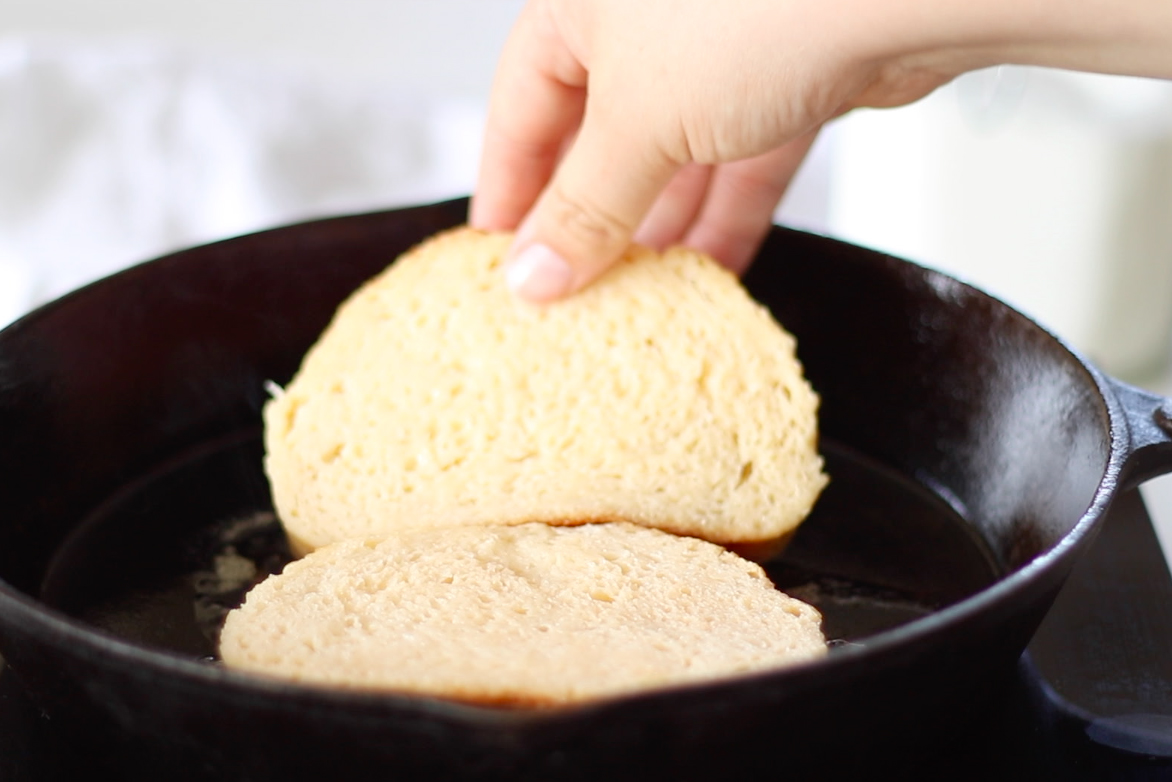 You'll know your french toast is cooked through when you press in the centre like with a cake and the toast springs back!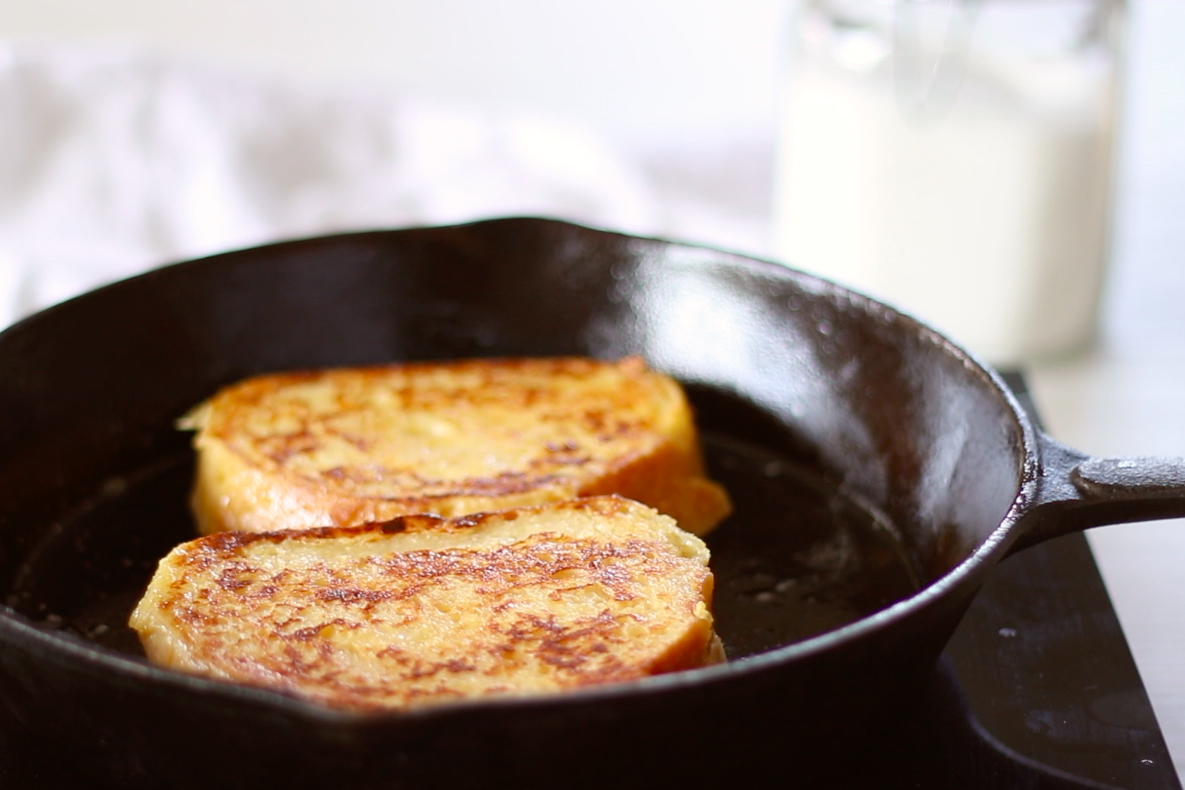 Common Questions about this French Toast Recipe
What type of bread can I use?
Really anything! If you're looking to make really indulgent French Toast, brioche is a great option. The number one rule here is to just make sure your bread is a little old and stale, don't use fresh bread as it has too much moisture. Thick or thin slices work too, they will just take different amounts of time to cook through.
Can I make this French Toast in advance?
You can make the custard in advance and place it into the fridge until you are ready to cook the french toast.
Can I cook the French Toast in the oven?
Yes this is a great option especially if you are making a large amount. Place your french toast onto a lined baking sheet and place into a 180C/350F oven for about 20 minutes, turning half way.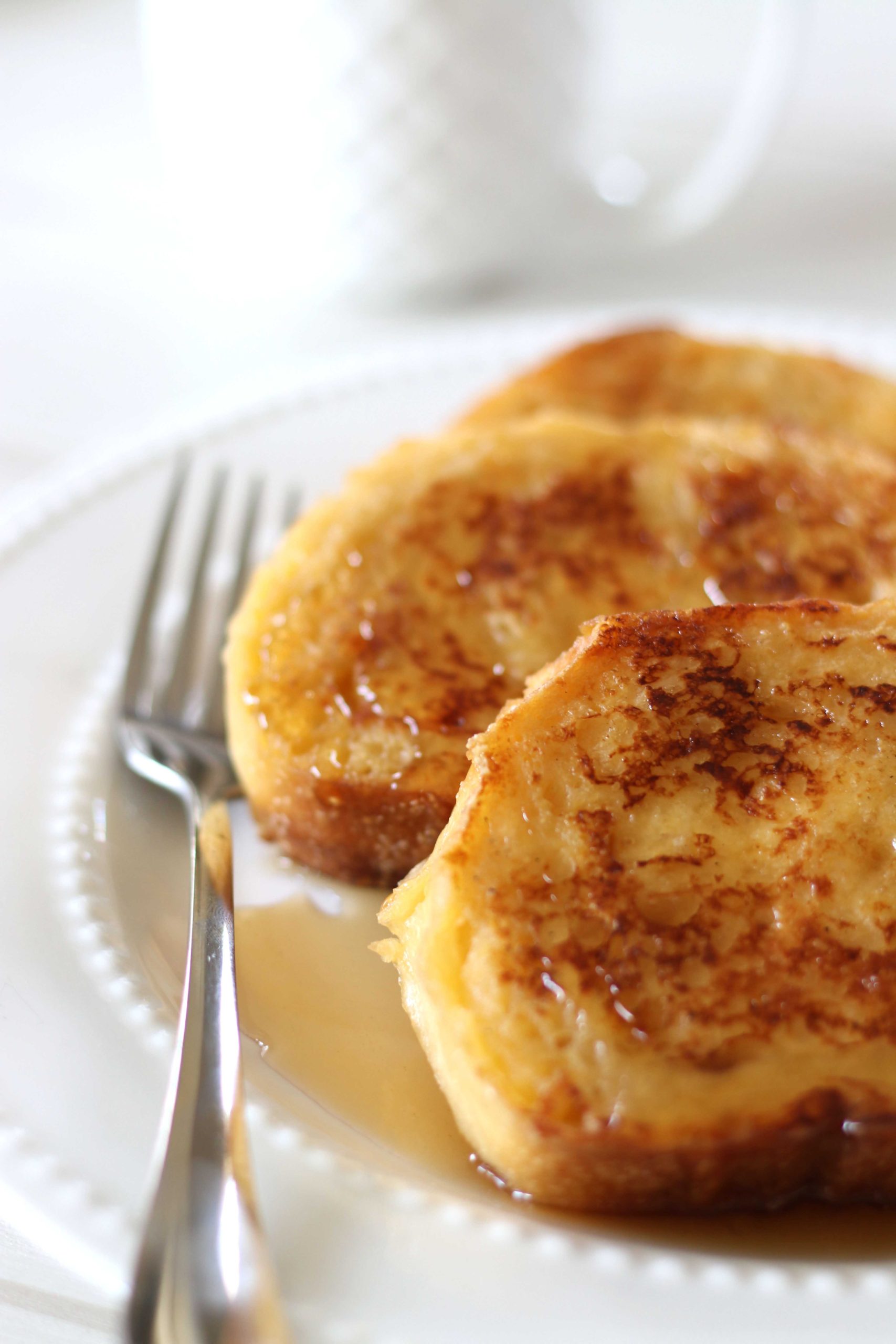 Looking for more brunch recipes?
French Toast Recipe
This Classic French Toast recipe is easy and delicious to make, perfect for breakfast or brunch on the weekend
Ingredients
3

Eggs

1

Cup

Milk

see notes

2

tsp

Sugar

optional

1

tsp

Ground Cinnamon

optional

1

tsp

Vanilla Essence

optional

8

Slices

Bread

see notes

Butter

for frying
Instructions
Whisk the eggs and milk (sugar, cinnamon and vanilla if using) together until well combined.

Heat a medium sized fry pan over medium heat and add half a teaspoon of butter.

Dip two bread slices in the egg mixture for 30 seconds before flipping over for another 30 seconds.

Place the bread slices in the frypan and cook for 5 minutes each side over medium to medium low heat. Check every few minutes to make sure the french toast isn't burning.

To check the toast is ready press in the center and if it springs back its cooked through. Repeat with remaining bread slices before serving with maple syrup.
Video
Notes
Sugar, cinnamon and vanilla are all optional depending on what flavor you would like for your french toast. French toast can be served savoury so the sugar wouldn't be added.
About 1 inch or 2-3cm bread slices work really well for this recipe. Any type or size of bread can be used, it just may need a shorter or longer cooking time.
Make sure you are using stale bread for french toast. The more stale and dry the bread is the more it can soak up the custard mixture.
Nutrition
Serving:
2
Slices
Sodium:
364
mg
Calcium:
170
mg
Vitamin A:
277
IU
Sugar:
9
g
Fiber:
3
g
Potassium:
228
mg
Cholesterol:
129
mg
Calories:
248
kcal
Saturated Fat:
3
g
Fat:
7
g
Protein:
12
g
Carbohydrates:
33
g
Iron:
3
mg