Shakshuka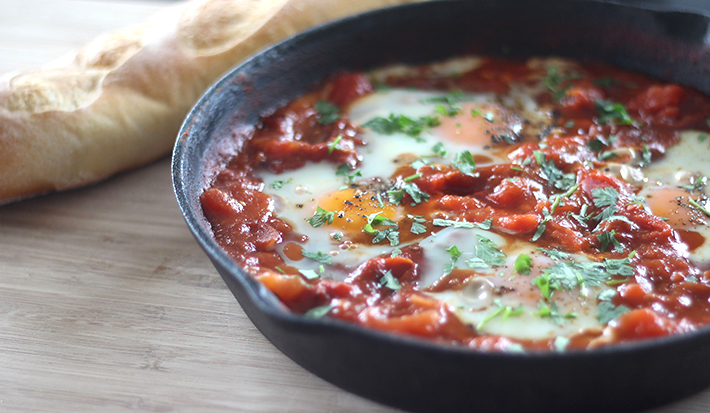 1 Tablespoon Oil
½ Onion
½ Red Pepper
1 Clove Garlic
1 Teaspoon Cumin
1 Teaspoon Paprika
½ Teaspoon Cayenne Pepper
1 Tin Diced Tomatoes
4 Eggs
Salt + Pepper
1 Tablespoon of Italian Parsley
Place a heavy based pan like a cast iron skillet over medium heat and add a tablespoon of oil.
Dice an onion and add to the pan, leave to cook for a few minutes while dicing up the red pepper. Add the red pepper to the pan and cook for a few more minutes. Crush and mince a clove of garlic and add to the pan.
Measure out the spices and add to the pan and cook until fragrant. Pour the tin of tomatoes into the pan and turn the heat to low to simmer everything for about 20-30 minutes until the sauce thickens.
Use a small spoon to hollow out areas to crack the eggs into around the pan. Cook for 10-15 minutes longer until the eggs have cooked to your liking.
When ready to serve run a sharp knife through some Italian parsley and sprinkle over the Shakshuka. Serve with crusty bread to dip into the sauce.